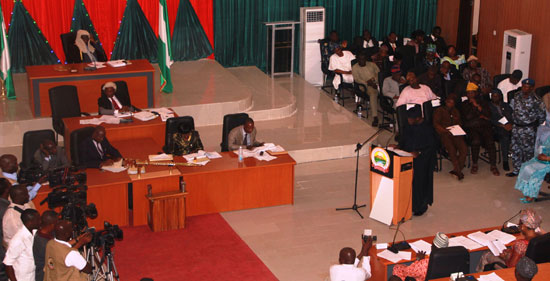 The attention of the Management of Ekiti State University, Ado-Ekiti has been drawn to news reports by Print and Electronic media organizations over plans by the All Progressives Congress(APC) Lawmakers in the Ekiti State House Of Assembly to hold plenary meetings on the university campus,
The University Management wishes to inform the general public that Ekiti State University premises is not open to political meetings and we state unequivocally that no legislative meeting was held on our campus has being speculated in some quarters and no such meetings would be allowed to hold in the university premises.
The university is a community of teachers and scholars and Ekiti state university is committed to excellence in teaching, learning, and research and should not be joined with unnecessary political issues.
In a statement signed by the Registrar of the university,Mr Emmanuel Ogunyemi,the university remains apolitical and non partisan.
Signed.
EMMANUEL OGUNYEMI,REGISTRAR.