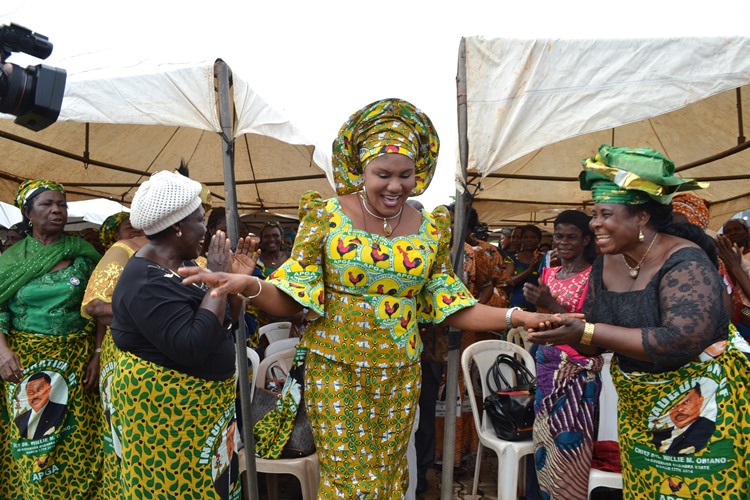 ·
BY ABUCHI IFESINACHI, AWKA
The wife of the Deputy Governor of Anambra State, Mrs. Oby Okeke says no amount of campaign of calumny can separate her relationship with the wife of the State Governor, Chief Mrs. Ebele Obiano.
'The second lady of Anambra State was reacting on allegation by some faceless individuals that Mrs. Obiano slapped her in one of the functions in Awka about a week ago.
In a statement yesterday in Awka entitled "setting the records straight", signed by Mrs.  Stella Igboka, Special Assistant to the Deputy Governor, Dr. Nkem Okeke and made available to reporters, said that it was the handiwork of the idle minds in the state.
Advertisement
According to the statement, 'Her Excellency, Mrs. Oby Okeke, had initially dismissed and ignored the purported allegation as a mere figment of imagination of rumour mongers, but having been pestered with calls and enquiries from friends and well meaning Ndi Anambra, It became necessary to set the record straight in order not to mislead the citizens into believing such a fabricated, unfounded and baseless story'.
'There is no iota of truth in the said story , the publication is malicious and whoever concocted that do not mean well for Anambra state and should not be taken seriously'.
'Those peddling propaganda are nothing but idle minds that only want to create unnecessary friction where non exists between the wives of the Governor and his deputy who are enjoying a cordial relationship and working harmoniously in supporting their husbands in their statutory obligations of moving the state to an enviable height'.
'While assuring the citizens of Her Excellency's Mrs Oby Okeke's unflinching loyalty and support to the wife of the State Governor, Chief Mrs Ebelechukwu Obiano (Osodieme) there is need to state equivocally that no level of smear campaign or calumny would distract the amiable wives of  the Governor and his deputy from working as a formidable team in support of their husbands for peace and progress of Anambra State". It said