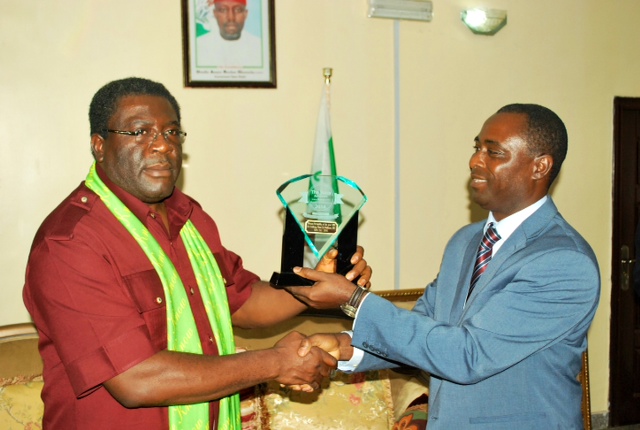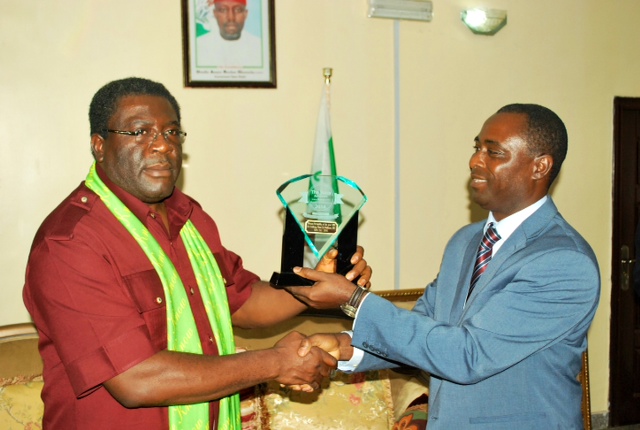 Imo Deputy Governor, Prince Eze Madumere has been formally presented with an Award as 2014 The Voice African Personality of the year.
Speaking for the Netherlands based Pan African Magazine, The Voice, before presenting the Award to Prince Madumere,  Mr. Henry Oduenyi, the Managing Editor said Imo number two citizen was found in good standing given his strength of character and the overall quality contributions to good governance in Imo State and Nigeria at large.
Speaking further, the Voice Magazine Editor said Committee had followed the progress of Prince Madumere with for the past two years, the period he said he maintained a clean bill of health by their yardsticks. He reminded the guests present that Imo Deputy Governor has been recognized as the Best and Most Dependable Deputy Governor in the South East as well as the one of the "Ten Most Outstanding Deputy Governors in Nigeria by the Nation Newspaper.
Continuing, Mr. Oduenyi said the Voice was particularly looking at the character of those who could make a Role Model to the Youths of Africa in general. " Prince Madumere is simple, transparent, sincere, loyal, humble and above all, he is known not to be power drunk and in power tussle with his boss like most number two  in Nigeria in Nigeria."
Oduenyi recalled that Prince Madumere was nominated alongside other eminent Africans and friends of Africa for 2014 Award,the annual event he said fosters unity, development, democratic and quality leadership culture in Africa.
According to Mr. Oduenyi, in his words, "The event usually holds every year in Netherlands but for exigencies of Office, Prince Madumere could not make it and requested a representation. And today, I am here to formally present the Award to him on behalf of the Management of The Voice Magazine. This is to encourage him and other Nigerians that it pays to remain on the path of positive greatness. In our events, we shall be inviting Imo Deputy Governor to share his experiences especially as it concerns the future leaders and also admonish them where necessary."
Prince Eze Madumere turned fifty on the 4th of last July. He  had a degree in Business Administration from San-Jacinto College, University of Houston in Texas.
He was a frontline Manager both in PesiCo and KFC in the United States, where he alongside  established Private outfits in Men Beauty Chains. He  later went into Management Consultancy where he made his mark. Madumere also was part of the success story of Child Care Trust of Mrs. Stella Obasnajo of blessed memory.
In Rochas Group, he was an Award Winner with his trail blazing track records. He was also the Chief of Staff to Owelle Rochas Okorocha in their private lives and later became the Chief of Staff of Imo State Government House, where he demystified the office with his accessibility and five star performances. He was rewarded by the Imolites in Diaspora in the United States for his excellence in Service as the Chief of Staff.
On March 31, 2013, Prince Madumere became the Deputy Governor of Imo State, the office he is in till date. Truly he has in no little measure given the office the needed boost with his brand and life style of humility, hard work with particular effort in ensuring that welfare of his staff are considered paramount. Through his Prince Eze Foundation, lives are being greatly changed through community services, empowerment, medical and business assistance and youths empowerment.
Imo number two citizen who is popularly known as Mandela of Imo State following his unjust incarceration for standing his ground in contributing and asking the right questions for a change. It will be recalled that Imo Deputy Governor during 2011 elections was alleged to have tried killing the former President of the Federal Republic of Nigeria, Chief Olusegun Obasanjo with satchel water, the allegation that had no bearing all with the truth among other eighteen youths who were campaigning for Overnor Okorocha.
Today, he stands tall as he was acquitted of any wrong doing. He has proven, indeed, that he is a bankable partner whose yes is yes and no is no.
Anselm Okwuaku