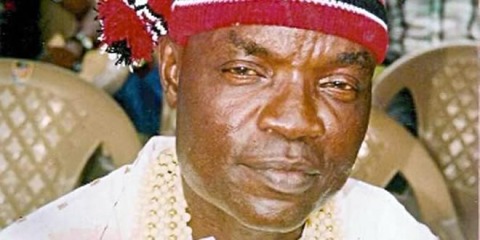 Chief Rommy Ezeonwuka the Ogirisi Igbo is a member of the board of trustee of APGA with passion for progress of the party. In this interview he explains the reasons behind his accepting the BOT membership. He also spoke on the recent exodus of some key members of the party to PDP and readiness of the party ahead of the 2015 general election predicting that the party will overcome its current challenges and pull surprise results come next year election. He spoke with Theo Ray.
Excerpts
Following your position as Igbo leader and  Ogirisi Igbo some people are saying that you are not supposed to be partisan by accepting the BOT membership of APGA, how would react to this?
Thank you for this observation. I accepted the offer because of the fact that APGA carries Igbo interest at heart with the legacy of the late Igbo leader and former Biafran war lord Dim Chukwuemeka Odumegwu Ojukwu as its guiding post. APGA looks down the Igbo line more deeper than PDP, APC and other political parties and that's why Ojukwu used it to champion the cause of Igbo Liberation and wished that the party would continue to dominate politics in the southeast
APGA was the first political party to field Igbo presidential candidate  when it gave  Ojukwu the ticket to run for presidency in 2003 and the late Eze Igbo gurugburu used the party to redefine Igbo interest in Nigerian politics into his lasting legacy by canvassing vote for APGA as his last wish. consequently you discover  that there is no inseparable link between APGA and Igbo leadership. Some people use to say that APGA is an Igbo party but it is not rather the party is passionate about the cause of Ndigbo and minority Nigerians in general.
I can remember very well that APGA was floated when it became clear that the PDP and APP then were governed by retired Army Generals who have no vision for the emancipation of the minorities and thus they have no intention to field Igbo presidential candidate or Igbo running mate.
Other political parties are yet to field Igbo Vice Presidential candidate or running mate not talk of presidential candidate since the return of democracy in 1999. one of the parties is even thinking about fielding Moslem presidential candidate and a Moslem running mate just to ensure that  the south east region completely moved away from Aso Rock.
But they gave Ndigbo office of the senate president?
Yes but they didn't trust any Igbo man who occupied the office, They deliberately refused to repose confidence on Igbo senate president and that was why they serially impeached them one after the other, late Evans Enwerem was impeached alongside side late Okadigbo and Aldolphus Nwagbara as senate presidents in a space of two years, they never believed that Igbo man can go according to their dictate and wish
Even in the party hierarchy they weren't comfortable, For instance Chief Vincent Ogbuluafor and Okwesilieze Nwodo were thrown out in a space of a year as national Chairman of the PDP because of the same problem of lack of trust on Ndigbo as minority or things like that.
Every political party has its ideology and set aims and objectives. The ideology of APGA is to liberation of the minorities Nigerians  of which Ndigbo is one and the set goals and objectives are to galvanize the minorities into effective participation in democratic process of electioneering in Nigeria, to win elections and gain the opportunity to unleash our potentials for the interest of Nigeria at large.
For instance I believe that all the Igbo in the National Assembly could have done better in performance  both at the national level and at home if all of them were elected under the platform of APGA. So I accepted BOT membership to contribute my quota in mobilizing support for the party to win elections using my position as the Ogirisi Igbo.
How far do you think you can go considering the fact that the party is engulfed in a bewildering crisis of leadership with notable members decamping to PDP of recent?
I will certainly go very far because APGA is like a beautiful bride as far as the present and future of Nigeria politics are concerned. If you watch the political terrain very well you will discover that those elected in the platform of PDP, APC and others are very poor performers going into 2015. They have nothing tangible to show as per achievements to go for reelection but they still want to seek reelection and that's where APGA will have open doors.
The situation is similar to what happened in Imo state in 2011 when Ohakim was voted out on the ground of poor performance in favor of Okorocha under APGA. Unfortunately Okoroacha betrayed the people by dumping APGA for APC. I hope the good people of Imo state will retreat and revenge on the disappointment of Okorocha by voting him and APC out and restore APGA back on top of power at Douglas road in 2015.
APGA will make waves in 2015 with change agents who are virgin politicians who have the interest of the people at heart and are eager to test elective leadership positions in quest to serve the people. Those who have failed to perform and have betrayed the people that elected them by abandoning them to join another party are in trouble as far as APGA is concerned. In Anambra Central for instance I'm sure our National chairman Chief Victor Umeh who has been under pressure to run for senate will dethrone Ngige from the senate. Ngige has been widely accused of poor performance and the people are ready prove it with votes by voting him out next year.
Personally, I am not bothered with those who decamped to other party because already they are losers. They have seen the hand writing on the wall that they cannot win APGA ticket to seek reelection because of their poor performances and I'm sure we are going to trounce them with virgin candidates at the polls come next year.
It is believed that those incumbent elected office holders have a lot of money to throw about in 2015 and the virgin candidates may not be able to stand the test of time in terms of money when the elections come up?
In 2011 as incumbent governors Ohakim and Akwa Doma of Nassarawa state had a lot of money but they were beaten by virgin candidates. Kayode Fayemi an incumbent governor was recently defeated by Ayo Fayose in Ekiti state. They will share their loot but people will vote their conscience. That is how it has always been, people will collect their money, rice, salt and clothes and vote them out. I don't believe in money factor. Some of the incumbents are even running for a third term which people are not comfortable with, so the chances of APGA is very bright ahead of 2015.
Third term is not acceptable especially when the person seeking it icannot boast of moving a motion in the floor of the house not to talk of presenting a bill that was aimed at impact on the people he or she was elected to represent. The situation is shameful but unfortunately politicians like to take people for granted.
How do you look the disagreement between APGA National Chairman Chief Victor Umeh and former Governor Peter Obi?
It  is a party issue  caused by a little gap between them and some people like my humble self in the BOT. We were not consulted for us to give our opinion and advice but nothing has gone beyond repairs. We shall see to it in due cause.
Ahead of 2015 it appears that Ndigbo including leaders of APGA are busy campaigning more for president Jonathan to seek reelection and less  for APGA as a party. How do you look at the situation?
Campaign for Jonathan to seek reelection is a nation wide movement and of course the most current political issue and Ndigbo particularly those in PDP and APGA don't want to be left out to avoid being labelled as opposition to the president. Already Ndigbo in PDP have declared that no Igbo man will aspire to run for presidency under PDP in 2015 to ensure 100% support for Jonathan. APGA too has declared that it will not field candidate for presidency to make way for the incumbent president to seek reelection.
Every body both those who are interested in governorship, senatorship, house of reps and state assembly are playing along the line of asking Jonathan to seek reelection and by the time Jonathan accepts and declares his intention to run people will now look at themselves and their parties and draw out plans on how to face the battle of 2015. Like I said earlier APGA is a beautiful bride  and when the time comes people will understand what I mean.
The campaign asking Jonathan to come out and seek reelection is gathering much momentum, does he really worth it considering his performance in the last four years?
To be frank with you journalists we have no better choice than Jonathan as far as 2015 presidential election is concerned so i belong to the party that is asking him to run again. Apart from the fact that he has performed creditably well. I support his reelection because the north ruled for many years before a southerner emerged president through Obasanjo and now Jonathan. I think that it should be wise enough for the south to retain the presidency for more time and that is why every body should support the incumbent president to seek another four year mandate in 2015.
What is the hope for Igbo presidency in your own thinking?
It is our wish that an Igbo man will succeed Jonathan in 2019 and by then the presidency must have rotated across the geo political lines in the south. From Obasanjo in the southwest to Jonathan in the south south down to Igbo man in south east and the age long injustice surrounding the presidency will be history.
This is my own calculation and I wish that Ndigbo will buy into it and start doing something positively in that direction. First is to burry those who died during Biafra war and secondly to unite and speak with on voice politically and otherwise because divided we fall but united we stand and face the challenges ahead of us squarely.
Let me use this opportunity to appeal once again for Igbo unity and performance of the burial rites of those Igbo men, women and children who died during Biafran war. These two thins are going to help us a lot.