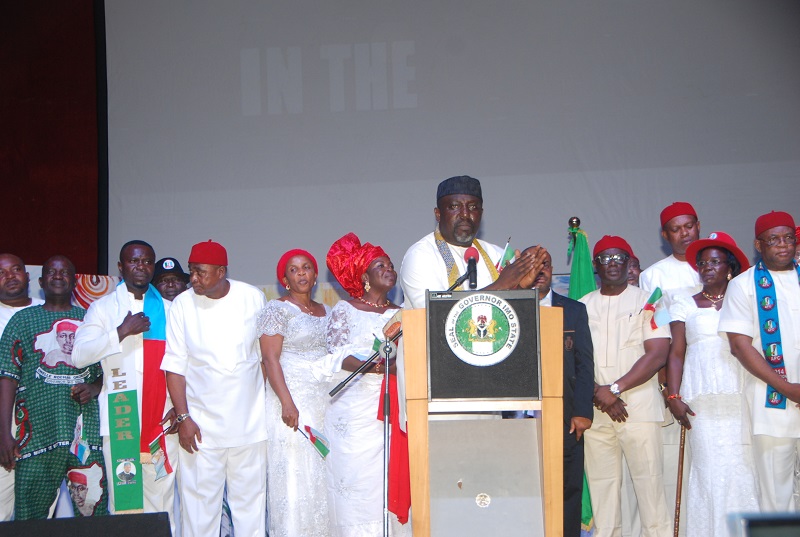 The year 2015 will be a major election year across the length and breadth of Nigeria. Different Political Parties, both major and minor ones are gearing and preparing seriously for it. Imo State is not isolated from this trend. Accordingly, here in Imo State, the major party the People Democratic Party is seriously planing and strategising unfortunately not as a party as of now..
When you look at the contenders to the position of PDP candidate come April/May 2015, it is an impressive list. Amongst them you have an immediate past Governor Chief Ikedi Ohakim, the deputy speaker of the House of Representative Hon. Emeka Ihedioha, Sen. Ifeanyi Ararume, Sen Hope Uzodimma, Sen. Chris Anyanwu, Chief Festus Odimegwu, Chief Tony Ezenna, Capt. Iheanacho and a host of others.
Each of these contenders is eminently qualified to carry the PDP flag to the 2015 governorship election. But the question is, has PDP analysed and understood why it lost Imo State to PPA?, the party on which Ikedi Ohakim contested and won in 2007 before decamping to PDP later. Again has PDP analysed and understood why it lost the 2011 governorship election to APGA and Rochas Okorocha? In 2007 PDP in Imo State was a divided family, there was no unity. There was the Abuja group made up of the national assembly members then and there was the Owerri group headed by the then governor Chief Achike Udenwa.  Chief Udenwa found an ally in the then President Chief Olusegun Obasanjo. Of course Sen. Ifeanyi Ararume who won the PDP primaries belonged to the Abuja group. Obasanjo and Udenwa denied Ararume his hard won victory and engaged themselves in anti-party activity that should have earned them expulsion from the party by making sure a non PDP member was installed governor of Imo State. The beneficiary of this heinous crime was no other than Ikedi Ohakim. This same Ikedi Ohakim who became governor thanks to Achike Udenwa and Olusegun Obasanjo on the platform of PPA in 2007 contested for the same office on the platform of PDP in 2011 and lost to the present Governor Owelle Rochas Okorocha.
In 2011 Imo PDP was again not united. A former governor and former minister at the federal level under PDP in order to realise his ambition of becoming a senator decamped from the Party on whose platform he became a governor and a minister to another party the ACN. Funny enough by this time he had reconciled with Senator Ararume who joined him in ACN. I have no problem with the Senator's decision to seek a better political fortune elsewhere given the treatment he received from our party PDP but I have serious moral issues with Onwa, Chief Achike Udenwa who abandoned the party that made him governor and minister because he must be a senator. This and other in- fighting coupled with the fact that the Governor Chief Ikedi Ohakim's style of leadership distanced him from the electorate thereby costing PDP the governorship.
Does PDP at the centre understand the harm these anti party activities bring on the party. My answer is no. Of recent there has been numerous sightings of the former governor of Bayelsa State, —————–Alameysia at Douglas House Owerri. One would like not to believe the story that the former governor is working for the President of the Federal Republic of Nigeria, His Excellency Ebele Goodluck Jonathan. Is the Presidency as it did under Obasanjo again negotiating Imo State away to APC? Does the Presidency think that PDP machinery at the National level plus the machinery at Owerri will not be enough to secure victory for PDP come 2015?. Obasanjo's anti party activities cost PDP so much that are yet to be rectified and corrected in most states. One would like to believe that the Jonathan Presidency is not trying to emulate Obasanjo's way of doing things.
What should be the strategy of PDP to remove Owelle Rochas Okorocha from Douglas House Owerri. To start with, I suggest that Imo State leaders of the party and stakeholders should demand audience with The President of the Nation who doubles as leader of the party and with the Party's National Chairman, Alhaji Muazu. These two gentlemen should be impressed upon and convinced by their guests from Imo State that the party is able and capable of delivering Imo votes to Mr. President in his reelection bid thereby taking the state back from APGA or APC.That the Party at the national level and the Presidency should mobilise and give them the necessary support.That Mr. President should stop sending obvious emissaries to Gov. Okorocha in Owerri.
Now let us drop our individual egos and ambitions for the sole purpose of winning the State back from Okorocha's mismanagement. Imo West or Orlu Zone has (12) local governments out of the (27) twenty seven that make up the state, Owerri zone (9) nine and Okigwe (6) six. As I said earlier all the contenders for the position of PDP candidate for the governorship election come 2015 are eminently qualified and individually can rescue the state from Okorocha's gross and heinous mismanagement. But it has to be one single person. If we are serious as a party to take Imo back through the ballot box, then the eventual candidate must come from Orlu zone. Governor Anayo Rochas Okorocha is from Orlu and to remove him must start there. We need a candidate with charisma and sagacity, one with grassroots appeal and local wisdom. Amongst the contenders from Orlu zone, and indeed the whole of them across the state I see only Senator Hope Uzodimma as the man that can unseat Owelle Rochas Okorocha from that Douglas House. He amongst the whole lot is the only one who can beat Gov. Rochas in all the local governments in Orlu zone. Then if he picks (3) three local governments from Owerri zone and another (2) two or (3) three from Okigwe zone, PDP must have won the election. Don't forget that in 2007 PDP primaries he came (2nd) second after Sen. Ararume then. Since then he has risen in stature. He is presently a Senator of the Federal Republic and has acquitted himself there creditably. Let us work collectively for the general good of the party. Let our selfish ambitions be set aside this time around. I know I will be called names but so be it. For if PDP will follow what I have suggested here come 2015 the Party will be shouting HUURRAAH. It is not about any of the contenders, it is not about Senator Hope Uzodimma, neither is it about who is supporting who. It is about the People Democratic Party, Imo Chapter. Finally it is about Imo State come 2015.
Signed:  Samson Nzeribe (Ph.D)
 Tel. 08059477384, 07066025461
Wrote  in from  Oguta.