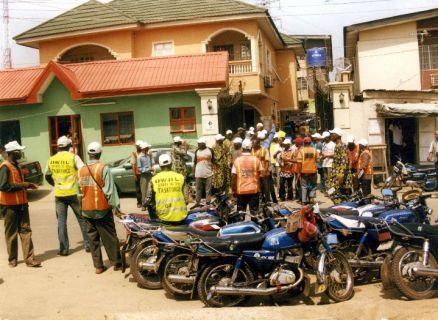 A Chief Magistrate Court sitting at Umelemai in Isiala Mbano Local Government Area of Imo State has convicted two motorcyclists, a.k.a Okada riders for conducting themselves in a disorderly manner thereby causing public disquiet and nuisance.
In the judgement which took place on Friday 13th June 2014 but was obtained by 
247ureports.com
today
, 
the prosecution alleged that the Okada-men committed the offence same-day while escorting a corps removed from a mortuary in Agbaja Ehime Mbano to its home somewhere in Isiala Mbano.
Our source has it that the convicted two were among five cyclists arrested by the Police on duty at the Court which was in full session at the time when the Okada men, who rode as if hell was let loose, halted their movement beside the Court premises, blaring horns, screeching tires and involving in acrobatics with their motor-cycles.
The two convicted, were those who, in addiction, had removed the exhaust pipes of their motorcycles, which produced heard rending sounds capable of driving any sane person crazy. "That was what irked the Court", remarked the Deputy Chief Registrar, Chief Alakwem Alex.
Delivering judgement, the presiding Magistrate, E.U. Chiaka observed that the bizarre conduct of the erring Okada men disrupted the conduct of court proceedings in a congenial and conducive atmosphere, and being aware ab initio that it was a court in session, and therefore sentenced them accordingly for contempt of court.
However, after taking pleas for clemency volunteered by men at the bar present in court, the judge handed down a sentence of two weeks jail or option of Five Thousand Naira (N5000) fine for each of the two convicted.
The sentence was to serve as a deterrent to other motorcyclists who might hide under the cover of being in the convoy of the dead to act lawlessly and criminally to break public order.
Three others arrested alongside the two were, as at the time of this report, yet to be arraigned in court.
Our reporter also has it that two middle-aged-men in the ill fated convoy fell-off their motorcycles, sustaining head injuries and were rushed to hospital.