Advertisement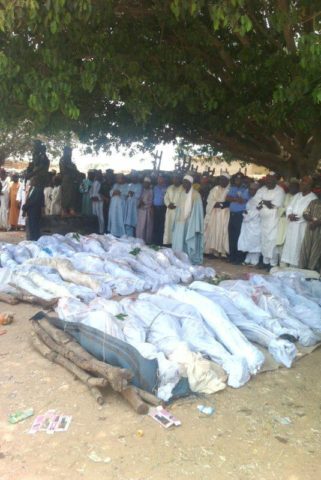 The House of Representatives, on Tuesday summoned the Inspector-General of Police, Mohammed Abubakar and the National Security Adviser, retired Col. Sambo Dasuki to brief it on the security situation in the country.
The House also summoned the Minister of Defence, retired Lt.-Gen. Aliyu Gusau.
It urged security agencies to fish out the suspected Fulani herdsmen that attacked some communities in Zamfara and Nasarawa states.
According to the house, there is the need to bring the perpetrators of the dastardly act to book to serve as deterrent to others.
The resolution followed a motion moved by Rep. Ibrahim Gusau (PDP-Zamfara), which was unanimously adopted without debate.
According to Gusau the gunmen, in hundreds, operated freely for about four hours shooting children, traders and community leaders.
He noted that similar incidents had happened in Benue and Nasarawa where several people were killed by Fulani herdsmen.
Gusau said that the residents of many of the affected villages were living in persistent fear of being attacked while many had fled their homes.
He said that the Fulani herdsmen had become organised and daring that no small unit of security personnel could repel their attack.
"These groups of attackers are becoming more coordinated and if not checked, they can turn into yet another organised terror group.''
230 people were killed in two villages in Zamfara on April 3 and 5.
Meanwhile, the House has mandated its Committees on Works and Army to investigate the circumstances behind the delay in constructing military barracks in Doma, Nasarawa State.
The resolution emanated from a motion moved by Rep. Mohammed Onawo (PDP- Nasarawa) which was adopted.
According to Onawo, N100 million has been appropriated in the 2014 Budget for the construction of Doma military barracks.
He expressed surprise why the contract for the project had not been awarded.
The legislator noted that the essence of the project was to boost security in the area and other neighbouring towns of Guma, Gwer West and Agatu in Benue.
Onawo stated that the essence of the project may be defeated if urgent measure was not taken to hasten its execution.
"The appropriated funds may be wasted if action is not taken by the parliament to ensure the timely implementation of the project'' he said