By Joseph Udeze, Awka
Former Governor of Anambra State and 2023 Presidential Candidate of Labour Party in Nigeria, Mr. Peter Obi, has commended young writers in Anambra State for annually celebrating legendary Nigerian writer, Late Prof. Chinua Achebe.
Obi gave the commendation while speaking at the 2023 Chinua Achebe Literary Festival and Memorial Lecture, organized by the Society of Young Nigerian Writers (Anambra State Chapter), which was held at the Prof. Kenneth Dike State Central E-Library Library, Awka, Anambra State capital on Thursday.
Obi, the Keynote Speaker at the event, described Achebe as a revered writer whose literary contributions have left an indelible mark on the global literary landscape. He emphasized the importance of preserving Achebe's legacy, stating that events like the literary festival play a crucial role in keeping the flame of Achebe's influence and legacies alive.
The former Governor, Obi who rated the annual event high, commended the Society of Young Nigerian Writers (Anambra State Chapter) for sustaining the literary initiative, and for their commitment to nurturing and promoting literary talents in Anambra State. He further urged young writers to draw inspiration from Achebe's works and use their creativity to address contemporary societal issues.
Speaking at the event, the Chairman of the Occasion and Traditional Ruler of Obosi, Igwe Chidubem Iweka emphasized that late Chinua Achebe was a great literary icon, whose books were translated in many languages, and encouraged students to always focus on their studies and not be deterred by the challenges of the time.
The monarch also urged the students to constantly seek knowledge through books and to be proud ambassadors of Igbo language and culture anywhere, anytime.
Contributing, former Secretary to the State Government and former Nigerian Diplomat, Mr. Oseloka Obaze, commended the organizers of the event for their dedication to promoting literary arts and preserving the legacy of Chinua Achebe; even as he highlighted the significance of such events in fostering intellectual growth and cultural awareness among the youth.
While reiterating the importance of reading as a cornerstone for personal and intellectual development, Obaze, who is also the MD/CEO of Selonnes Consult, also urged the youth to embrace Achebe's legacy not only through celebrations but by actively participating in the literary world, ensuring that the flame of enlightenment continues to burn brightly in Anambra State and beyond.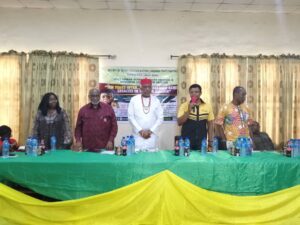 Earlier in his Address of welcome, the Convener of the event and Coordinator, Society of Young Nigerian Writers (Anambra State Chapter), Mr. Izunna Okafor, said primary aim of the event was to celebrate Achebe as a hero and eagle on the Iroko of African Literature, immortalize him in their own way as young writers, as well as keep his memory alive.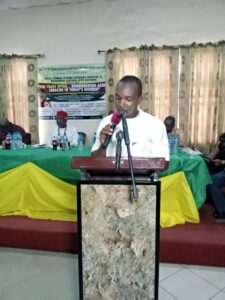 He commended the Anambra State Governor, Prof. Chukwuma Charles Soludo for recently immortalizing Achebe, which he said, had been one of the Association's major calls and appeals to government since the last eight years the event was initiated.
"Aside these, we also, through this event, promote, encourage and reward creative writing and reading culture among our youths and students; discover and harness amazing talents among our young ones, while also presenting writers and readers (intellectuals) as the elixirs to the country's ailments, among other objectives we pursue through it," he said.
Speaking, former MD/CEO, Anambra Broadcasting Service, Chief Uche Nworah, echoed the sentiments of preserving cultural heritage as a key aspect of Achebe's literary legacy. He emphasized that Achebe's works served as a bridge connecting the past, present, and future of the Igbo people, fostering a sense of identity and pride. He further encouraged the youth to delve into Achebe's novels and essays, viewing them not only as literary masterpieces but also as valuable repositories of Igbo traditions.
On his own part, the MD/CEO Anambra State Signage and Advertising Agency (ANSAA) and Co-founder of Awka Literary Society, Mr. Odili Tony Ujubuoṅu, passionately urged the youth and emerging writers to cultivate imaginative thinking and writing skills, emphasizing their pivotal role in fostering innovation. Ujubuoṅu underscored the symbiotic relationship between writers and innovators, asserting that groundbreaking ideas often originate from the creative minds of writers, while challenging participants to embrace avid reading.
Other personalities who graced the occasion include the first female Professor of Mass Communication in Sub-saharan Africa, Prof. Stella Okunna; the state's Commissioner for Culture and Tourism, Mr. Don Onyenji, represented by Mrs. Chioma Ifediorah, the Ministry's Director of Arts and Culture; the Permanent Secretary, Ministry of Power and Water Resources, Mrs. Ifeyinwa Uzoka; award-winning writer and journalist, Uzor Maxim Uzoatu; widely-published author and former governorship candidate in Anambra, Okeke Chika Jerry; the MD/CEO, Naira Rice Mill, Mr. Arinze Omenwa; former Director, Anambra State Library Board, Dr. Nkechi Udeze; award-winning author, Reginald Chinedu Ofordile; among others.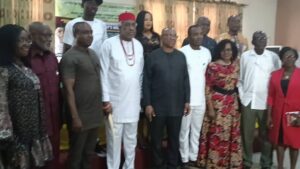 The guests, in their respective remarks, praised Achebe's legacies, commended the event organizers, and encouraged students to prioritize their studies and always strive for excellence.
Themed "Ten Years After: Remembering Achebe's Legacies in Today's Nigeria", the 2023 Chinua Achebe Literary Festival featured unveiling of the 8th Chinua Achebe Poetry/Essay Anthology — "Anthills of Words (In Memory of Achebe)"; cutting Achebe's 93rd posthumous birthday cake, poetry renditions and dramatizing of Achebe's books, Chinua Achebe Essay Writing Competition, and the presentation of certificates/awards to deserving participants and guests, along with other literary activities that made the event memorable.
The Keynote Speaker, Mr. Peter Obi, and the Chairman of the Occasion, Igwe Chidubem Iweka, were also honoured with the Chinua Achebe Excellence Award at the event.
More photos from the event: