By Izunna Okafor, Awka
The Anambra State Police Command and Police Community Relations Committee have distributed over one thousand exercise books and school bags to school children in the state, as part of their activities to mark the 2023 Children's Day celebration.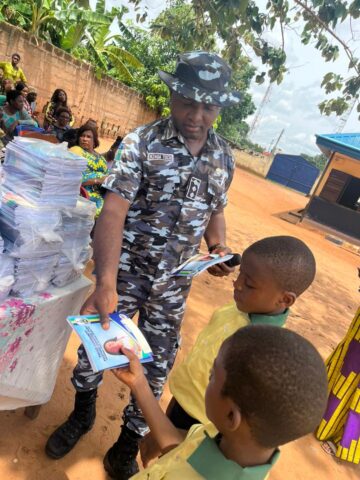 The event, which held at the the Police Children School, Awka, had some officers of the State Police Command and members of the Police Community Relations Committee (Anambra State Chapter) in attendance.
Addressing the school children, the State Police Public Relations Officer, DSP Ikenga Tochukwu described children as both the future and part of the conscience of society, and warned against neglecting them.
As part of security measures, he urged encouraged the children to know such important things as the names of their parents, phone numbers of their parents or guardians, and the address of where they live, among other vital information they should know, so as to enhance their safety, in case of any eventuality.
The Police Spokesperson also advised parents and guardians to always monitor and create a close relationship with their wards, so that they would have direct access to them, disclose some vital information to them and be properly guided and trained.
Contributing, the Woman leader of PCRC (Anambra State Chapter), Mrs Ubah Stella Ijeoma, advised the children to be of good behaviour and aspire to be the best in their academic pursuits.