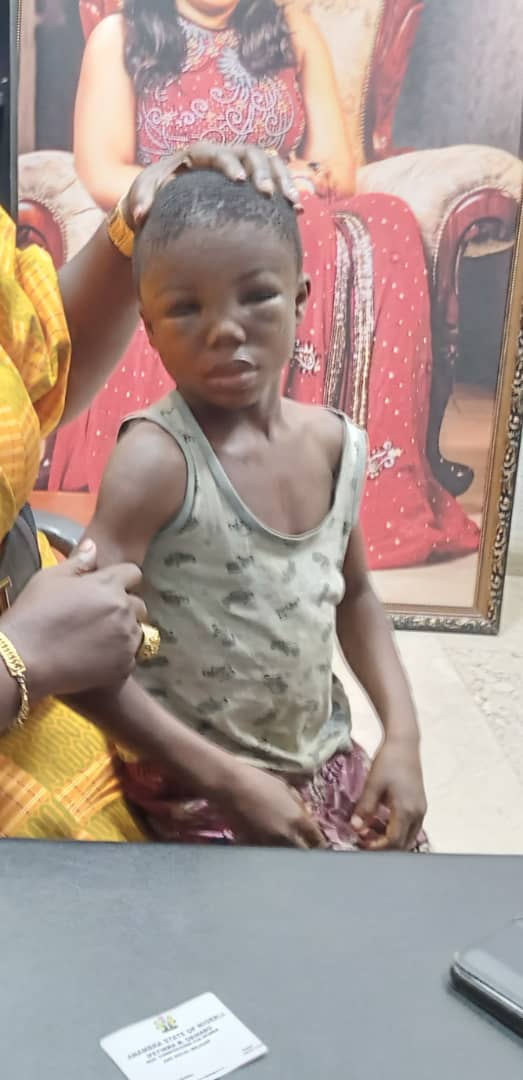 By Izunna Okafor, Awka
Barely five days after the manhandling of a nine-year-old child by her guardian in Anambra State, another woman has similarly battered another underage child in the State.
The victim, simply identified as Sunday, was brought to the office of the Commissioner for Women Affairs in Anambra State on Tuesday by some good-spirited individuals who saw him, rescued him, and reported the matter to the Commissioner.
The apparently maltreated and malnourished young boy also has dangerously-swollen eyes that he could hardly see with, as well as some bruises, and different kinds of old and fresh wounds on different parts of his body.
It was gathered that the child of a single mother lives with his guardian, Mrs Abigail Eguta, in Onitsha where she incident happened.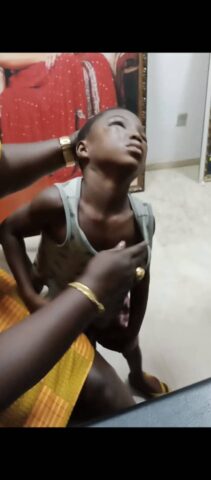 Mrs. Eguta, who is both s pregnant and nursing mother, was said to be a native of Ikwo in Ebonyi State, but resides in Anambra State with her family. She was also said to be a biological sister to the mother of the child, Sunday, whom she severely tortured and maltreated in less than one year she took him to live him in Onitsha.
Aged seven years, the little Sunday was also said to be an out-of-school child, who has regularly been maltreated by his guardian, as was evidenced by scars and wounds on his body.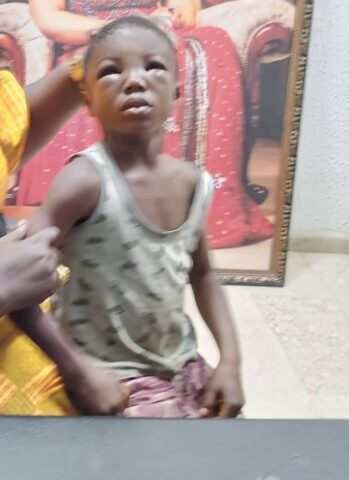 When asked what happened, the suspect, Mrs. Eguta, claimed that she beat him for eating the fish she bought for preparation of Sunday meal.
Asked if that was the only time she beat him, the 24-year-old mother of one, said confessed that she also beat him on Monday for not correctly reciting the English alphabets (A,B,C,D…), which was the may reason why she wounded him.
She, however, said she did not intend to flog him on the eyes nor to blind him, but claimed that it was by mistake that the beating extended to his eyes, which got the two eyes swollen and also inflicted varied degrees of injuries on his body.
"I am very sorry. I didn't intend to blind him or beat him on the eyes, but I mistakenly did so. Please, forgive me, it is the handiwork of the devil," she said, shedding tears.
Mrs. Eguta also claimed that her husband, who is an itinerant businessman, also gave her the beating of her life when he came back and saw what she did to Sunday.
Reacting to the incident, the Anambra State Commissioner for Women Affairs, Mrs. Ify Obinabo, who was visibly angry at the rate of child abuse ongoing in the society these days, utterly condemned the act as unjustifiable and unacceptable in every sense of it.
While wondering why many guardians would have the minds to treat someone else's children who are in their custody as if they are animals, while they pamper their own children; the Commissioner also regretted that such heartlessness was rapidly becoming rampant among the young mothers.
The Commissioner who reproached the suspect for what she described as 'her wickedness against another person's child', further reassured that her Ministry would not relent in fishing out and legally dealing with such wicked guardians in the state.
She also ordered the transfer of the case to the Anambra State Police Command for proper investigation, after which the suspect will be charged to court.
Meanwhile, the victim has been taken to an undisclosed hospital in Awka for proper medical attention.