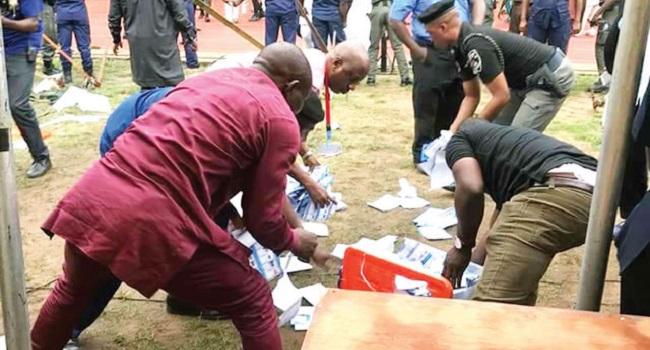 By Izunna Okafor
It was a bizarre moment of fear and confusion at the Umuarusi Amandugba Hall in Isu Local Government Area of Imo State on Saturday morning, as some thugs guided and protected by suspected armed security men stormed the venue of the ongoing supplementary election, snatched the ballot box, and disappeared after allegedly releasing some gunshots into the air.
It was gathered that the thugs, numbering about five, invaded the polling unit, carried out their operation and fled untouched, despite the heavy presence of security men at the hall and and armored vehicles stationed at the various checkpoints close to the scene.
Some of the voters who wondered why such thing could happen without the security officials accosting the thugs, however, expressed their distrust on the integrity and the competence of the Nigeria security agencies, with special reference to the ones deployed for the election.
One of the voters, Chibuike Chikata, who said some armored vehicles had been patrolling the area since morning, however, opined that the operation must have been collaborative and pre-planned deal between the security agents, the thugs and their principal.
"You saw how they snatched the ballot box with security people and armoured around; and so, you don't need anybody to tell you that it was well planned.
"We are afraid, because we are not safe here anymore. How can an election be conducted with an armoured vehicle? But yet, few people came, snatched ballot boxes, and escaped. So, what is the essence of this armored trucks everywhere? This is wrong," he said.