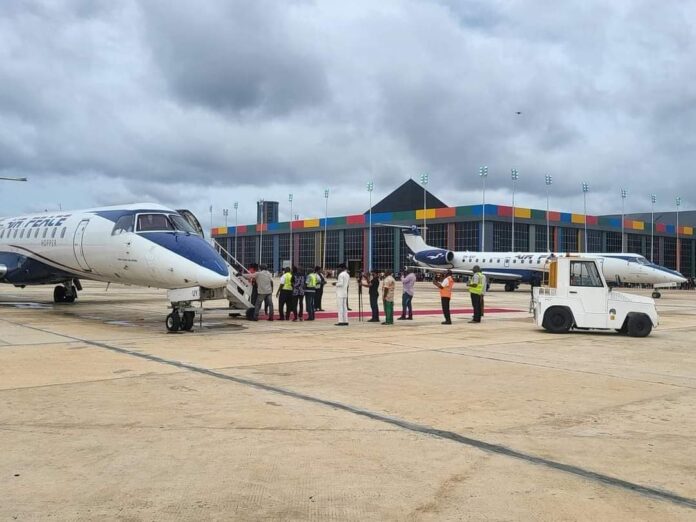 From Mba Nnenna- Abakaliki
Ebonyi International Airport has received its first flight landing.
The Aircraft, Air Peace Hopper, 5N-BXF from Abuja landed at the airport at 3.48 Pm, Thursday amidst cheers from Ebonyians gathered for the inaugural flight.
Following, another Air Peace flight from Lagos, Hopper 5N-BUY  arrived about 30 minutes after.
Governor Umahi while addressing the crowd shortly after receiving the flight passengers at the airport, recalled how badly neglected Ebonyi people were in the past, and attributed the present glories and achievements of the state to God's providence.
He appreciated President Muhammadu Buhari for his tremendous support towards the success of the Airport, and other capital intensive projects in the state.
He also appreciated the State Executive Council, the Legislature, the judiciary and all who contributed to the success of the Airport.
Umahi specially thanked his predecessor, Chief Martin Elechi for providing him the door through which to excel.
He noted that the Airport would be handed over to the Federal government for concessioning in order to keep it running effectively, adding that Buhari would be visiting to officially commission the Airport in the next ten days.
"For the project cost, this entire thing so far is 36 billion naira, including the equipment.
"We have the best equipment in the whole country, and anybody can challenge us.
"What is remaining now is the Air field and run way lighting which we have paid for.
"We needed to have this place to be the best to meet all standards."
Governor Umahi further said the state government would offer free flight to passengers travelling to Abuja and Lagos from the Airport within the next four weeks.
Speaking, the former Governor of the State, Chief Martin Elechi applauded the Governor. While noting that the naming of the airport after President Buhari is most appropriate, owing to his contributions and developmental impact of the state.
The Air Peace Chairman and Chief Executive, Chief Allen Onyeama, represented by Mr Collins Oti, commended the state government for such a huge initiative.
The General Manager, Aerodrome Services, Oladipo Adebayo, who represented the Director, Nigeria Civil Aviation Authority, commended the airport design and other facilities, according to him are of highest quality and standards.
Other dignitaries at the occasion include; the Ebonyi State Governor-elect, Francis Nwifuru; the Senior Special Assistant to Governor David Umahi on Aviation Services, Mrs Obianuju Aloh; and the chairmen of Ezza North and South local government areas, Moses Ogodoali Nome and Mrs Euphemia Nwali respectfully, on whose land the Airport is located.