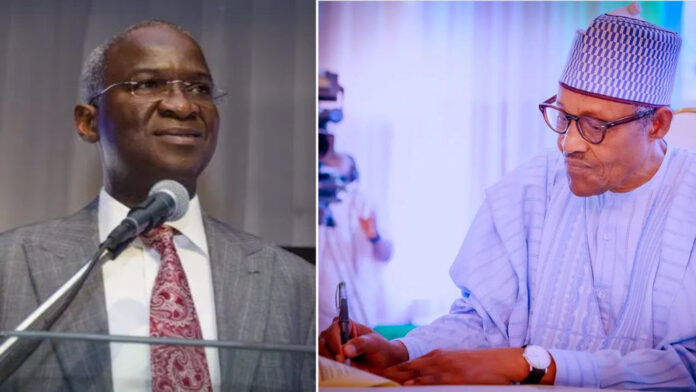 BY SULE TAHIR.
A lump sum of N1.535 trillion was approved by the Federal Executive Council for the construction and rehabilitation of eleven roads across the country, under the Nigerian National Petroleum Company Limited (NNPCL) Tax Credit Scheme.
The Minister of Works and Housing, Babatunde Fashola, said the money would be spent on some major roads in Nigeria, covering almost 700km.
This is coming barely 40 days to the end of President Muhammadu Buhari's second term.
Fashola said the roads, which would soon be completed, would link 11 states.
He listed the benefiting states to include Edo, Delta, Kano, Kaduna, Borno and Adamawa among others.Buhari approves N1.535trn road contracts 40 days to hand over
"The Council gave approval for the construction and rehabilitation of 11 roads totaling 737.242 kilometers in the sum of N1, 535, 154, 247, 234.48 under phase II of the NNPC tax credit scheme.
"Recall that in January this year, the council approved a memo for the NNPC to invest N1.9 trillion on our roads. That amount was then about 44 roads that had been awarded and the balance of those roads that had to go through procurement between then and now are the 11 that have now been approved by the council," Fashola said.