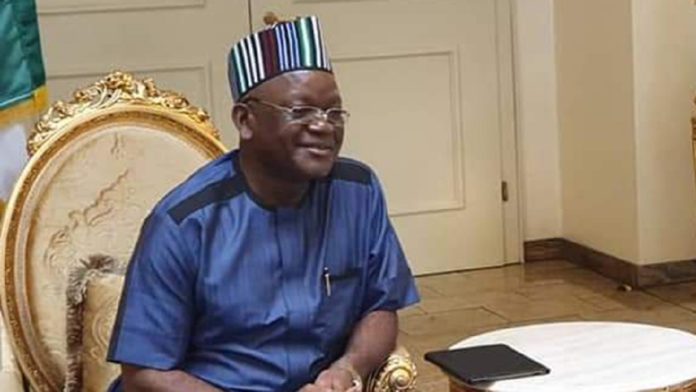 From Msurshima Andrew, Makurdi
The Peoples Democratic Party, (PDP) led government of Governor Samuel Ortom in Benue state, has bashed the incoming All Progressives Congress, (PDP) over what it describes as spurious allegations it levelled against its administration.
The APC has been advised, accordingly, to desist from acts capable of undermining the Ortom administration whose tenure runs till May 29, 2023.
Recall that the APC, while briefing journalist last week had alleged that Governor Samuel Ortom is planning to divert Benue state resources through awards of emergency contracts and taking of few weeks to his handover.
The APC who spoke thought it state chairman, Mr Austin Agada also noted that the intention of the Governor Samuel Ortom administration to construct a civil airport at the time was ill timed, adding that his last minute employments and appointments would set the incoming administration against the Benue people.
Agada had cautioned Benue people against accepting such offers as well as advised consultants and contractors against entering into such deals with the outgoing administration saying the "incoming Alia's administration will not be held accountable for any nefarious contractual obligations."
Responding, the PDP Publicity Secretary, Bemgba Iortyom, cautioned the APC, to desists from "extreme form of impunity and immaturity", saying there can never be two governors in a state at a time.
The PDP in a statement said "Alia's APC was driven by impunity to seek illegal end to Ortom's tenure, to subvert and truncate the legitimate mandate of the administration of the PDP before its due exit date of May 29th, 2023.
He said "The plots by Alia and APC have been revealed to include secret meetings held with selected civil servants some of whom are reported to have been threatened and some they have directed to scuttle the smooth running of the Ortom administration by ignoring directives from the governor.
"By way of a guide, Alia and APC should act on the invitation extended to them by Governor Ortom to nominate persons to serve on the Transition Committee, as by so doing they will be engaging themselves meaningfully on the task they seek to be mandated to discharge come May 29th, 2023", PDP advised.
Also responding to the allegations, Special Adviser, to the governor, Media and Publicity, Terver Akase, described the allegations as false, saying the APC in Benue was looking for excuses to hold unto in the event that it failed in their promises to the Benue people.
Akase while stating that the APC were undermining the Ortom administration said, "The APC in Benue State is on a desperate mission to subvert the administration of Governor Samuel Ortom whose tenure will constitutionally last till May 29, 2023.
"In the last one week, APC has written to heads of government agencies and some permanent secretaries to stop obeying directives from the Governor. This is in addition to making false, inciting and misleading press statements against the present administration.
"On Friday, APC Chairman, Austin Agada addressed the media and made spurious allegations against Governor Ortom, particularly as it relates to financial transactions and general governance. Agada also illegally asked heads of state government agencies to henceforth stop complying with the Governor's directives and approvals. We wonder where on earth such rascality is obtainable.
"The Benue APC should desist forthwith from making inciting and provocative statements while issuing threats to officials of government as if they are already in power. They are yet to assume duty and must be seen to conduct themselves lawfully and in a manner devoid of mischief.
"It is absurd and disturbing that the Benue State leadership of APC has waged a war of attrition on a legitimate government whose tenure is yet to end. They are in a hurry and have resorted to arm twisting tactics using falsehood as a tool to disparage and blackmail the current administration.
"We wish to remind the APC that Governor Ortom remains the duly elected Governor of Benue State and has the constitutional authority to direct government agencies and make approvals while carrying out any other business of government till May 28, 2023. We demand that the party desists from its acts of sabotage and subversion
against the present administration.
"It is equally pertinent to state that the Benue State Government under Governor Ortom has not entered into contract with anyone for the construction of the civil airport approved for the State by the Ministry of Aviation, contrary to the speculation by the APC Chairman and his team.
"It was also a figment of the imagination of the Benue APC Chairman and his co-travelers when they claimed that the state government was involved in some unspecified contractual engagements of various sums which they curiously could not substantiate."
According to him "As a functional and responsive government, the Ortom administration reserves the right to employ and appoint qualified Benue indigenes into positions where vacancies exist; and that's precisely what this administration has done with the employment of Benue sons and daughters through the Teaching Service Board (TSB) and the State Universal Basic Education (SUBEB)."