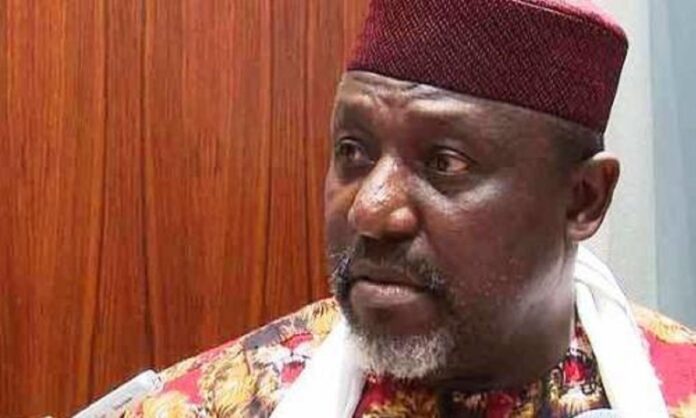 By Joshua Chibuzo Andrew, Owerri
A source has revealed how Imo State former governor, Rochas Okorocha is negotiating for deputy governorship position for his son-in-law, Uche Nwosu in the forthcoming Imo State governorship election.
Chief Nwosu, who contested for Imo Governorship in the 2019 general election with the platform of the Action (AA) against the present govenor of the state, Hope Uzodinma who ran with the All Progressives Congress (APC) and Emeka Ihedioha of the Peoples Democratic Party (PDP).
The source accused Imo State governor, Hope Uzodinma and former govenor Rochas Okorocha who is the current senator representing Imo west senatorial district of sponsoring crisis in Imo State chapter of the labour Party to actualize the alleged deputy governorship aspiration of his son in-law, mr Uche Nwosu.
According the source: "Between Uzodimma and Okorocha, the idea is to sponsor about eight aspirants for the primaries. As at the last count, four of such aspirants have bought their nomination forms for the Imo state governorship primaries. Uzodimma and Okorocha are to use money already set aside to buy up delegates.
In all these plans, information has it that the biggest headache facing the duo is how to stop Major General Lincoln Ogunewe (rtd) who is said by LP stakeholders, to be the most credible, most qualified and most popular aspirant that would be acceptable to Imo state people. Ogunewe is also said to have the capacity to protect his votes at the governorship elections in november if he wins the LP ticket.
Ogunewe's popularity is believed to be not only with the teeming youths and "Obidients' but also across all ages and gender of people in Imo state. He is generally believed to be the only one among the contestants who is capable of causing a "ballot revolution" similar to that of Peter Obi that would effectively bring to an end Uzodimma's occupancy of Douglas House, the seat of government in Owerri, the Imo state capital.
As part of Uzodimma's strategy, if none of his preferred aspirants wins the primaries, he would use one or two of them to sponsor crises that may linger in court till the november election, thereby distracting and destabilising General Ogunewe if he eventually becomes the candidate of the party.
Very credible sources have identified at least four persons who are said to be working on this project for Uzodimma and Okorocha.
Usually reliable sources at Government House quoted Uzodimma as boasting that after giving APC the controversial "landslide victory" during the last saturday House of Assembly election, that his next focus is now on the governorship election.
On Okorocha's part, using his son in law as deputy governorship candidate would see him bounce back in Imo politics if his candidate wins. Observers say that this is like bringing the much hated Okorocha's political legacy back through the back door.
Close aides and political pundits are of the view that Uzodimma is making this move because he is afraid that if a credible and popular candidate like Major General Ogunewe (rtd) emerges from LP, despite his manipulations of the House of Assembly elections, he may be booted out of office by Imo voters." He said.
Meanwhile, the former govenor Rochas Okorocha has denied sponsoring nor endorsing any aspirant for Imo Governorship race.
Okorocha, had on Thursday, 23 March spoke through his chief press secretary, Sam Onwuemeodo.
His statement read; "For sometime now, the story has been trending, especially, on social media platforms, that, the former governor of lmo state and Senator Representing lmo West senatorial District, Owelle Rochas Okorocha, has adopted a particular aspirant , in one of the Political Parties, for the November 2023, governorship election in the State.
Some inexperienced " media" aides of some other aspirants, have continued to leverage on this story of adoption, to pinch the Distinguished Senator, without finding out whether the adoption story, was real or otherwise.
The real story is that, Okorocha has not, in any way, adopted any gubernatorial aspirant in the State, as we write or speak, for the November 2023 election.
However, if by "tomorrow or next", the need arises or it becomes necessary or imperative that, he should act or speak, on the November election or on those involved, as the case may be, he would not hesitate to do so. And that would equally be in the overall interest of the State and her people.
That would also be in the open or would be made public and would, obviously, not be a matter of speculation or hearsay .
ln other words, the public should disregard or jettison the adoption tale. lt's a moonlight tale.
And for some of the aspirants, allowing their " media" aides to be hiding under the false adoption story to be attacking Okorocha, our candid advice is that , they should not begin "something" they do not have the capacity to do and in which, they would also be at the receiving end, in the final count."