By Joshua Chibuzo Andrew, Owerri
The Executive Committee of the Peoples Democratic Party (PDP) in Igyorov Ward of Gboko Local Government Area of Benue State has suspended the National Chairman of the party, Iyorchia Ayu.
Ayu was suspended for alleged anti-party activities after passing a vote of no confidence on his leadership.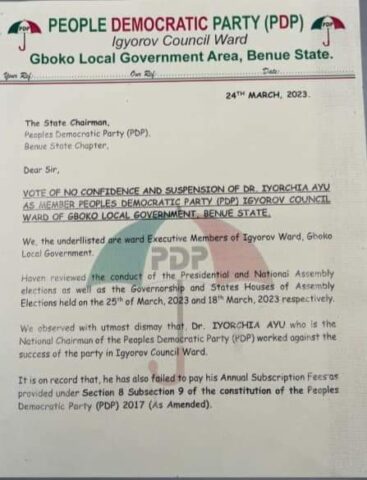 Reading their resolution, the secretary of the party in Igyorov ward, Banger Dooyum, alleged that Ayu contributed to party's defeat in his ward and local government in the governorship election.
He was accused of not paying his annual dues as enshrined by the party's constitution.
However, twelve out of the seventeen exco members signed the documents authorizing his suspension.
It was also alleged that the PDP chieftain did not vote during the
governorship and state assembly elections held on the 18th of March, 2023.
According to them, most of Ayu's closest allies worked for the opposition All Progressive Congress (APC) which resulted in the abysmal performance of the PDP in Igyorov Ward.
The chairman of Igyorov, Kashi Philip, also signed the letter alongside the exco.