By Izunna Okafor, Awka
Residents of Araba Street in Awka, Anambra State capital, on Thursday, counted losses as fire razed down a 4-room apartment and different items worth millions of naira.
Loading ...
It was gathered that the fire outbreak which started at about 2.am when people were deep asleep was caused by electrical default and consequent explosive sparks in one of the rooms. Further investigation revealed that gas cylinders in some of the rooms also help to escalate the fire.
Five occupants of the affected rooms were also said to have miraculously escaped death, while their property, including cash, certificates, laptops, and other items were razed to ashes.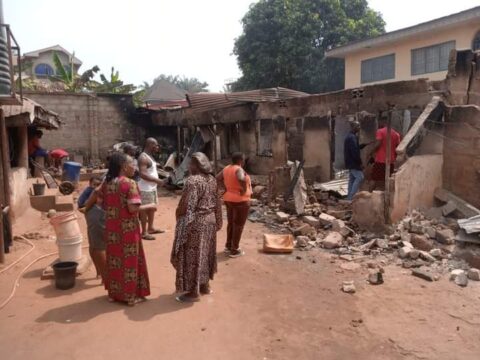 In an interview with newsmen, one of the victims, Mr. Ahmed Abubakar Idris from Kogi State, said the residents made several efforts quench the fire, including using water and fire extinguisher, all to no avail, after which they had no other option but to stand afar and watch helplessly as their property go up in flames. He, however, explained that their efforts and those of other people who came to assist them, helped to prevent the fire from escalating to other buildings in the area.
Another victim, Mr. Agozie Anakor, who also narrated his ordeal, called on the government, groups and other good-spirited individuals to come to their aid, as they no longer have shelter or any household property, in addition to other forms of lacks and hardships the fire has subjected them to.
When contacted, the Anambra State Fire Chief, Engr. Martin Agbili said the State Fire Service did not know about the fire incident nor receive any call or information to that effect.