Information reaching 247ureports.com through source within the security cadre indicates that the military has upped the stakes in the war against terrorism and banditry. This is as military launched new offensives targeted at the leadership of the bandits in Zamfara and Katsina states. The military exercise has been ongoing and was intensified in the last 48 hours.
Loading ...
As gathered, dozens of bandits was killed/neutralized by the activities of the Nigerian military. Many more were taken captive by the Nigerian military for interrogation and intelligence gathering.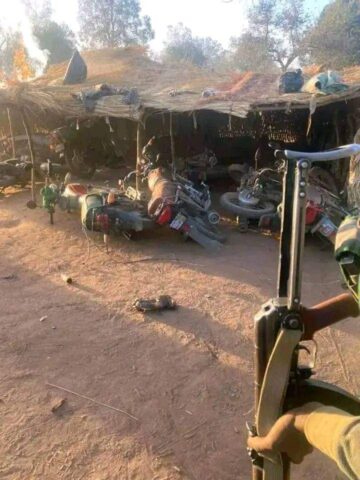 According to a source in Zamfara State, the Nigerian military have been engaged in an intensive field operation to fish out the Bandits and their enablers. "Many of the bandits and their leaders have been killed and many have escaped. They conclaves and houses have been destroyed by the military".
The source continues to add that "many of the foreign bandits which typically comprise of Fulani and others tribes from Mali – have now started recruiting locals and natives of Zamfara State to aide them in the terror activities".
The source added that he has observed an increase in activity in the forests. "We have noticed something. We cannot put a finger on it but it appears they are preparing for the 2023 general elections."
Meanwhile, the rescued military officer who was abducted in Tsafe community remains hospitalized at a hospital in Kaduna – after having sustained leg injury – resulting from bullet wound.