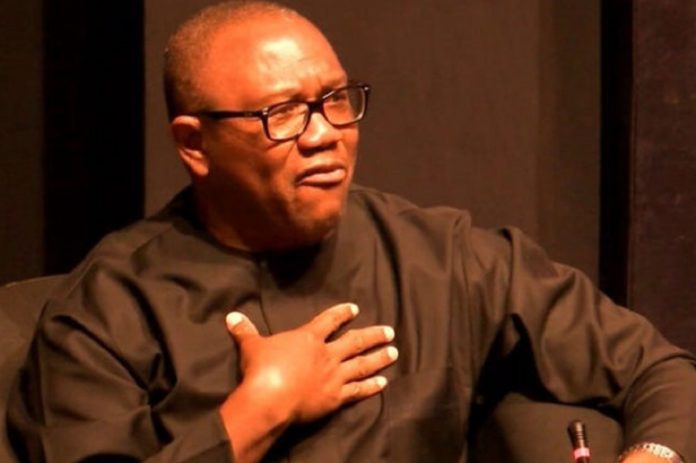 In my last edition, I mentioned how Dr. Sunday Ajai contended that: "AFTER DR. NNAMDI AZIKIWE, THE IGBO DO NOT HAVE A LEADER THAT THE REST OF THE NATION CAN RESPECT AND TRUST". (New Telegram Newspaper, Thursday, February 27, 2020, page 14)
I asserted that former Governor of Anambra State, Sir Peter Obi enjoys respect and trust from other Nigerians, and promised to prove it with facts and figures. Here is my contention.
The advent of Peter Obi in politics is synonymous with the emergence of biblical David in the affairs of Isreal. David was a shepherd boy tending his father's sheep in the forest. Isreal was pitched in war with Philistine. One day, David's father, Jesse, sent David to take food to his elder brothers at war front. In the presence of David, a soldier-giant of Philistine, Goliath, ridiculed Isreal as cowards and David hurled verbal vituperations to the aggressive enemy. Then David volunteered to confront the giant in personal combat. In spite of his youth, David conquered the giant-enemy. He then became leader of Isreal and led them to numerous victories, that his regime established peace and prosperity that Isreal enjoyed during the reign of David's successor, Solomon, in the ancient history, and went on to succeed in the visccitutudes of their chequered history, till today, 2020, when they are among the world powers, inspite of their small population and land-mass.
When the nascent democracy started in 1999, the youthful 38-year-old Peter Obi (born in 1961), was a businessman in trading venture, in Private Sector. By 2002, bad governance in Anambra State, compelled him to direct his gaze to Public Sector, in governorship. He posed the question: "ARE WE CURSED, OR ARE WE THE CAUSE?" Like David, Peter felt that he had the moral rectitude, mental sagacity and physical capacity to give the people what they were loosing in quality leadership. He volunteered to contest for governorship in 2003. He found a platform in the All Progressive Grand Alliance (APGA). He contested and won, but malicious detractors rigged him out. He went to court and reclaimed the mandate on March 17, 2006. Hoodlums confronted him, demanding that they were security AGENTS OF THE State and must be settled. He told them that the Police were the security agents approved by Constitution, and so they should do their work. Another gang of thugs boasted that they were the custodians of Motor Parks and Markets and must keep their booty. He sent Police to chase the thugs out but they rebuffed the Police. Obi re-inforced the Police with Army and succeeded to retrieve the Parks and recovered the revenue. The criminals who were already armed by their former masters, bragged that they would make the State ungovernable for Obi, and unleased terror and kidnapping which paralyzed business. Obi re-enforced the Police and Army to arrest them, and in the process, re-enforced the Police with Patrol vans, commication gadgets, welfare packages, etc. He approached his primary constituency, the Banks, and appealed to them to perform their SOCIAL WELFARE RESPONSIBILITY OF BUSINESS, by helping to equip the Police, and the Banks generously responded. In 2007, Obi assembled many Patrol Vans and necessary equipment for the Police, and invited the then Inspector General of Police, IGP Mike Okiro, who came and took delivery of the equipment, at a colourful ceremony held at Ekwueme Square, Awka. On another occasion, in 2009, Obi assembled another batch of Patrol Vehicles, and invited the then Inspector General of Police, IGP Ogbonnaya Onovo, who came and took delivery, at a colourful event at Women Development Centre, Awka. The Police testified that Governor Peter Obi was the first Governor who understood that equipping the Police, is equally the responsibility of State Governors, as Chief Security Officers of their respective States, and should not be abandoned only to the Federal Government. They expressed immense gratitude to Governor Peter Obi, and promised to reciprocate with dedication and patriotism to protect the State.
The hoodlums persisted in their nefarious criminality and Obi sent Executive Bill to the House of Assembly, to enact law on capital punishment, on armed robbers and kidnappers, with demolition of their houses which they use as hideouts. He also sent another Executive Bill, for formation of Village Vigilante Group, who shall receive training and discipline from the Police, so as to assist the Police with village security. This is the genesis of Community Pooicing in Anambra State. At every Christmas, Obi sent money of One Million Naira for Road Rehabilitation and One Million Naira, for Village Vigilante Groups, making it a total of Two Million Naira, for each of the 181 Communities in the State, for logistics on road palliative measures, and security. With the law of capital punishment on armed robbers and kidnappers, Obi implemented it at Uli, Ihiala Local Government Area, Oraifite, in Ekwusigo LGA, Awkuzu, in Oyi LGA, Old Market Road, in Onitsha North LGA. It was Obi's war on criminality that forced hardened criminals like Evans out of Anambra. Safety of life and property were restored and those abroad began to return home to celebrated festivals and marriage at Christmas and New Years at home, because of Obi's policy of palliative works on roads and security in villages.
Another war Obi fought on assumption of office was impeachment. He came to office on March 17, 2006, on the platform of All Progressives Grand Alliance (APGA), but the envious opposition party, the Peoples Democratic Party (PDP), were annoyed and swore to remove him. They used their over whealming majority in the House of Assembly and actualized the impeachment on November 2, 2006. Obi challenged the malicious impeachment in Court and was re-installed on February 9, 2007. The sponsors of the impeachment, who were in the service of the Federal Government and membership of the Board of Trustees (BOT) of PDP, mocked Obi as "Youth Corpse Governor". This means that as Obi came in 2006, and General Election was due in 2007, Obi would be in office for only one year and they would take over. They bragged to use their "Federal Might", to achieve their inordinate ambition. Obi called Press Conference, and reminded them that the Constitution of Nigeria stipulated that a Governor has a term of four years, starting from the day he was sworn-in, and so, he shall complete his term in 2010, not 2007. But the detractors who were desperate to become governor, boasted of "Federal Might", because "might is right", and ordered the Independent National Electoral Commission (INEC), to conduct illegal governorship election in April 2007, and installed themselves on May 29, 2007. This is a proof of the contention of Bishop Matthew Hassan Kukah, in his Convocation Lecture to Odumegwu Ojukwu University, Igbariam, Anambra State, on Friday, March 20, 2020, when he said: "The political elites have exploited the country and turned it into a jungle where the arbitrary rule of men has replaced the rule of law and mere human instincts have become substitutes for Constitutionalism".
Obi, as a law-abiding citizen, vacated office and they bulldozed their way with impunity. On June 14, 2007, the Supreme Court, Abuja, delivered judgement on tenure interpretation, sacked the imposters, and Obi returned to complete his four year term, which ended in 2010. Thus, Obi became the testing ground and reference point for staggered governorship election in Nigeria. Further developments in other States, on governorship tenure interpretation, vindicated Obi, as seen in Bayelsa, Kogi, Edo, Ondo, Ekiti states.
Having settled in office, Obi embraced the recommendation of the United Nations Organisation (UNO), on the then Millenium Development Goals (MDGs), which directed Government to execute development projects in both urban and rural areas, so that rural dwellers could stay at home and achieve socio-economic self-actualisations. Obi then rolled out his economic blueprint to implement the global directive, which he called 'ANAMBRA INTEGRATED DEVELOPMENT STRATEGY (ANIDS), which were to execute comprehensive development projects in all sectors in all places simultaneously. Roads and bridges were built in many places in urban and rural areas. Two of the major bridges were the Odo Bridge, at the boundary of Awgbu and Amaokpalla in Orumba North LGA, and Ezu Bridge at Amansea – Ebenebe in Awka North LGA. He improved facilities in Education and Health. He reasoned that in areas of critical services such as Education and Health, Public Private Partnership (PPP) is imperative. As Government seized mission schools since 1970, after the civil war, Obi deemed it wise to return the schools to the Mission, for management, while his Government shouldered financial matters. He sent Executive Bill to House of Assembly for law to legally return schools to Mission. When the House made the law Obi promptly signed it and returned schools to Church, with huge sums of money for rehabilitations. He then sent another Executive Bill, to the House, for secondary schools in Anambra to become centres for computer literacy. He implemented the law and equipped secondary schools with computer sets and science laboratory. Being efficiently administered by the Church and effectively funded by the Government, qualitative education manifested in schools, that Anambra began to win national competitions and represented Nigeria in international competitions, with victories. Obi also funded Mission Hospitals to improve on their services with modern facilities.
Agricultural and Industrial Sectors also received boost, with machines for mechanized agriculture and invitation to entrepreneurs to invest in the State. He drew the attention of the then President, Dr. Goodluck Jonathan to Innoson Motor Manufacturing Company, Nnewi and also the Jewel Pharmaceutical Industry, Awka, for connections to the Central Bank of Nigeria (CBN) in funding, and patronages by the Federal Government, to mention but a few.
Obi also reasoned that development of youths should be in mental, moral and physical ramifications. He recovered the Sports Stadium, Onitsha, which was encroached upon with Local Government Office, relocated the office to another convenience place and rebuilt the stadium, with football field, tartan tracks, basketball courts, etc. On the day of commissioning the reconstructed and refurbished stadium, on Wednesday-Friday, 8-10 July 2009, Obi invited sports legends, in the persons of Kanu Nwankwo (Football) and Mary Onyeali-Omagbemi (Athletics), for inspiration to youths. He granted free days to students and pupils in public schools, so as to participate in the 3-days occasion, during when Mary Onyeali (A Native of Mbaukwu, Anambra State, conducted intensive Coaching Courses, for coaches and athletes. He also recovered and reconstructed the Township Stadium, Fegge-Onitsha, in the same manner. He equipped the Ministry of Youths and Sports, with two Luxury Busses, for transportation and Anambra began to participate in National Sports Competitions with success, which they did not in previous regimes.
Among legacy projects that Obi built in his first term were two magnificent large houses that accommodate the State Secretariat, buildings at Chukwuemeka Oduegwu Ojukwu teaching Hospital, Awka, which also included Medical College, with hostels for students. Buildings and equipment at General Hospital Onitsha, which recovered their accreditation, which was lost in 1985, during Army Rule, but subsequent Democracy Regimes ignored. Buildings at Chuwkuemeka Odumegwu Ojukwu University at Igbariam and Uli campuses. Buildings at Nwafor Orizu College of education, Nsugbe. Introduced Stock Exchange Market at Onitsha, and built houses for it. Built Judges Quarters, bought cars for Judges, Magistrates, Permanent Secretaries. Paid the arears owed to Pensioners, by previous regimes, amounting to Sixteen Billion Naira, and paid pensioners and workers as and when due, to mention but a few.
By 2009, Obi's spectactular achievements made him to organize "Facility Tours", for various groups to visit the various projects in preparation for his re-election on 2010. Among the groups that visited were Nigeria Union of Journalists (NUJ), the Nigeria Labour Congress (NLC). The Nigeria Union of Teachers (NUT), Traders Associations, Market Women, Church Groups of Catholics, Angelicans, Pentecostals, etc. All of them agreed that Obi did well in first term, and deserves re-election for second term, for eight-years of full tenur.
Taking cognizance that Anambra is not an oil producing State, which gets 13% Derivation Allocation from the Federal Government, one is mesmerized at Obi's financial prudence, which made these capital intensive projects possible. Immediately he won his second term in 2010, the then President, Dr. Goodluck Jonathan, invited him to Abuja, and appointed him as a Member of National Economic Council. President Jonathan wanted to benefit from the financial expertise of Obi.
My next edition shall be on Obi's example being emulated in Anambra State in particular, and Nigeria in general, which made him an Igbo Leader and a national personality that is respected and trusted by Nigerians of other States.
–
By Peter Nwasike 07037946858
unclepeters555@gmail.com