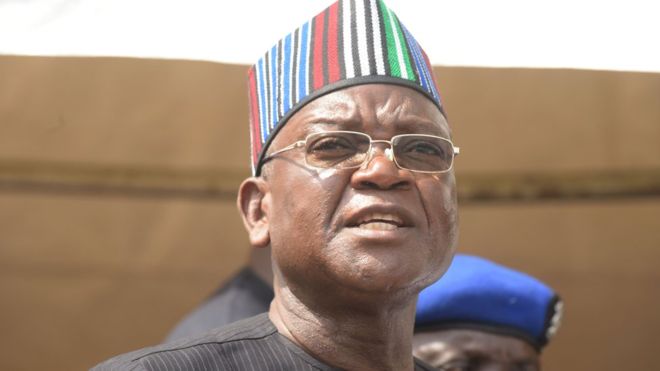 Advertisement
Loading ...
From Msughshima Andrew, Makurdi
Benue State Governor Samuel Ortom has directed the chairman of Universal Basic Education, UBEC in the state, Dr. Philip Tachin to renovate and rename the primary school in Ochanya's village as a mark of honour for the late rape victim.
The Governor stated this during a media chat with journalists in his office in Makurdi.
Elizabeth Ochanya Ogbaje, 13 year old girl, was sexually molested by her anty's husband, Andrew Ogbuja and his son after which she suffered from Vesico Vaginal Fistula (VVF) and other health complications leading to her death.
Governor Ortom is however making plans to honour her by renovating and renaming after her, the school located in her  Ogene Amejo village, Edumoga in Okpokwu Local Government Area.
"I have directed the chairman of UBEC to give a face lift to the entire school in that village and rename the school in her honour.
"We are going to upgrade all the facilities there and provide instructional materials and teachers to serve as an honour to her, he said.
Ortom also disclosed that the State Asembly has approved the proposal sent to it by the executive council to obtain N40 billion bond to enable him execute key projects in the state.
He noted that the government will also source for funds to ensure that salary arrears owed workers are cleared.
He said it was the desire of government to ensure that salaries were cleared and life changing projects executed even in the face of lean resources.
Ortom noted that the state government has also taken N3.5 billion loan from United Bank for Africa, UBA, to Construct township roads noting that streets in major towns like Makurdi, Gboko, Otukpo will be soon given a face lift.
According to the governor, part of the money has also been provided to enable completion of some ongoing projects, including Wanune – Igbor road, Obaji-Agagbe road, Oshigbudu – Obagaji roads among others.
The governor lamented the activities of the Economic and Financial Crimes Commission EFCC, which he said is being used to attack perceived enemies especially in Benue.
Governor Ortom said he remained the poorest governor in the country, saying he has nothing to hide and is willing to offer himself to be probed.
The EFCC has become a department of the All Progressive Congress APC. Nobody came after me when I was under APC, but now the EFCC is probing even the funds we used to bury our paramount ruler, the last Tor Tiv, Alfred Torkula Akawe.
"If we have done anything let them prosecute us but if it is only for the reason that we have moved to another political party then we cannot accept it," he added.
The governor also disclosed that N3.3 billion has been deducted from source from the last Paris Club refund to the state by the federal government to pay UBEC counterpart funds to execute projects in primary schools.
He said as it is now, Benue is expecting the sum of 6.6 billion to be released to begin projects in the schools.