APGA Gets 7 Day Ultimatum To Remove Ojukwu's Pictures From Campaign Materials
Loading ...
Following the denial of the Anambra South senatorial ticket to Dim Chukwuemeka Odumegwu Ojukwu's widow, Bianca by the All Progressive Grand Alliance (APGA); the Movement for the Actualization of Sovereign States of Biafra (MASSOB) has given a 7 day ultimatum to the leadership of the party to remove all images of the late Biafran leader from its billboards and other campaign materials or face its wrath.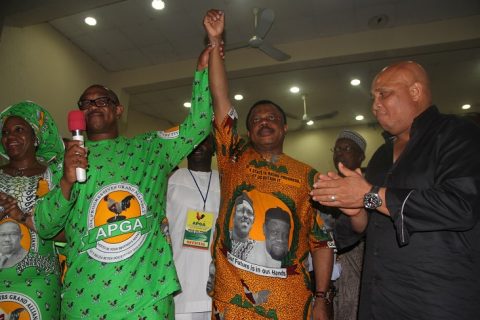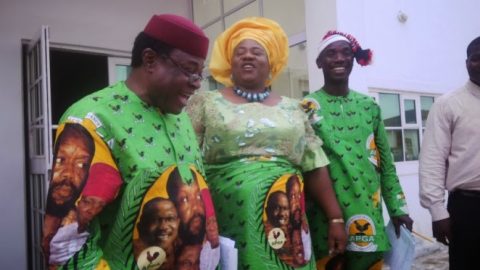 MASSOB zonal leaders from Abia South, Abia Central and Abia North, Mazi Fred Onyenaucheya, Chief Obi Anyaogu and Pastor Evans Okoronkwo, respectively, as well as Iron Lady of Biafra, Mrs Comfort Ogbuokiri, said the denial of the senatorial ticket to Bianca amounts to humiliation and insult to the late Biafran leader.
MASSOB insisted that as Ojukwu's wife, Bianca deserves an automatic senatorial ticket from APGA as a result of her husband's selfless contributions to the party and Ndigbo.
"It is an insult on Dim Chukwuemeka Odumegwu Ojukwu for APGA to deny his wife a senatorial ticket. APGA has humiliated Ojukwu. Therefore, we are giving a 7 day ultimatum to the party to remove Ojukwu's images from their billboards and other campaign materials or face our wrath. They have been using Ojukwu's images to campaign and win elections, but denied his widow a senatorial ticket. Ojukwu's name is good for them to pass election while his widow is not good to fly the APGA senatorial ticket. Now, they have denied his widow a senatorial ticket, they should detach his images from their party and allow him to rest in peace. Senator Victor Umeh was given automatic ticket as the APGA senatorial candidate for Anambra Central, what's wrong in giving the Anambra South senatorial ticket to Bianca Ojukwu as a mark of respect for Dim Odumegwu Ojukwu who lived his life for Ndigbo?
"Ojukwu is the same with his wife, there is no difference between them. Bianca represents Ojukwu. You cannot pretend to respect Ojukwu while disrespecting his widow, Bianca. BIM is saddened with the ill treatment meted out to Bianca by APGA. This is why we have given them 7 days to detach Ojukwu's images from their party. We will conduct such humiliation on the family of our revered leader."
MASSOB warned APGA should to stop parading itself as an Igbo party, stressing that no Igbo party would disrespect Ojukwu as APGA had done.
"What APGA did in denying Bianca the Anambra South senatorial ticket amounts to spitting on Ojukwu's grave. No sensible Igbo man or party would show such disrespect to Ojukwu as APGA has done. This shows that that APGA is not an Igbo party as it claims. APGA should stop parading itself as an Igbo party."