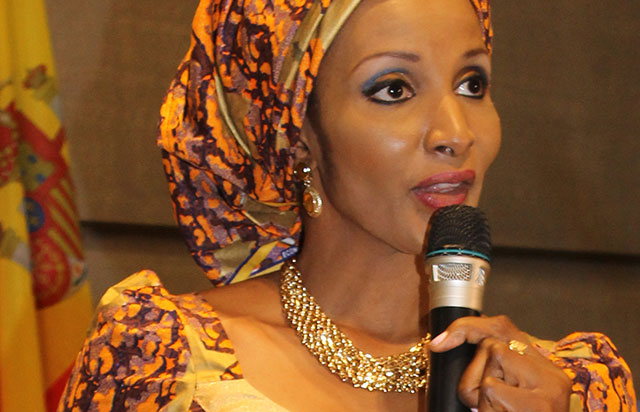 The Ifeanyi Ubah And Bianca Ojukwu Senate Tango – By Law Mefor
Like bolt from the blue, the widow of the late Emeka Ojukwu joined the race for the senate. Set to upset the applecart, Dr. Patrick Ifeanyi Ubah before then, had only Prince Nickolas Ukachukwu, a veteran politician, to contend with for APGA ticket.
Those who know the ex-beauty queen and former Nigerian ambassador to Spain are aware she is no small fry. She is equally a go-getter in her own right. Compared to Ifeanyi Ubah, a bulldozer in business, politics and power play, many rightly believe the contest will be a battle royale.
As senators, Ubah and Bianca can give good accounts of themselves. For a serene senate with fewer stakes, Bianca could even be a preferred choice. But the fierce and consternating contestations for zonal interests at the national assembly have turned the place into such a tough turf. The place does not hold much promise for a beaut that may not be able to take roughshod to get something out of the push-me-I-push-you politics prevalent there.
Progressively, female senators have been lost in the shuffles since 1999. Not even the wife of Jagaban, Oluremi Tinubu, has been able to make her tenure sublime enough in order to leave her footprints in the sands of time as a senator. With the possible exception of Senator Joy Emordi, Senator Grace Bent and Senator Chris Anyanwu, female senators have not been able to dictate the pace at the Red Chamber. Chris Anyanwu did fantastically well as a senator because of her background as a human rights activist, which further underscores the assertion that the Nigeria senate is not just for certain persons.
Bianca Ojukwu is an exceptional woman, one the most beautiful women to walk the face of the earth, make no mistake about it. Like Ojukwu himself said of her while wooing lasted, "To say that Bianca is beautiful is like standing before the Eifel tower and be shouting that building is tall". But her air appears cut out for a life that will thrive more in comfort and protected zone than in the Nigerian senate. One would prefer to see an Honourable Minister Bianca Ojukwu, than Distinguished Senator Bianca Ojukwu of the Nigerian senate where she is more likely to be lost in the shuffles.
Further compared, Ifeanyi Ubah, also a unique person, grew to become a self-made billionaire without being involved in government contracts. His concerns sprawl like an octopus to encompass top-of-the-range businesses – oil and gas, communication, education, sports and more. He took Nigeria football by storm, and made a mark within the first season of FC Ifeanyi Ubah joining the Nigeria professional football league.
Today, Ifeanyi Ubah is the only Nigerian to own a CAF- graded stadium and at advanced stage in developing the first Sports University in Nigeria.
What made him an enigma since years ago was not really his huge business success and overarching philanthropy. What made Ubah the political juggernaut he was his deft push with Transformation Ambassadors of Nigeria (TAN), with which he dramatically revived Goodluck Jonathan's ailing presidency.
Ifeanyi Ubah is therefore an established top hand in Nigeria politics and has made all the contacts possible, which he can deploy as a senator for the good of Ndigbo. What is more, his legislative interests are second to none. Ubah has his sight set on use of the position as senator to make the South East an Economic Tiger that it is destined to be. He believes that the future of Ndigbo lies not in independence from Nigeria but in true restructuring to free the zone from the shackles of underdevelopment. He identifies the eastern ports, eastern rails and an international cargo airport as some of the development issues that must be pursued for the East using law making.
Ubah also says proper lobbying and pressure can be deployed to pushing these items into the concurrent list, including electricity. Come to think of it, is Ubah not right that what Nigeria needs is Regional Grid for resolving the perennial power problems in the country? That way, South East can generate and transmit electricity and even sell the excess to neighbouring states.
For the reason that he believes that restructuring is possible through constitutional amendment and by playing the right politics and doing sufficient lobbying for other zones to see reason on why Nigerians will be happier together in a true federalism, his quest for the senate is perfectly in order and will lead to dramatic turnaround for the South East and indeed for Nigeria by inspiring synergy.
The zeal and capacity of Ifeanyi Ubah to fight for restructuring and securing a pride of place for Ndigbo once again is not in doubt. One does not know what Bianca plans to bring to the table but one is sure that Ubah's ideas are not only apt but also doable. If the vision of Ubah is in order as a diagnosis well thought out, question is: between him and Bianca, who is more likely to achieve the feat for the South East as a senator? Ifeanyi Ubah of course has a clear edge.
In today's senate the South East is not so well represented. Most of the zone's legislators are merely average and doing little to secure the rights of Ndigbo in Nigeria. In the senate particularly, the strong voices fiercely fighting for the South East have been disproportionately only Sen. Ike Ekweremadu and Sen. Enyinnaya Abaribe, until Sen. Victor Umeh added to their ranks only recently.
Those still in doubt of his political sagacity and capacity should recall that Ifeanyi Ubah also led the campaign for Ndigbo in Lagos to fight for their rights and today, a number of them are in the House of Reps representing federal constituencies in Lagos. He did all these without political authority, relying only in his resources and charismatic powers.
Nigeria is a federal system, or supposed to be one. In practice, the six zones are the defacto federating units in Nigeria. The interests of the South East zone are interwoven and have to be holistically pursued by those representing the zone. Such common facilities like Enugu (Akanu Ibiam) International Airport, Eastern railway lines, power, Enugu – Onitsha Expressway, Enugu – Port Harcourt Expressway and so on ought to be collectively pursued by the federal legislators from the zone working in synergy with the State governors. Such interests have to form the core demands of the zone in the restructuring debates. South East needs strong hands like Ifeanyi Ubah in the centre to solve the zone's developmental challenges confronting it .
Since most Nigerians agree on restructuring the country into a workable federation as the only way to move the nation forward, those that would make up the 9th national assembly are perhaps more important than who will occupy Aso Rock. For restructuring to happen, only the avowed restructuralists with capacity, like Ifeanyi Ubah, need come to the national assembly.
What has always blighted the National Assembly since 1999 and underdeveloped South East and indeed Nigeria is that it has more benchwarmers than legislative activists like Ifeanyi Ubah. Anambra South should watch it this time around and not waste this rare chance on beauty and finesse.
–
• Dr. Law Mefor, also from Anambra State, is a Forensic/Social Psychologist, and writes from Abuja; e-mail: lawmefor@gmail.com.