Advertisement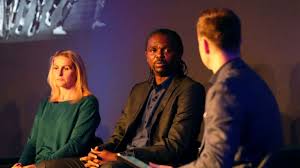 Kanu calls for more grass-roots support in Africa to stop the Europeans killing creativity
Two-time former African player of the year Nwankwo Kanu says the continent must step up grass-roots development of players to start fulfilling their potential on the world stage.
Despite huge expectations, for the first time since 1982 all African sides at the World Cup were knocked out in the group stage, a massive disappointment for everyone concerned.
"There was a big improvement in the standard of African teams at this World Cup yet the same thing keeps happening," said Kanu who won 87 caps for his country. "It's not going to be like this for ever and our time will definitely come."
The problem, he says, is that the natural talent of African players is sometimes coached out of them when they move to Europe at an early age.
"Many of them, like me, grew up on the streets but when you go out of the country at 13, 14 or 15, you can lose a lot of the African flair. I believe the African confederation has to do more in creating grass-roots tournaments in order to make young players stay on longer and play the African way."
The former Arsenal striker, who also played for Ajax and Inter Milan during a distinguished career and these days fronts his own heart foundation helping under-privileged children, was talking on the sidelines of the recent FIFA Best Player shortlist ceremony in London where he was a panellist.
Kanu also bemoans the administrative crisis in his native Nigeria which narrowly avoided being thrown out of international football after agreeing to recognise the FIFA-approved head of its federation.
Minutes before a ban was due to take effect last month following a protracted legal battle, the Nigerian authorities backed down and agreed that Amaju Pinnick, who was elected head of the Nigeria Football Federation in 2014, should remain in charge.
Pinnick had been locked in a bitter leadership dispute with Chris Giwa, who headed a rival faction having won a court ruling in June after protesting the result of elections that brought Pinnick to power.
"It's very sad and it hurts to see those things happening which are not healthy for football of good for our image," Kanu told Insideworldfootball. "Thank God we have been saved from a FIFA ban."
Kanu said FIFA rules on outlawing government interference in the affairs of football federations was a tricky cultural issue that was not always fully understood by world football's governing body.
"In many countries, the government and the federation traditionally work hand in hand and it works well," he said.