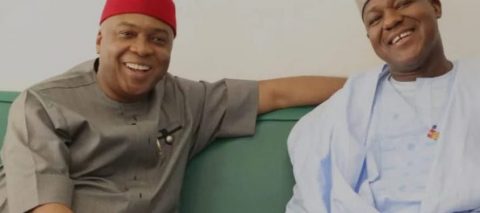 2019: Don Wants Nigerians To Elect Credible Leader
Loading ...
From Ahmad Mohammed, Bauchi
A University Don Dr Yusuf Ibrahim Gamawa has advised Nigerians to elect stronger and committed leaders that has interest in solving the problems bedeviled the country rather than achieving his selfish and personal interest in the forth coming 2019 general elections.
Dr Gamawa who is a lecturer at Bauchi State University Itas Gadau stated this while interacting with reporters in Bauchi, He said Nigeria of Today need a strong leader , with a good character  who is trustworthy , patriotic and the one who will put the interest of the country first before any other interest and  is capable in changing the challenges bedeviled the country to solutions for the development of the country
He said  The electorates should understand that they are the one who are doing a favor by electing the leaders to serve their father land  , all such leaders like Atiku , Kwankwaso Buhari , Makarfi and others will go to the electorates to seek for their votes, I f I will do you a favor and vote for you then you most do a genuine work that will address the problems facing the 200 million Nigerians, anything short of that Nigerians should not vote for the leaders who will satisfy their selfish interest and satisfy the selfish interest of friends and cronies at the detriment of the interest of 200 million Nigerians.
Dr Gamawa said in the forth coming general elections Nigerians should not elect a leader whose character and essential qualities is below the president Muhammadu Buhari to enable us maintain our position in Africa and the world.
On the current Political feud between the executives and legislators which led to decamping from APC to PDP Dr Gamawa said greediness and selfishness causes everything if not how can you say the Party or the Leaders can guarantee your return to so so and so position rather it's your responsibility as an aspirant to show what you have to electorates from your ward upward  if your people elect you then you can also seek for  favor from your colleques if you worth it they will allow you to lead them not for the President or the Party to makes you so so so appointment if they did that its no longer an election it becomes an appointment.
He blames some Politicians like Buba Galadima for trying to bring Personal feud between him and President Buhari to makes it as if its a Nigerians problems and advised politicians to always separate between  their personal problems and national issues and electorates should understand that they have a say in the way government execute its policies and programmes to improve their living standard.