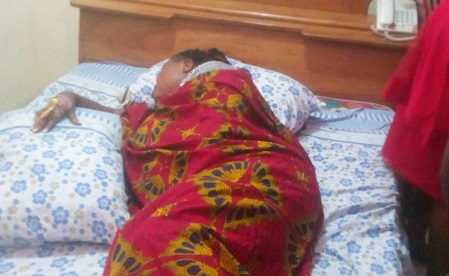 Obaseki's Aide Accuses Council Boss Of Sponsoring Thugs To Beat Her
An aide​ to Governor Godwin Obaseki of Edo State, Mrs. Maris Igbons, has accused the Chairman of Esan West Local Government Area of the of State, Patrick Aguinede, of sponsoring thugs to beat her up in her shop.
Igbons who is one of the Special Assistants appointed by Governor Obaseki from each of the 192 wards of the State, made the allegation while speaking to journalists from her hospital bed in Benin.
Mr. Patrick Aguinede however denied having hands in her ordeal, saying that whoever linked him to the incident is not being fair to him.
He said that those who went to effect the relocation order were core civil servants who were doing their job,
The mother of four had alleged that she was in her shop when four men suddenly appeared and informed her that they had the instruction of Council Chairman, Barr. Aguinede, to carry out the order given to shop owners to remove all attachments to their shops.
She said she had complied to an earlier order which directed them to remove part of the extension of her shop from the walkway.
Mrs. Igbons who is lying critically ill on her hospital bed, added that while she was about to remove her show glass from the walkway, the four men she alleged were sent by the Council Chairman dragged the show glass from her hand and smashed it on the ground before beating her up to a stupor.
She said she later found herself at the hospital and that when she inquired what she was doing at the hospital, she told that her sister rushed her unconscious to the hospital.
Also speaking, Theresa Iregbeyen, who allegedly rushed her to the hospital, wondered why Mrs. Igbons who contributed immensely to the survival of the party during the local government election could be treated in such manner.
A former Council Vice Chairman in the area, Mrs. Esther Eghaghe, who spoke on the incident, also confirmed that the contributions of Mrs Igbons gave the party victory during the last election in the council.
Mrs. Eghaghe appealed to the leadership of the party in the state to prevail on the Council Chairman to work amicably​ with other leaders in the council.