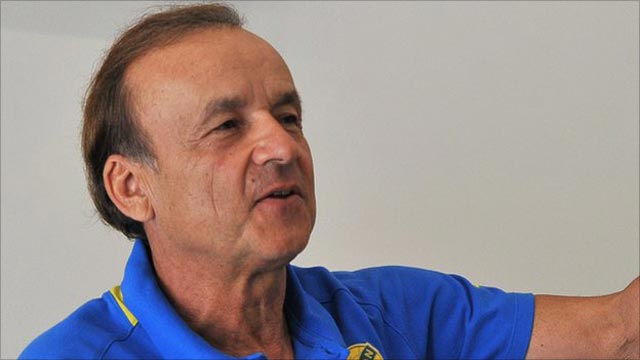 Nigerian Journalists Are Corrupt, Lack Expertise – Rohr
Loading ...
…Buhari expects World Cup trophy from us
…Agents wanted to pay for players in my team
Super Eagles Franco-German coach, Gernot Rohr, has taken a massive, dirty, pig-stye swipe on Nigerian journalists in an interview he granted and published in a German daily newspaper 'Die Welt' which means in English "The World". In the very long interview he said Nigerian journalists collect 'gifts' from agents to write favourable articles about their clients so that they get invited to the national team.
A lot of questions arise from the fact that he granted such knock-out blow on the faces of the Nigerian journalists. This is the saddest commentary on the nation's sports media which had swam in uncountable controversial and biased reportage. Enjoy the interpreted interview which is titled: "The president wishes us the world title – Rohr" written by Jean Mikhail.
After the successful World Cup qualification, Nigeria's players celebrate coach Gernot Rohr. Besides Joachim Löwe, Gernot Rohr is the only German coach at the World Cup in Russia.
He has big plans for Nigeria. But sometimes it hangs on the little things. Gernot Rohr had to be 64 years old before being allowed to travel to a World Cup as a coach. Alongside Joachim Löwe, he is the only German trainer at the global showdown in Russia. With Nigeria, the most populous state of Africa, meets in the preliminary round on Lionel Messi's Argentina, Croatia and Iceland.
Rohr has also had a French passport since 1982 and has been working as a trainer in Africa for almost a decade, but regularly visits his now 96-year-old mother in Mannheim. When we reach him in the run-up to the World Cup, Rohr once again gathers strength in his French domicile Lège-Cap-Ferret on the Atlantic – while we call, he picks up his son from football training.
WORLD: Mr. Rohr, the expectations in Nigeria of your team are huge.
Gernot Rohr: The president's wish is even that we become world champions. He said that if you have a son, you also want him to be the best. But one should not always take the words in Africa quite seriously (laughs).
Here people are sometimes effusive. Nobody from this continent has ever reached the semi-finals. Of course, we want to get as far as possible, but in the end we are in 47th place in the Fifa World Ranking list because the title is not the mission.
Our first goal is to get out of this tough group with Argentina, Croatia and Iceland. That would be a wonderful success.
WORLD: How do you rate the group in general? Is Argentina the clear favourite or vulnerable given the rather meagre results of recent months?
Rohr: Everyone in the group is vulnerable, including Argentina. In November, we won against them in a friendly 4-2, without Messi. Although, they are favourites in the group, but beatable. And Croatia is not weaker than Argentina. Iceland should not be underestimated. But everything is in it.
WORLD: And then?
Rohr: If we manage to finish second, there would probably be a new edition of the eighth round of 2014, against France. Of course, that would be a very special game for me. Especially since Didier Deschamps and I are friends. France is one of the four top favourites for me, with Spain, Germany and Brazil. And funny enough, President Macron will be visiting Nigeria in early July, just when it comes to our possible knockout round. He would see the game in Abuja.
WORLD: Nigeria is already her fourth coaching station in Africa. What different experiences did you make?
Rohr: Nigeria is huge, with almost 200 million people living here. Before, I was in two very, very poor countries with Burkina Faso and Niger. Of course, I now have a much wider selection of players here as well – though we certainly lack the stars we had in the '90s, like Jay-Jay Okocha or Nwankwo Kanu.
WORLD: What were your first steps in Nigeria?
Rohr: I invited many young players in the beginning, some of them grew up in Europe. With them, we also won our first games directly and finally prevailed in this really difficult qualification group against Algeria, Cameroon and Zambia – undefeated! There was only one defeat at the green table.
WORLD: What happened?
Rohr: One player had a yellow card in the very first qualifying round in the first game – 2015, when I was not even coach. Two years later, in the final qualifying group, he saw yellow again against Zambia. No one remembered the first yellow card – and Fifa's mail informing us about the yellow card suspension was not opened by anybody from the association. So we used the player normally in the next game, even though he would have been suspended. That's why it was then scored 0-3 against us.
WORLD: What is the cooperation with the association in general?
Rohr: Very, very good. They are funny, happy people. I've known the African mentality for a few years now and I know how to deal with the people there.
WORLD: How?
Rohr: Being very tolerant, understanding the difficult working conditions that exist there. Many work free of charge, one must not forget that – and then you have to be able to forgive mistakes, such as things with the yellow card and the lock.
WORLD: In the past World Cup participation there were problems with the allowances for the team, which were not paid. Before the knockout round of the 2014 World Cup, players had to go on strike refusing to train.
Rohr: This time we have ensured in advance that there are no problems. In theory, everything is regulated, what should be paid and when. The players' council, the coaching team and the association have come to an agreement. Communication is everything, you have to listen to the players.
WORLD: In an interview with the "Equipe" you said that working with the Nigerian media was particularly tough. What are they doing differently than the press in Europe?
Rohr: There is often a lack of expertise. In addition, players and their agents like to use and gift journalists to put pressure on the coaching team, for example, if they want to be nominated for the squad. Nigeria has a lot of different media, but unfortunately not all are serious.
WORLD: Are there any other ways in which agents want to get players from their camp into the national team?
Rohr: Yes, especially now before the World Cup. I was recently at the Lagos airport, prior to the squad nomination. Suddenly, about 200 young people marched up, with giant posters. "Gernot Rohr, We Love You" was written on it, and my picture was huge. I first thought "Wow," then wondered how they all know when to leave. We took pictures. Gradually, I realised that the guys all wanted to recommend a player to me, who is playing in Qatar and still has to go to the World Cup. Later I learned that the player's agent had staged the whole thing.
WORLD: Did you have the athletic already on the slip?
Rohr: No, of course not. And he was not nominated either. The action was actually quite funny, nobody was aggressive (laughs).
WORLD: Overall, you have been active as a national coach in Africa for eight years now. What excites you so much to work there?
Rohr: I was only in Europe for a long time, from 1989 onwards, two decades. When the first offer came from Gabon, I wanted to try such an adventure – and I never regretted it. It is easy for me to help people, I am also a "German Football Ambassador". I like the mentality there, my wife is also African. I have a soft spot for these people, who are very spontaneous, always smiling. And I do not really want to go back to the day-to-day club business in Europe. Not infrequently, national players of African teams have several nationalities, for example, grow up in Europe. An example in their team is the native Berliner Leon Balogun of Mainz 05.
WORLD: Is it part of their job to win such players for their national teams?
Rohr: Yes, that's part of it. We've also convinced some, like Alex Iwobi from Arsenal, who grew up in England. Incidentally, he is the nephew of Jay-Jay Okocha. Others, who I've rung once, refused, for example Kevin Akpoguma from Hoffenheim or Jordan Torunarigha from Hertha BSC.
WORLD: What is it like for players who have spent the majority of their lives in Europe and then come to such an unfamiliar environment for the first time to play national games in Africa?
Rohr: Of course, this is new for some and an adventure, others have been with the family in the countries. No one has regretted it yet.
WORLD: Nigeria generally has a very good youth work, is a record U-17 World Champion. What are you doing so well in this area?
Rohr: Well, there is already the enormous population of the country, which of course produces an enormous amount of youth players. For this purpose, the youth academies are often supported by English clubs in cooperations, for example, by the Arsenal FC, who sometimes sends their own coach to Nigeria.
WORLD: And why is it that these successes in the youth field can not be transferred to the professional field?
Rohr: The Nigerian championship is not structured so well, the clubs not very successful. Of course, our good youth players move abroad, but they also run a bit around the world. And in the senior team is missing by constant change of coach continuity.
WORLD: At first glance, Nigeria's offensive seems far better than defensive, with players like Chelsea's Victor Moses and Alex Iwobi from Arsenal. Can one expect accordingly an offensive play style of your crew?
Rohr: Our offensive is well-known, that's right. But I think we are already balanced. Our style of play also depends on the opponent. We beat Argentina 4-2 in a friendly in November. It is not just about the results, but also about the appearance of the team. We want to give a good picture of the African continent – together with Senegal we are the only black African team in the tournament.
WORLD: Are you really afraid of racist incidents in Russia with your team? When France played a friendly against Russia in March, there were monkey sounds against Paul Pogba.
Rohr: So far we have no concerns. Our friendly against Argentina took place in Krasnodar, and we were even supported there. Our striker Ahmed Musa is also active for CSKA Moscow, he was even applauded. I think the Russian fans are only a little more unrestrained if their own team is involved to destabilise the opponent.
–
Source: http://gongnews.net/nigerian-journalists-are-corrupt-lack-expertise-rohr/