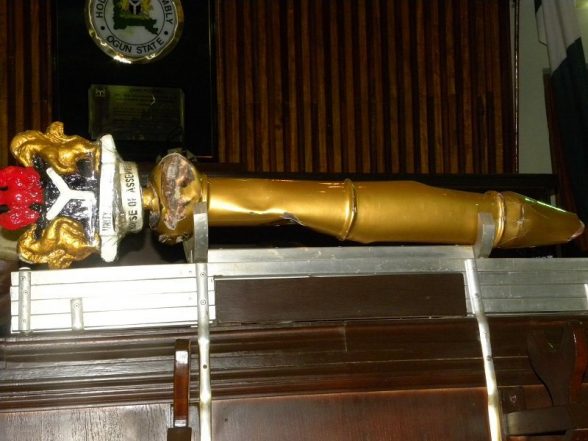 AMAC Speaker Seizes Mace To Avoid Impeachment
The Speaker of Abuja Municipal Area Council (AMAC), Legislative Council, Mr Daniel Michael, on Friday, seized the mace, the symbol of authority, to prevent his impeachment.
His action followed the move by his colleagues to impeach him over the allegation of misconduct and abuse of privilege.
Mr Yusuf Kadir, the majority leader of the house, while moving a motion to pass a vote of no confidence on the speaker for alleged gross misconduct, called for his impeachment.
Mr Haruna Saidu, the deputy speaker, who presided over the house, directed the clerk to serve the speaker with the no-confidence vote notice moved against him.
Saidu explained that the speaker had been given notice and the ultimatum to respond to the petition on or before May 30, but had to step down as the speaker in the meantime.
He further said that the impeachment would depend on his response to the notice served him.
Mr Aminu Barde, representing Kabusa ward, called on the house to strike out article B in the motion, which according to him, was strictly a party affair and should not be brought to the house.
Mr Isah Baushe, the Councillor representing Gwarinpa ward, said that the speaker should be given time to respond to the petition in writing before his the formal impeachment.
Baushe added that the petitioners should also provide evidence to back up their claims.
The petition reads: "abuse of office by taking a unilateral decision without consulting this honourable chamber, which is tantamount to act of impunity and gross abuse of privilege.
"There was also an abuse of privilege by misinforming and misleading the honourable members to subconsciously disobey the party decision on state exco affirmation.
"This singular action has brought this honourable house to disrepute and ridicule.
"There was a subversion of the legislative authority by unilaterally withdrawing an official communication from this chamber to the executive arm of the council without our collective consent.
"Desecrating the symbol of authority by removing and ordering mace to be deposited in an unconstitutional and unauthorised location," it stated.
In his reaction, the speaker told NAN that he had not done anything wrong and would answer any question brought to him.
"I know myself, I have not done anything wrong, I'll answer them," he said.
The glass door to the chamber was completely broken during the fracas that ensued at the chamber, following the event.
The lawmakers resorted to the use of the old broken mace to conduct the business of the day.
Some of the lawmakers, however, expressed happiness to the happening at the chamber, saying the crisis would allow members to sit up for serious legislative business.