Advertisement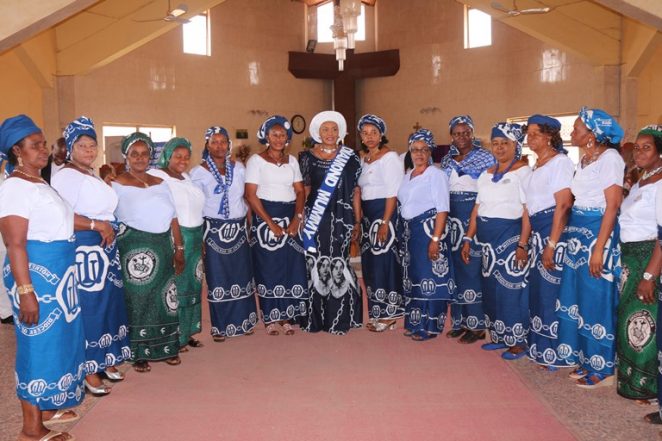 Mother's Sunday: Osodieme Honoured as Diamond Mummy of St. Michaels
–
Loading ...
By Emeka Ozumba
The Wife of the state Governor, Chief (Mrs.) Ebelechukwu Obiano (Osodieme), has been honoured with the award of Diamond Mommy of St. Michael's and All Angel's Anglican Church Nawfia, Njikoka Local Government Area, Anambra State. The award was conferred by the Anglican Mothers Union in recognition of Osodieme's "selfless work of charity and commitment to women empowerment," during a special Service to mark year 2018 Anglican Mother's Sunday.
Addressing the congregation, Osodieme thanked the Anglican Mother's Union for the surprise award and appreciation of her modest efforts. She assured them that her commitment to the welfare of women especially in Anambra State is unwavering. Said she;
"At my vantage position beside my husband, our Governor, I can attest to the cordial relationship that exists between the government and religious bodies in the state and can assure that the under the present administration it would be sustained. What is important is for you to stay above board as nations builders, because wise women build their home while the unwise destroys it."
According to the Governor's wife, "It is important that as mothers we should work in synergy with our husbands to build ideal homes where love and happiness prevail, since two good heads are better than one. Above all, women should be more proactive in instilling morals in their children so as to make them good ambassadors of families and the society at large."
She also encouraged the women to embrace skills that would make them self-reliant and financially supportive to their husbands in the upkeep of the family, and reminded them of the free skill acquisition training made available by her Non-Governmental Organization, Caring Family Enhancement Initiative, (CAFÉ), which has trained and empowered over 3200 indigent women, men and youths as well as the less privileged in the state.
Earlier in a sermon, the Vicar/Archdeacon, Nawfia Archdeaconry, Venerable Benjamin Ofili, while describing women as unique creature through which nations can be built or destroyed, charged them to wake to their primary responsibility of motherhood in their various families in order to build a family that would forever be remembered positively.
The prelate, who regretted that many mothers fail in their duties, admonished them to retrace their steps, urging them to invest more in their children both in education and moral wise to be a happy and proud mother in old age.
Highpoints of the church service were renditions by the mothers, decoration of the Governor's Wife as the Diamond Mommy, and special prayers by the Vicar of the Archdeaconry for Osodieme and her husband, His Excellency Chief Willie Obiano and continuous reign of peace and harmony in the state.