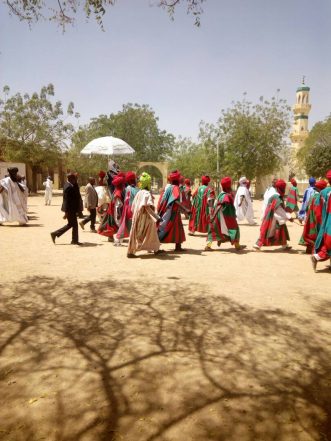 Ganduje Marries Off Daughter In Grand Style
–
Loading ...
By Yakubu Salisu A, Kano
The Kano State Governor Abdullahi Umar Ganduje has married off one of his beautiful daughters Fatima Umar Ganduje to Governor Ajumobi's son idris Abolaji Ajumobi 
on Saturday
 in Kano during a Grand style ceremony which took place at the Kano Central mosque presided over by the Emir of Kano His Highness Sanusi II
The wedding which was graced by the President of Nigeria Muhammadu Buhari also saw the presence of about 20 governors as well as other dignities.
During the weeding fatiha, the emir of Kano Alh Sanusi II said that marriage is a religious injunction which all believers must respect.
" marriage is a very important institution in the society. Allah has directed every Muslim adult who is gainfully employed or has a means of lively hood to marry a woman he loves and the two, start up their home in love and harmony"
The National leadership of the APC Asiwaju Bola Tinubu who stood at the groom's representative paid the sum of 50,000 Naira as dowry, while president Muhammadu Buhari who stood at the father or representative of the bride's father accepted the bride price in line with Islamic injunction.
The wedding brought activities in the state to a stand still as visitors and we'll wishers came out in large numbers to grace the wedding fatiha at the Kano Central Mosque.
A grand reception is currently going on at the state government house where the President and other dignitaries who attended the wedding are been treat.