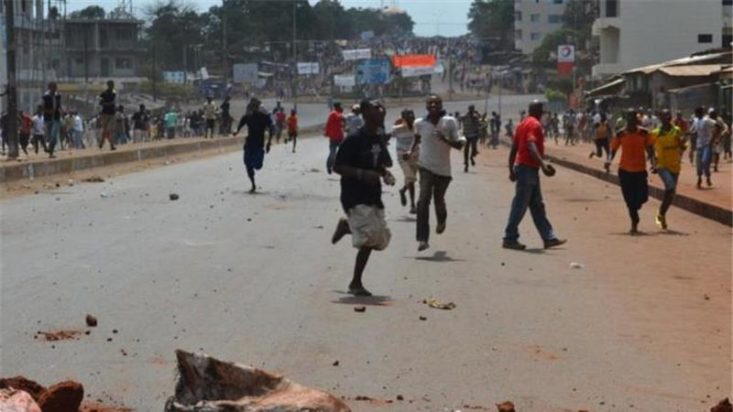 Abia Dissolves Board, 1 Killed As Revenue Agents, Security Operatives Clash  
–
Loading ...
In December 2017, Abia State Government (ABSG) commenced the process of computerizing the internally generated revenue collection system of the state with a view to removing leakages within the old system in order to shore up the its IGR.. 
The Government, through the state's  Internal Revenue Service agency, wrote all the revenue collecting units of the state government, including the Physical Planning and Infrastructure Development Fund (PPIDF) Board, directing that no fresh revenue collection authority be issued to any individual or organization, with respect to fiscal year 2018, pending the completion of the process supervised by the global consultants, Canadian Software Development Corporation (CSDC).
Public announcements were also made through various media houses in the state informing members of the public not to deal with any revenue collection contractor pending further information from the government.
The Board of PPIDF flouted the directive and on the 18th of January 2018 the Chairman of the Board, Barr Nnamdi Ahaiwe, received a formal query.
Unfortunately, the government received reports on March 6 2018 of a clash involving alleged revenue collection agents and security agents posted to the office of one Kenneth Chikezie who claimed to be a licensed PPIDF revenue collection agent. The clash led to the death of one person and injury to many others, including security agents. As a responsible government, we will let the security agencies unmask the real identities of those involved in that dastardly act while we would in the interim guard against further loss of lives. 
No responsible government will condone the loss of a citizen's life, especially when it is linked to an action by the board of a government establishment which obviously may have contravened laid down rules of engagement. 
The Board of PPIDF was clearly directed not to issue any revenue license for fiscal year 2018, as can be verified from the attached documents, and yet admitted licensing the said Kenneth Chikezie, as revenue collector, who further procured security agents for his illegal activities.
The ugly incident left the government no choice than to dissolve the board of PPIDF and demand a comprehensive investigation of the killing with a view to ensuring that the culprits are punished in accordance with the law.
We wish to categorically state that the action of the government in dissolving the board has no relationship with any petition on corruption before any agency of government.
The Government of Abia State does not condone acts of corruption and wish to encourage those with evidence of corrupt practices by any individual working within or associated with the government to feel free to pursue the matter through legal channels and institutions.
At the same time, we will not tolerate a situation where the actions and inactions of an individual or board lead to the loss of human live. We will therefor support security agents to bring all those involved in the unconscionable murder at Aba to justice.