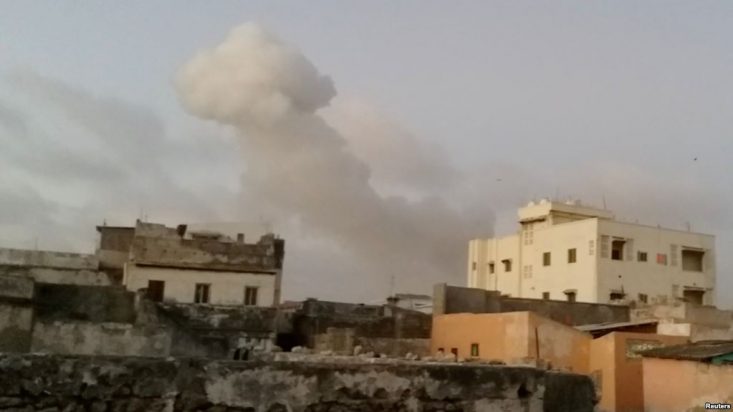 18 Killed in Mogadishu Blasts
Loading ...
Two car bombs exploded Friday in Mogadishu, the Somali capital, killing at least 18 people, the head of an ambulance service said.
Dr. Abdulkadir Abdirahman Adan told VOA's Somali service that another 20 people had been wounded. He said most of the victims were civilians.
Adan's casualty totals came from the site of the first blast, near Somalia's intelligence headquarters in the city's Abdulaziz neighborhood. Minutes later, another car bomb hit a checkpoint about 300 meters from Somalia's presidential palace.
"We heard two big explosions, and gunfire is still echoing in two different directions of the city," Mogadishu resident Nur Abdulle told VOA. "After blasts, we could see a huge cloud of smoke into the air."
A Somali intelligence official, speaking on condition of anonymity, told VOA that suspected al-Shabab militants in a vehicle had been stopped at the checkpoint and began firing before the car exploded.
He said Somali security officials were pursuing militants who had escaped.
No one claimed immediate responsibility for the blasts, but they had the hallmarks of al-Shabab, which has attacked dozens of government buildings, hotels, restaurants and other targets in Mogadishu in recent years.