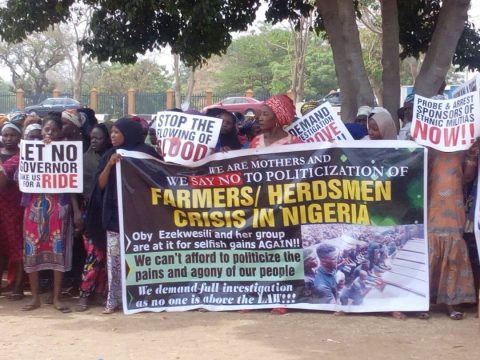 Herdsmen/Farmers Crisis: Protesters Storm Abuja, Calls For Immediate Probe Of Govs Ortom, Ishaku
By Abu Duniya
Protesters numbering over 200, Thursday, shutdown the capital city of Abuja, in protest of the protracted clashes between farmers and herdsmen, which have resulted to deaths of many Nigerians in Benue, Taraba States and others parts of the country.
The group, under the aegis of Good Governance and Transparency Initiative  is demanding the Nigerian government as well international community to urgently wade into the foot-dragging crises, which have rendered many citizens homeless and bereaved.
The protesters, who were seen displaying placards, bearing various inscriptions, called for the urgent probe of governors Samuel Ortom of Benue and Darius Ishaku of Taraba States over their involvement in the attacks.
Speaking on behalf of the group,  Mrs. Jaiyeola Mohammed, the Executive Director, said the attitudes of Ortom and Ishaku speak volume, a clear case of hand of Esau but voice of Jacob.
Mohammed alleged that Ortom, especially has been using the state's resources to cover up his mess by sponsoring protests abroad.
She voiced the stand of the group thus, "Our bigger worry, however, is the inaction that has continued to allow attention to focus on the wrong sources of the crisis. There is so much of playing the ostrich going on while the crisis festers. Our thoughts are that the problem in Benue state would have been contained to that geographical entity and promptly dealt with to save other states from suffering the fallout of a politically and ethnically motivated crisis.
"A killing related to the crisis in Benue has been reported in Ekiti while Taraba, Nasarawa, Plateau and even Kaduna are practically on edge because of what has happened in that state.
"It is most unfortunate that instead of accepting reality and admitting what he did wrong to provoke the current crisis, Governor Ortom has rather engaged in looking at the cause of the problem in every other places.
"The Benue state governor has even taken things a step further by deploying state's fund to finance protests in major cities of the world as we earlier alerted. Not even the shame of being discovered as manipulating events was enough to dissuade him from this folly. Our concern is how a state governor could spend so much of his state's resources on just eight (8) protesters in the United States.
"Our group is interested in the peaceful resolution of the conflict between herdsmen and farmers, which is why we are staging this protest to demand a full investigation of the roles of the Governor of Benue State, Mr. Samuel Ortom and his Taraba state counterpart, Mr. Darius Dickson Ishaku.
" Only such investigation would reveal facts that will prevent a full descent into state sponsored ethnic cleansing that has repercussions for all ethnic nationalities in Nigeria.
"The investigation should include terms of reference that will yield recommendations in pursuit of identifying militia members and recovering the weapons reportedly issued to them."