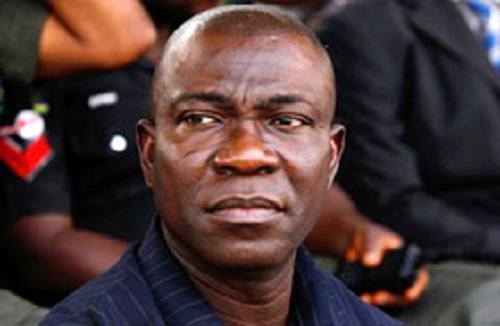 Benue Killings: We Are Tired Of "One Minute Silence" – By Senator Ekweremadu
Distinguished colleagues, the killings going on in Nigeria are assuming alarming proportions and very disturbing. It is taking the dimension of football competition where you have matches and return matches; where you have home and away. So what you see now are going on in the country are situations of killings and then retaliations.
As a responsible institution, we must rise to the occasion and say that enough is enough. Nigerians expect us not only to say something, but also to do something. I believe that the recommendations of the Senate Ad Hoc Committee on the Security Situation in Benue has come up with today, if we follow them through, will help in addressing some of these problems.
The Senate is not the only body or institution that is concerned; Nigerians are very worried. Our religious and political leaders some of who had hitherto kept mute, are now speaking up. That means that there is trouble.
Yesterday, The Guardian came up with a very disturbing editorial on this subject and today, if you look at the papers, you will see the concerns of not only these newspapers, but indeed those of Nigerians. If you look at the Daily Trust of today, you will see the story of kidnappers, who killed a lawmaker after collecting 25m ransom in Taraba. It is not just defenseless people in the villages that are been killed, even our leaders are also being killed and it can be anyboby.
If you look at The Leadership, you will also see their position that this crisis may plunge Nigeria into internecine conflict. If you look at the Punch newspaper, you will see the point made by Governor Aregbesola that Nigeria is pushing towards war, unknowingly.
Distinguished colleagues, Nigerians are not the only people worried, the international community, especially the intelligence and security communities are of the view that war is coming to Nigeria. We must not sit back and watch this to happen.
This brings me to the most important provision of our constitution, which is Section 14(2)(b). This section of the constitution says that the principal purpose of government is the security and welfare of the people.Every day, we cite this provision; every day we sit here to observe the ritual of one minute silence; we condemn the killings and sympathise with the victims. I am getting tired of all these. For us to get the full impact of the provisions of section 14(2)(b), is that we must have a just society. We must have peace and security before we can talk about infrastructure and all the other good things of life.
Going back in history, there was a time called the age of enlightment, which was between the 17th and 19th centuries. The philosophers at the time were worried about what Thomas Hobbes called the state of nature. He was of the view that it was in the character of humans that the limitations to one's actions are only his powers and conscience. So, might was then right, and it was quite disturbing. The philosophers of the time started to look for ways of reorganising society.
In 1651, when Thomas Hobbes came up with this, he was disturbed that in such environment, life would be short and brutish. So, they started looking for ways to deal with this situation. So in 1762, Rousseau wrote his classic called the Social Contract and the debate continued. The whole gamut of the social contract is that for you organise a society in such a way that you don't have undue fears is for the individuals in the society to submit themselves to a common authority, maybe, a ruler, a parliament or a combination as we have in Nigeria today. What do they get from it? In surrendering some of their freedoms, the remaining rights are protected. That is what the whole essence of social contract is all about and this is captured in Section14 (2)(b) of our constitution and in all modern constitutions, there is this provision that the primary purpose of government is the security and welfare of the people.
In order to ensure that the rulers or leaders will be able to live up to expectations in respect of social contract, the coercive powers of the state were evolved. We have the police to deal with internal security and we have the armed forces to deal with external aggression. So, if in spite of these coercive powers of the state people are being killed and there is no protection of those lives, which social contract entails, then the constitution, the principle of social contract envisage consequences. Some of these consequences are also provided in modern constitutions and that is why we have things like impeachment of chief executives; that is why we have recall of parliamentarians; that is why people and governments are voted out in elections.
In the seventies, when coup d'etat were prevalent, the courts in different jurisdictions came to the conclusion that coup d'etat was a legitimate process of removing a government that does not live up to social contract. Lately in North Africa, the issue of revolution, the Arab Spring, also demonstrated that revolution can achieve that process. We have come to situation where we must put a break, we must halt the drift otherwise those consequences await all of us because we are in government.
So, what do we do? I have listened to the recommendations of the Committee and I subscribe to all of them entirely. Let me also add that in addition to the security summit recommended by the committee, which is also apt, I think that the government should look at the provisions of Section 305(3) of the constitution dealing with state of emergency.
Section 305 (3) says inter alia: "The President shall have power to issue a Proclamation of a state of emergency only when:
(a) the Federation is at war;
(b) the Federation is in imminent danger of invasion or involvement in a state of war;
(Remember I said the international community is saying war is coming)
(c) there is actual breakdown of public order and public safety in the Federation or any part thereof to such extent as to require extraordinary measures to restore peace and security;
(d) there is a clear and present danger of an actual breakdown of public order and public safety in the Federation or any part thereof requiring extraordinary measures to avert such danger;
(e) there is an occurrence or imminent danger, or the occurrence of any disaster or natural calamity, affecting the community or a section of the community in the Federation;
(f) there is any other public danger which clearly constitutes a threat to the existence of the Federation; or
(g) the President receives a request to do so in accordance with the provisions of subsection (4) of this section.
We are not away from these circumstances and when I am talking about a state of mergency, it is not about removing a State Governor and replacing him with a Sole Administrator. No, the constitution does not envisage that. It is about taking extraordinary measures to safeguard the peace and unity of the country, to protect the lives of the individuals.
Countries have declared state of emergency in the whole nation. When I am talking about state of emergency, I am not talking about state of emergency in Benue, Plateau or Zamfara. I am talking of the state of emergency in the entire country to enable government to take extra ordinary measures. If you look at chapter 4 of the constitution that deals with human rights when there is state of emergency, certain rights are curtailed in other to achieve the results of the state of emergency.
I believe we have come to that. Egypt adopted state of emergency for many years. It is something we have to consider in order to take extraordinary measures which otherwise we cannot take unless there is a state of emergency.
When that happens, the Federal Government should have a massive deployment of our armed forces in order to reclaim all those proliferated arms all over the country.
We hear about stranger elements in the killings and then we hear about ECOWAS Protocol. When we have a state of emergency, it enables us to take extraordinary measures, which now also gives us the impetus to say we are closing our borders for twelve months to make sure that this doesn't happen again because that is what state of emergency envisages. Then we can go the extra mile of justifying it through the international law principle of the doctrine of necessity and then be able to secure our borders.
Finally, I think that it is also important that we have to have a rethink on the issue of decentralising our police force. We have run away from it for many years but we cannot continue to run. It is time for us to see necessity for every state to have the type of police or security architecture that is relevant to its own circumstances. By so doing, more Nigerians will be secure. I keep saying that Nigeria is about the only country in the world with e federal system and a unitary police system and it cannot work.
There are fears about police decentralising, but which all of us can sit down and find a way of dealing with. Yes, they say it may be subject to abuse but we are not the only country in the world, Brazil, Canada, Australia, they are federal states but they have decentralised policing and they have provisions on how those abuses are being checked. Some say they may not have money to set it up. Yes, every state cannot provide for it, but those who are able to provide it should provide and then the federal police can now be limited to some of those places where they were unable to provide for it; and I also believe that there should be cooperation between states to ensure that this works out.
Being the contribution by the Deputy President of the Senate, Senator Ike Ekweremadu, to the plenary debate on the Report Senate Ad-Hoc Committee on Security Situations in Benue State (January 16, 2018)