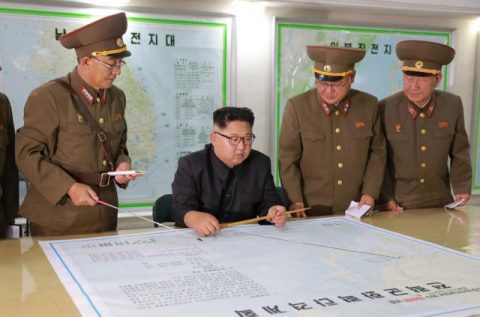 North Korea's Kim Jong Un Spent Most of 2017 Overseeing Military Activities
2017 was the year North Korean leader Kim Jong Un spent less time in the public eye and more time focusing on military-related activities.
Japan's Radiopress news agency, which monitors Pyongyang's broadcasts and releases, recorded a decrease in Kim's appearances as reported by the state-controlled North Korean media, from 149 last year to 102 this year, Japanese news agency Kyodoreported on Wednesday.
Of these public appearances, 49 percent were dedicated to military-related activities. This was the highest level recorded in three years and a marked increase from the previous year, in which Kim dedicated only 36.9 percent of public visits to North Korea's defense capabilities.
Kim's attention towards military activities seems to have increased largely at the expense of economy-related ones, to which he dedicated less than one in five of his public appearances—the lowest percentage in three years.
It is unclear what Radiopress considers to be a military or economic-related activity, especially considering that some of Kim's outings dedicated to inspecting the country's industrial advancements in building heavy machinery such as tractors and truck have also been associated with the country's missile development program—as Jeffrey Lewis, director of the East Asia nonproliferation program at the Middlebury Institute of International Studies at Monterey, noted in a series of Twitter posts after the release of pictures showing Kim inspecting North Korea's latest intercontinental ballistic missile (ICBM) Hwasong-15. The missiles was launched on November 29.
The Tokyo-based agency's results are nonetheless in line with a tally kept by South Korea's Ministry of Unification, which already in October showed an increasing interest in military activities over economic ones and an overall decrease in public engagement.
Kim's public appearances are regularly recorded in a special section of the ruling Workers' Party mouthpiece, the Rodong Sinmun newspaper, titled Supreme Leader's Activities. The newspaper reports are always describing Kim in reverential terms and, in a recent article about the leader's visit to the top of Mount Paektu, a 9,000ft-tall active volcano considered the "sacred mountain of the revolution," it even went so far as suggesting Kim can bend nature to his will.
This undated picture released from North Korea's official Korean Central News Agency (KCNA) on September 16, 2017 shows North Korean leader Kim Jong-Un (C) inspecting a launching drill of the medium-and-long range strategic ballistic rocket Hwasong-12 at an undisclosed location. Most of Kim's public appearances in 2017 were focused on military activities. STR/AFP/Getty Images
Kim's presence or absence from public events is closely scrutinized by observers abroad. His solitary visit to the Kumsusan palace to pay tribute to his father Kim Jong Il on the anniversary of his death raised questions over why he appeared by himself rather than with his wife and high-ranking party officials as in previous years.
Radiopress also takes note of the officials who appear by Kim's side most often, as a means to understanding who are his most trusted aides. Hwang Pyong So, the country's most powerful official after Kim, received the most mentions of all officials this year—39—despite vanishing from public view in recent months, amid rumours he'd been punished and possibly executed.
Ri Pyong Chol and Kim Jong Sik, the two officials the Treasury Department included in the list of sanctioned individuals on Tuesday for their key role in the missile development program, were also named in the Radiopress report among the top five people most mentioned in news reports about Kim.