Argentina vs Nigeria – International Friendly – Preview
After Argentina avoided missing out on the World Cup with a narrow escape on the final matchday against Ecuador, the Albiceleste are now much more relaxed and continue their quest for optimal functioning against both Russia and Nigeria. For these two friendlies Jorge Sampaoli's men, with Lionel Messi and company, travelled to Russia, a country the Selección have not often visited throughout history. For their first match, they faced no other than their hosts for the upcoming World Cup: Russia. The friendly game served as an excellent opportunity to re-inaugurate the recently restored Luzhniki stadium, venue to host the grand final next year. Our man Andrew Flint was there; you can read his match review here.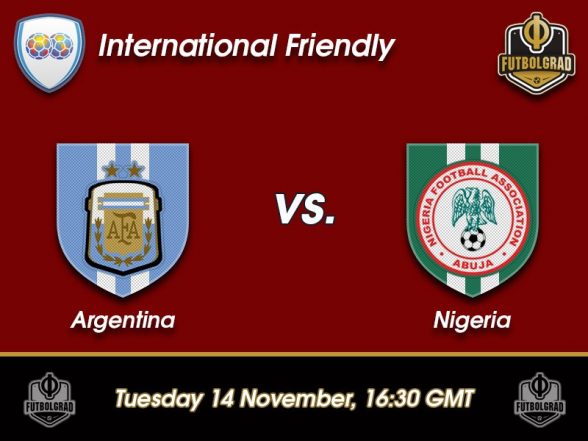 Even though there are still two more friendly matches scheduled in March, plus two additional ones yet to be arranged in January and February, Russia and Nigeria are of much importance to Sampaoli. These two matches will help determine who has more chances of going to the 2018 FIFA World Cup and who will have to wait until 2022. So far, the experiments have resulted in more negative results than positive ones.
Starting from the bottom, there are few areas of the pitch with defined candidates since the level of play every player that is given a chance demonstrates is just not good enough. Only Sergio Romero in goal, Nicolás Otamendi in central defence, Lionel Messi in his natural habitat and Sergio Agüero look settled. The players that constitute the rest, like Angel Di María, Ever Banega, Eduardo Salvio or Mauro Icardi are a constant doubt, oscillating between good performances and disappointments.
For Sampaoli, finding Messi's associate is still pending since neither Ever Banega, Paulo Dybala nor Giovani Lo Celso excelled when put next to the best player in the world. This is something to worry about. Argentina's style of play has been modelled around the figure of a superior player for more than ten years now. It was a matter of time before this backfired for a series of reasons: now 30 Messi plays a different role, and the average level of Argentina's squad is inferior to that from 2014 and the improvement of CONMEBOL's always challenging rivals.
Argentina has not only shown an apparent creative shortage fuelled by an erratic midfield, seemingly meek players and the bad habit of seeing Messi as a sort of motorway toll the ball must go through for exclusively him to finish the play. This conclusion came from scrutinising Argentina's games against weaker rivals. Something Sampaoli will want to improve considering the World Cup is a very short and unforgiving competition where at least half of the participants would play Argentina defensively, the way Messi and company cannot decipher. For this match, however, Sampaoli will try a mix of his players without Messi who has returned to Barcelona after Argentina and the Spanish club agreed on resting the superstar after the game against Russia.
As for Nigeria, this friendly means a unique chance to test their squad before the World Cup, where they are more regular than many nations praised by mainstream journalism nowadays. The Super Eagles look sharp as always, especially with the possibility of Jon Obi Mikel playing on Tuesday. The game in Krasnodar will be a crucial match for Nigeria, for they might be the only African nation to have a non-African traditional rival – Argentina. Hence, not only have they met plenty of times with a feeling of competitiveness in every game, especially in the Olympics and the junior level, but Nigeria are also slowly trying to get back on their feet as the country is entering a significant recession, directly affecting the football federation. This has stopped the Nigerian football factory from promoting their remarkable youth talent to their senior side, with the results being evident after Nigeria missed out on the African Cup of Nations this year, despite having won its previous edition.
Both nations are practically on the same page. With this international friendly, not only will they seek to fuel their historical rivalry but also trying to improve their football, lately severely hurt by politics.
Argentina vs Nigeria – Players to look out for:
Paulo Dybala #21 – Argentina (Juventus Turin)
The Juventus sensation many believe he is destined to lead Argentina's next golden generation, but he has struggled to leave his mark on the side. His contributions when put next to Messi have been scarce, probably because he plays in the same position. It is widely known that dozens of players never had a chance in the national team simply due to Messi's existence, Carlos Tévez is one of them. Could Dybala be the one? Well, that will depend on what he provides from now on since he will most certainly be given another chance now that Messi is unavailable. The role of second striker Dybala will be required to will be very important against Nigeria's tight defence.
Jon Obi Mikel #10 – Nigeria (Tianjin TEDA FC)
Luckily for the Eagles, their talisman is back for this critical game. After having gotten on a plane from China, where he plays for Tianjin Teda, the ex-Chelsea midfielder is available and will undoubtedly be featured in Tuesday's game as a vital part of the Nigerian midfield. Obi Mikel is said to be the piece that keeps the team's composure and simplifies its game through a strong presence that relieves the remaining midfielders by playing clinical through balls which mean a valid alternative when trying to break down effective defences. With plenty of experience and a more than motivating match makes Obi Mikel our Nigerian player to watch.
Argentina vs Nigeria – Match Stats:
Nigeria have met Argentina in all but one of their six World Cup participation.
Last time around, Nigeria lost to Argentina in a thrilling 3-2 during the group stages of the 2014 World Cup.
Nigeria qualified for the World Cup in Russia unbeaten after finishing top of CAF Group B with 14 points out of 18 possible.
Futbolgrad Network Prediction: Argentina vs Nigeria 2-1
Argentina vs Nigeria – Possible Lineups:
Argentina
Formation: 3-2-3-2
Marchesín – Mammana, Fazio, Insúa – Paredes, Banega – Pavón, Dybala, Gomez – Benedetto, Perotti
Coach: Jorge Sampaoli
Nigeria
Formation: 4-3-1-2
Ezenwa – Shehu, Troost-Ekong, Idowu, Aina – Ndidi, Obi Mikel, Iheanacho – Eteho – Musa, Iwobi
Coach: Gernot Rohr
Nicolás Miremont is a born and raised Boca Juniors fan, but his heart has a special place for Manchester United, Zenit Saint Petersburg and Dynamo Kiev. Miremont loves to support the underdogs. Miremont enjoys watching smaller competitions especially those from Eastern Europe, but also his native Argentina. Follow him on Twitter @Miremont_Nico
–
Source: Futbolgrad.com