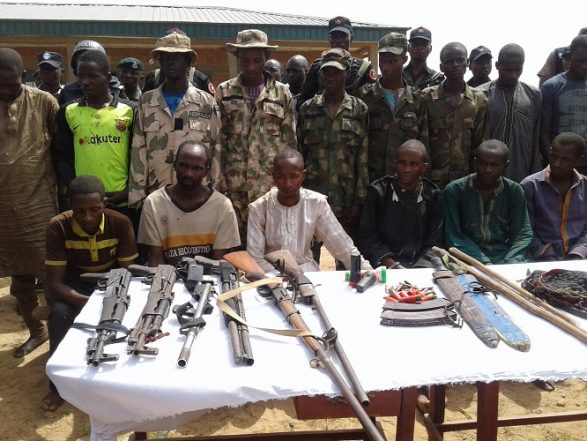 Parade Of Suspected Vicious And Notorious Kidnap Of Innocent Travelers On Abuja – Kaduna Highway
Press Briefing
By Csp Jimoh Moshood Force Public Relations Officer,
At Rijanna, Abuja- Kaduna Highway 0n 27th October, 2017.
Loading ...
Consequent on the strengthening of Operation Absolute Sanity with additional personnel and Modern Crime Detection and Fighting Equipment by the Inspector-General of Police, IGP Ibrahim K. Idris NPM, mni on Abuja – Kaduna Highway with effect from 14th of September, 2017 to proactively tackle and deal with the new emerging gangs of Kidnappers on Abuja – Kaduna Highway who from actionable intelligence gathered usually move in from other States in the North East such as Katsina, Sokoto and Kebbi to Kaduna – Abuja Highway and kidnap innocent travellers and after collection of ransoms move back to those States earlier mentioned. The new strategies implemented by the personnel of Operation Absolute Sanity yielded positive results in the arrest of the above mentioned suspects.
CASE I:     ARREST OF SUSPECTS RESPONSIBLE FOR THE MURDER OF BARR SHERIFF YAZID AND THE KIDNAP FOR RANSOM OF HIS WIFE
SUSPECTS:
Adamu Tukur aka Ado 'M' 25 years
Ahmadu Bala aka Basso 'M' 30yrs Native of Rijana village
Bello Sule aka Yellow Kachalla 'M' 29yrs Native of Pambeguwa in Kaduna
Hamza Sulaiman 'M' aka Katsinawa 29yrs Native of Sabon Gayan
Sulaiman Abubakar 'M' 25yrs, Adamu Tukur aka Ado 'M' 25yrs Native of Giwa LGA who Negotiated and Collected the Ransom
Nuhu Ahmadu 'M' 30yrs Native of Sabon Gayan Abuja-Kaduna Expressway is the gang member who Carries Victims into the Bush with his Motorcycle and also comes to town and buy foodstuff for his gang members.
EXHIBITS:
1 AK47 Rifle
Motorcycle used for the Kidnap attack
iii.          Cutlasses
Sticks
Charms
Thirty (30) Rounds of AK47 Ammunition
On 21/10/2017, after a sustained surveillance and manhunt of kidnappers terrorising the Abuja – Kaduna Highway who were responsible for the killing of a renowned Lawyer and kidnap of his wife after collection of ransom. The Special Intelligence Response Team led by this operation with other Police detachments of Operation Absolute Sanity deployed on Abuja/Kaduna Highway. Six (6) vicious and notorious suspected kidnappers were trailed and arrested in their hideouts and camps located around toll gates, Kakau, Sabon gayan and Rijana axis on Abuja – Kaduna Highway where they were hiding.
All the suspects mentioned in this case were identified by the wife of the slay lawyer, Barr. Sheriff Yazid, she was also kidnapped by the same gang and freed after collection of ransom. Investigation is being intensified to arrest other suspects at large. All suspects will be arraigned in Court on completion of investigation.
CASE II: ARMED ROBBERY/KIDNAP FOR RANSOM
SUSPECTS:
Aliyu Suleiman '30yrs' – Gang Leader
Nahuru Abubakar 30yrs
Muazu Lawal '32yrs'
Halilu Garba '32yrs'
Bello Yusuf 23yrs
Rufai Haruna '30yrs'
Abubakar Haruna '35yrs'
Mohammed Yahaya 20yrs.
Rashidu Husseini '22yrs'
EXHIBITS RECOVERED:
AK47 Rifles
Pump Action Gun
iii.  Toyota Hummer Bus ( Operational Vehicle of kidnappers)
Pairs of Military Uniforms
Cutlasses
Twenty (20) Rounds of AK47 Ammunition
Further to Case 1 above, another vicious and notorious Kidnap for Ransom gang were dislodged and busted on 25/10/17 by the Special Intelligence Response Team attached to Operation Absolute Sanity arrested the Nine (9) notorious suspected Kidnappers after they carried out several kidnapping on Abuja – Kaduna highway and returned to Jigawa State. The exhibits listed above were recovered from their possession including their operational vehicle, a Toyota Hummer Bus they used to move from Kaduna-Kano Express way to Kaduna – Abuja and back to Jigawa State. All the mentioned Suspects confessed to several kidnappings and armed robberies along Abuja – Kaduna to Kano Express Way. Investigation is being intensified to arrest the remaining suspects at large.
I wish to assure Nigerians that the Inspector-General of Police has directed the Assistant Inspector General of Police (AIGs) and Commissioners of Police (CPs) in zones and commands across the country to beef up security in their Area of Responsibilities (AOR) and ensure massive deployment of Armed Police Personnel, Patrol Teams and undercover operatives to black spots, flash points and other vulnerable criminal spots to nip in the bud all forms of crimes and criminality nationwide and make sure that detection of crimes are prompt to serve as effective deterrent to who-will-be criminals. The ongoing raids on criminal hideouts will be sustained throughout the country.
The Inspector General of Police wishes to extend sincere appreciations and gratitude to the people in the communities, towns and villages along Abuja – Kaduna highway for the supports and assistance being rendered in terms of prompt information and complaints to the Police Personnel deployed in their localities.
The renewed commitment of the Nigeria Police Force to reduce crimes and criminalities in the country to the barest remains unequivocal and unwavering.
Thank You All For Your Attention and God Bless
CSP JIMOH O. MOSHOOD
FORCE PUBLIC RELATIONS OFFICER
FORCE HEADQUARTERS '