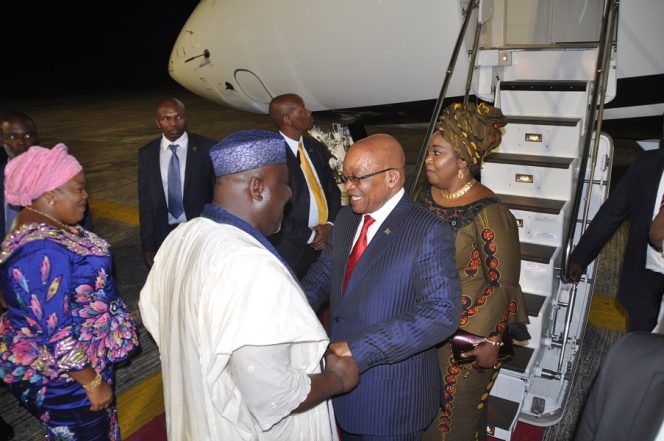 Okorocha And Zuma's Toxic Visit To Imo State – By Ralph Ejimkonye
President Jacob Zuma's visit to Owerri, Imo State has brought to the spotlight again what manner of Governor, Rochas Okorocha is.  It also underscores the fact that Rochas sees Imo State as his fiefdom and like a domineering fief, he cares less about the well being and feelings of the people he governs.
Loading ...
Aside the huge financial cost of hosting a foreign President, what are the economic gains of such visit to Imo State if not that Okorocha's used it for personal gain and for his enterprise- the Rochas Foundation.  We were told that Zuma and Okorocha came together in Owerri to provide a platform through collaboration of their foundations to lift African children from the shackles of poverty to the highest level of educational attainment that will make them better persons in future. This is a fantastic tale for the undiscerning and a jingle to deceive the unsuspecting!
This is also missing the point because those who joined Okorocha in spewing out this gibberish are either ignorant or deliberately churning out trash to justify one of the most condemnable recent displays of the governor's unusual approach to governance in Imo State.  Rochas ceased to be a philanthropist the day he was sworn as governor in 2011. His Foundation is not part of Imo State government. Therefore it is wrong for him to leverage on his position as Governor of the state, a public office run with state funds to enhance the economic fortunes of his Foundation which is his private concern.
In the United States, all past American Presidents, dead or living have Foundations. They have charity outlets that have done great things for humanity and funding of their Foundations are limited and not brought to the public glare until when they leave public office.  There was no much noise about the Clinton Foundation until Bill left as President of the United States. We never saw Barack Obama celebrate the Obama Foundation when he was President despite his credibility and international reckoning. Tony Blair, known for his disposition towards global peace never celebrated his Foundation the way Okorocha and Zuma did when he was British Prime Minister. Public office holders engage more in the activities of their Foundations when they leave public office. That is when they have ample time to focus on the activities of such Foundations or charity works. No responsible public office holder mix philanthropy with governance.
It is wrong for Okorocha, a serving Governor of Imo State, to choose another path of folly and relegate his duties as Governor to invite another of his ilk, President Jacob Zuma, another public office holder with all known marks of corruption on his face to focus on the activities of their Foundations and abandon their duties as Governor and President in their respective countries. Zuma's visit to Owerri under the guise of collaboration between Rochas and Zuma Foundations is improper now that both of them hold public offices. The public outcry that trailed the visit in Owerri was justified and it was because Zuma and Rochas Foundations have nothing to do with the Imo State and South Africa governments.
Okorocha seem to be oblivious of this elementary rule- an inability to draw a line between governance and philanthropy. This is why he has continuously goofed on all his actions since he became Governor of Imo State. He appears blindfolded by a burning desperation to show power and this is why he has failed to understand that his six years of his Rescue mission has made Imo people worse than they are.
His latest folly has showed his brazen display for inanities, his inability to know his limits and his desperation to equate himself with Donald Trump! He has once again displayed his crass irresponsibility and indecency in governance. Because if Okorocha understands what governance entails, he should have known that it is against the grain of commonsense to use public funds to sponsor a Presidential visit of a foreign leader whose glory goes to their Foundations and not to the people of Imo State and South Africa and build a N520 million statue!
The entire charade called Zuma's visit to Imo State further confirm worries that there is so much hidden under the razzmatazz of the visit of the South African leader to Owerri.  Is it not shameful and embarrassing that Zuma, a man that will face trial for corruption charges when he leaves office was so graciously honoured by the Imo State Governor?  Birds of the same feather certainly flock together and this is why majority of Imo people wonder why our Governor never developed goose pimples when a corrupt leader like Zuma came calling to his doorsteps.
Zuma's Owerri visit is an insult on the collective sensibilities of the people of Imo state and a slap on the face of the All Progressive Congress, APC and President Muhammadu Buhari who has done so much to curtail the monstrous sinuous tentacles of corruption in Nigeria. This brings to the fore what manner of leadership and governance Okorocha is rendering to the people of Imo State.  At a time Nigerians, mainly Igbos are mowed down through extra judicial killings and xenophobia in South Africa, he finds solace in hosting and embracing the South African leader and get his puppets like Chairman, Imo State Council of Traditional Rulers Eze Sam Ohiri and other traditional rulers in the state to tumble themselves over in giving the South African corrupt leader a chieftaincy title (Ochiagha)- another example of the continuous desecration of the Igbo traditional institution in Imo State by the Ezeimo.
The Zuma statue unveiled in Owerri is the most disdainful act of that visit. Zuma is a villain in South Africa.  This is a fact the Imo Governor fails to assimilate and it is worrisome that such a leader's statue- a man with questionable character could stand so tall in Imo state. What does Zuma represent? What are his ideals?  What does he stand for? South Africa's history is all about Nelson Mandela, not a Jacob Zuma. The reaction from that apartheid country when Zuma was in Owerri is a confirmation of how of low he is rated back in his homeland.
What message will be passed to Imo children when they see a statue of one of the most corrupt leaders in the world standing so firm and erect in the State?  How many great men and women of Imo State origin have their statues erected in foreign lands?  How many statues have Okorocha built for great men and women of Imo State? Not even Late Dee Sam Mbakwe, the first executive governor of Imo State and a founding father has a befitting statue built in his homeland. A man whose toil led to the economic development of the state? Not even a statue of our own President Muhammadu Buhari, a member of Okorocha's political party who has shown unrepentant commitment in fighting corruption stands in Owerri.
In the last few months, what Imo people have seen is a brazen display of irresponsible governance and deceit foisted on them- a government that has no remorse for their plight and has placed emphasis on frivolities, waste and pillaging of state funds. Okorocha has shut down governance in Imo and has adopted nepotism and impunity to suit his style of governance that now make Imo and the people look marooned and helpless.
In the last six months, Imo State has no commissioners- a deliberate policy of crumbling the machinery of government. Okorocha does not give a hoot about the local governments.  The local governments have been in comatose condition as elections have not been held in the last six years. The demolition of properties is his latest mantra to inflict more pain and sorrow on a people that he professes to rescue- the same people that gave him their overwhelming support in 2011. His 27 General hospitals are yet to take off and remain non functional for five years after he built them.  His road expansion programme is a sham which has left in its trail devastating flood that has made life unbearable for residents of Owerri. His substandard roads bear the finger prints of his rudderless government that have no regards for Due Process in award of contracts.  He terminated the live wire of the economy of Owerri metropolis by demolishing the ancestral Eke Ukwu Owere market, an act whose ripple effects have led to terrible suffering, hardship and brought so much pain and anguish on millions of Imolites who had relied on the market for economic survival.
Imo state has now become a destination point for all manner of trivialities, where mundane things occur all in the name of Okorcha's "unconventional governance".  If he is not celebrating his 14 days birthday bash where he received 27 birthday cakes from 27 women each from one of the local governments, he accepts bags of rice, soap, beans and tin tomatoes from his impoverished and hungry looking APC members as birthday gifts. What a Governor!
Civil servants and pensioners groan under the yoke of Okorocha's non-payment of their dues because of his financial indiscipline despite billions of naria allocated to the state government from President Buhari's Bail-out Funds.
Imo State is indeed in a state of limbo, so unfortunate to have a Governor so much loved when he sought their mandate in 2011 but now despised because of his unfeeling brand of governance. The Okorocha who promised Imolites that the Egyptians they shall see no more has now become the Pharaoh of Imo State who now torments and holds his people in bondage. That he has his lackeys and playthings in the Imo State House of Assembly who are so naïve to rise up to challenge some of his irresponsible actions tells a clear story to Nigerians that the Eastern Heartland needs a messiah as soon as possible to salvage it from the cankerworms and devourers feasting on the people.
Those whom the gods want to destroy they first make mad!