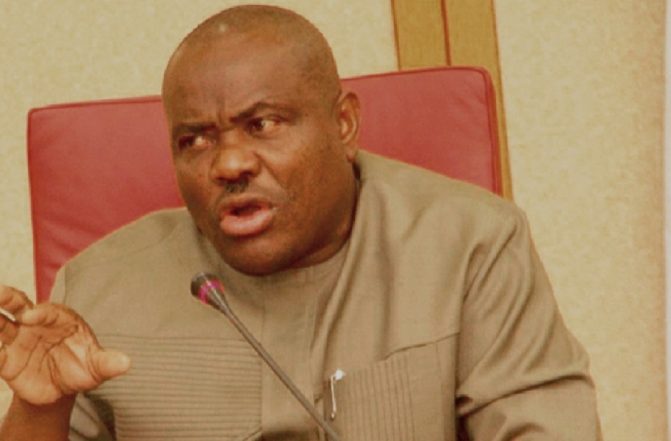 Gov Wike, Monkey Pox And Undignified Rumour – By Richards Murphy
An average thug is obsessed with a few things, which resist decency and decorum. He has a knack for creating confusion; a passion and unbridled appetite for violence. He dreams and thinks only about indecent and undignified battles. He enjoys chaos and anarchy and so, when the atmosphere is calm, a sense of irrelevance hovers over him. It instantly reawakens the instincts to stir trouble, even when the indices resist such permutations.
Loading ...
The Nigerian experience marvels a lot because the ideal domiciliary of thugs ought to be the garage or motor parks. But the act of thuggery and thugs have made incursions into partisan politics. They flourished amazingly when PDP controlled power in Nigeria for 16 years. They were fed fat and in some states, thugs morphed into the official militant arm of the party. They are very versed in intimidation, harassments and violent attacks on themselves or enemies. They hardly respect reason and everything is approached and appreciated from the prism of violence.
Quite unfortunately for Nigeria, PDP elevated some thugs into executive leaders, as lawmakers, council chairmen and even state governors. Rivers State Governor Nyesom Wike is one such perfect example of an executive thug, who daily reminds Nigerians of the sad relics PDP deposited on the political landscape of Nigeria. Both Wike and his Ekiti state counterpart, Governor Ayo Fayose have combined to activate the league of executive thugs in leadership in a manner that confers prestige on garage touts.
Therefore, saddened by the serenity, peace and security in Rivers state, the thuggery instincts in Governor Wike went berserk again a few days back. He sustained and gave official backing to the fake rumours that the Nigerian Army has invaded schools in Rivers state to forcibly inoculate school children with vaccines infused with Monkey Pox virus, suspected to be responsible for the Monkey Pox disease.
Perhaps, Governor Wike instigated his cohorts to start the unfounded rumour. And the Governor exploited it by amplifying it through a public statement aired repeatedly on state-owed media and the social media.
Wike's Commissioner for Information and communication, Mr. Emma Okah publicized a statement titled; "RSG did not authorize the military to inoculate school children". It reeled out very shameful speculations, arguments and non-existent contentions.
It stated that Rivers "…did not authorize the Nigeria Army or indeed any other body or person to enter into school premises to administer forced medication or vaccination on any child in any school in Rivers State. Inoculation is personal and consent of the Rivers State Government and parents must first be sought and obtained before it can be administered on any school child in a school premises".
Of course, what else can anybody expect from a government smeared with the stamp of thuggery by its history of evolution or a government administered by an executive thug as symbolize by Governor Wike? The statement conveyed nothing compelling to anybody that a government peopled by decent human beings is providing genuine leadership.
The credence Governor Wike and his team gave to this unfounded rumour about Nigerian Army invading Rivers schools to inoculate children expresses the dilemma of leadership failure in Nigeria at such high rungs of power. It is perplexing that a government is driven by ephemeral imaginations and blatant assumptions.
It is inexplicable that an entire government would receive such sensitive and baseless rumour, but would never take steps to verify the authenticity before jumping into public domain to create public panic and incite the people. But that is the character of a thug. And Governor Wike gave  consent to such idiotic rumour and proceeded to announce the setting up of "a Task Force to ensure that no school premises is violated in the State for the purpose of immunizing any child and advised "… all school heads and parents should resist any such attempt."
That's the worth of the government of Governor Wike. Its wisdom is reduced to actions spurred by rumour, it never bothered to authenticate. So, he went ahead ranting, hallucinating, admonishing and somewhat insulting the sensibilities of the people, a posturing that exacerbated public anxiety and tension. Only a lunatic would embark on such voyage or his nearest companion, a thug, which Governor Wike has embodied and severally proven mastery.
And it achieved the intended effect and excited the thugs in leadership that the calm and peaceful atmosphere in Rivers state is animated in confusion likely to ignite anarchy. Wike's soul instantly found respite, as panic-stricken parents rushed to schools to withdraw their children and wards.
But it is what happens when less endowed and violence-prone characters transmute into leadership positions. They act based on spur of the moment. No action is preceded by careful and logical thoughts before decisions are taken. And because they are thugs, they manifest more in tendencies of the jungle, where existence is determined by brute force and irrationality, as against reason.
Infinitely delighted with the demonic exercise of his innate attributes and traits of a thug, Wike refused to listen to explanations by the 6 Division Nigerian Army that its "Operation Crocodile Smile II" had not conducted its medical outreach programme in Rivers state.
A disclaimer notice issued by the Deputy Director,  Army Public Relations, Aminu Iliyasu,  qualified it as "…callous and unpatriotic rumours spread by these enemies of State are, to say the least, despicable, deplorable and highly condemnable by all well-meaning Nigerians as they are intended to cause pandemonium among the general public".
"The authorities of 6 Division Nigerian Army wishes to inform the general public that while the Nigerian Army plans to undertake such gestures like free medical outreaches, sanitation exercises in host communities and distribution of educational materials as part of our community relations activities during the ongoing Operation Crocodile Smile II, these activities are yet to be conducted and will eventually be conducted with the consent of relevant authorities of designated communities and at venues and dates that will be duly communicated to the general public through future press releases and relevant posters, it added.
But the clear explanations from the Nigerian Army never appeased Wike and his cohorts. They went wild over nothing; they danced naked in the market place, but neither felt any sense of  shame, guilt nor remorse. It is the basic traits of a thug; he is never ashamed of his act, so it was not surprising that Wike and his team had no moral burden over the despicable misbehavior.  Governor Wike knew the truth, as no school head in Rivers state admitted or reported to him of receiving the Nigerian military or any other person in schools conducting inoculations on pupils.
But the odious Governor Wike was in action. The Monkey Pox virus vaccination hoax attempted to rattle other states in the last two weeks. It vibrated in the Southeast, Northeast and other states in the South-South. But the responsible and focused governments of these states investigated and discovered it was a ruse and quashed the rumour instantly. They acted like responsible and responsive leaders, who have something upstairs.
But when faced with the same issues, Wike goofed badly by acting the thug, than a leader. He ordered arrests, where no offence was committed. It is executive madness unlimited; only known in climes where vagabonds in power, like Governor Wike superintend. When a government crosses the rubicon of decency to the extent of promoting falsehood and giving credence to sinister and treacherous acts, the state is doomed. Rivers is in trouble with Wike on the driver's seat.
The ensuing altercation between the opposition APC in Rivers state and the ruling PDP over the  "Nigerian Army vaccine scare" was the execution of the extended agenda of heating up the polity and creating grounds for fisticuffs from rival supporters that would conflagrate the state. APC's publicists Chris Finebone, articulated it bitingly as "…part of a well-articulated strategy by the Gov. Wike-led Rivers State Government to ridicule, humiliate, intimidate and demoralize the Nigerian Army, SARS and other security agencies ahead of the 2019 elections".
Therefore, when the PDP attempted to purge itself of the mess, it rather amusingly and damnably qualified Governor Wike as "a superior being". It is laughable if this is the worth of superiority Wike can flaunt in governance.
So, it struck and confirmed instantly that PDP is a party of thugs and platform of thuggery, which has begot an executive thug in Governor Wike, in whom they are well pleased. These are the indignities PDP and its cursed leaders have foisted or imposed on Nigerians. And playing politics with the lives of Nigerians is precarious gamble.  But time will certainly cleanse the public space of this filth.
Murphy, a security strategist  wrote this piece from Calabar, Cross River State.