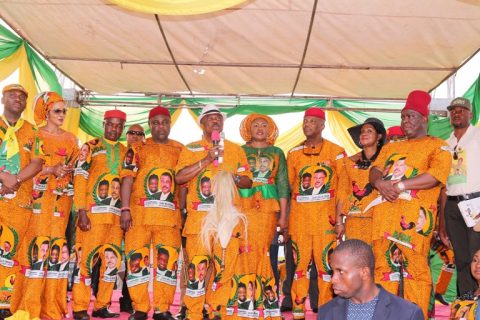 Anambra: Get Your Voters' Card – Osodieme Urges Women

By Emeka Ozumba
The wife of the Governor of Anambra State, Chief (Mrs.) Ebelechukwu Obiano (Osodieme) has urged ndi Anambra who recently registered with Independent National Election (INEC) especially the women to go ahead and collect their Permanent Voters Card (PVCs) in readiness to vote at the polls on 18th November 2017. Osodieme made the call Wednesday at the All Progressives Grand Alliance (APGA) Njikoka Local Government Area, Campaign Rally held at Abagana.
Osodieme described the women as a major voting block that must ensure that they are well prepared and also galvanize all members of the family especially our husbands to vote on the Election Day.
Said she;
"Ndi Nne Anambra, you know you are in the majority among the voters. It is important that those of us who registered recently should go and get their Voters' card from INEC. Once you have that, the next step is to get ready to vote for our great party APGA and also ensure that your husbands and children vote too. Afterwards we must protect our votes from predators. That is the only way to make sure that our Governor Chief Willie Obiano and his Deputy Nkem Okeke will continue to provide excellence services for our people in the years ahead."
The governor's wife told the massive crowd at the campaign ground that it is widely acknowledged that the governor of Anambra State has acquitted himself creditably with his performance in just over three years. She highlighted the good work done by the governor in the area of security of lives and property, infrastructural development seen in the rebuilding of Awka capital city and provision of street lights in major towns, the N20m community development initiative, the Anambra agricultural revolution and women empowerment to mention a few. These achievements she noted, sets "Obiano apart from other contenders whose best effort would only set Anambra state backwards."
Osodieme also called for vigilance across the state to ensure that the votes of ndi Anambra would count; and condemned the schemes by those who do not have the interest to work for ndi Anambra but just want to grab power.
The APGA Campaign Rally at Njikoka `attracted a mammoth crowd from the six communities of Abagana, Abba, Enugwu-Ukwu, Enugwu-Agidi and Nawfia and beyond.
The rally was also addressed also by Governor Obiano and his Deputy, Dr. Nkem Okeke. In attendance were the Speaker of Anambra State House of Assembly, Rt. Hon. Rita Maduagwu, Member House of Representatives for Anaocha/Njikoka Constituency, Hon. Dozie Nwankwo, Senior Government officials, National Chairman of APGA, Dr. Victor Oye, members of Board of Trustees of APGA including wife of the late Leader of APGA, Chief (Mrs.) Bianca Ojukwu, former Governor of Central Bank of Nigeria, Prof. Chukwuma Soludo, as well as many party stakeholders and retinue of supporters.