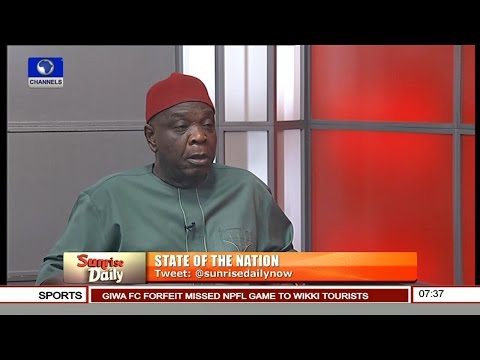 [embedyt] https://www.youtube.com/watch?v=biWFiogx4Xo[/embedyt]
"Comparatively, I doubt if any governor did in three years and six months in Anambra state what Gov Obiano has done.
Loading ...
"Obiano built the longest bridge in south-east across Omambala River and building of a bridge is not done by one naira……….Dan Ulasi.
"AWKA was a glorified local government when OBI was governor, now go to AWKA, you wouldn't know when you pass the city". ……….Dan Ulasi.
"During Obi's tenure,kidnapping ,armed robbery were the other of the day and wine carrying was being done in Lagos but Willie has restored our confidence, gave us security and we can sleep with our eyes closed"……Dan Ulasi.
"In 2010, Ojukwu said that OBI will not go for second term.Ojukwu raised the hand of Emeka Etiaba and Umeh Victor took OBI, went to Ojukwu ,laid on the floor begging Ojukwu to forgive OBI and give him a second chance"……….Dan Ulasi.
"The genesis of the problem in Anambra state between OBI and Obiano is #7b which OBI is demanding from Obiano as the money he used to make him governor.
"Even Joe-Martins Uzodike, the DG of the campaign in 2013 has been saying that.
"Obiano was paying something until he decided to stop because of recession and that's when OBI started fighting him"……….Dan Ulasi
"If OBI says Willie has not done well,let him call a press conference and tell Ndi Anambra state where Obiano is missing it instead of bringing Obaze Oseloka to fight him.
"I don't know what OBI has with the Obazes
"Four years ago, you brought out a man,he won an election, three years later, you brought out another man to fight him"……..,…Dan Ulasi.
"Peter OBI did not leave #75b for Obiano but #9b.
"Even Obi's aide told us it was #9b on this station last year
"Invite officials of this government and Obi's men again and let's settle this lingering issue .
"Besides, OBI left a liability of more than #100b to Obiano as he kept awarding contracts weeks before he handed over and never paid………Dan Ulasi
"It's so bad that Obi planted his men in Obianos government.
"Joe-Martins and Oseloka Obaze, Obi's men worked with Obiano and after every executive meeting, they will relate to OBI all that were discussed.
"Joe-martins ran down ABS as Information commissioner under OBI.
"Bring him back here and invite me"………Dan Ulasi.
"OBI Peter was the reason Jonathan lost 2015 presidential election.
"In 2011,Jonathan had around 6m votes in south-east, in 2015,when OBI was south-eastern coordinator of Jonathan's re-election campaign, Jonathan got 3m votes in south-east and that couldn't March Buhari's 2 million votes advantage……..Dan Ulasi
"Catholic Church bishops in Anambra state have held almost 20 meetings to settle OBI and Obiano but OBI has decided to be unrepentant"……………….Dan Ulasi
Ifeanyi Uba,Dan Ulasi ,two concerned Anambrarians who are not APGA members have spoken and more will still face the press.
Truth will continue to be unveiled during this electioneering period and remember, Prof Chukwuma Soludo said as regards Nov 18 Anambra guber election………………….."If it's not broken, why mend it"-