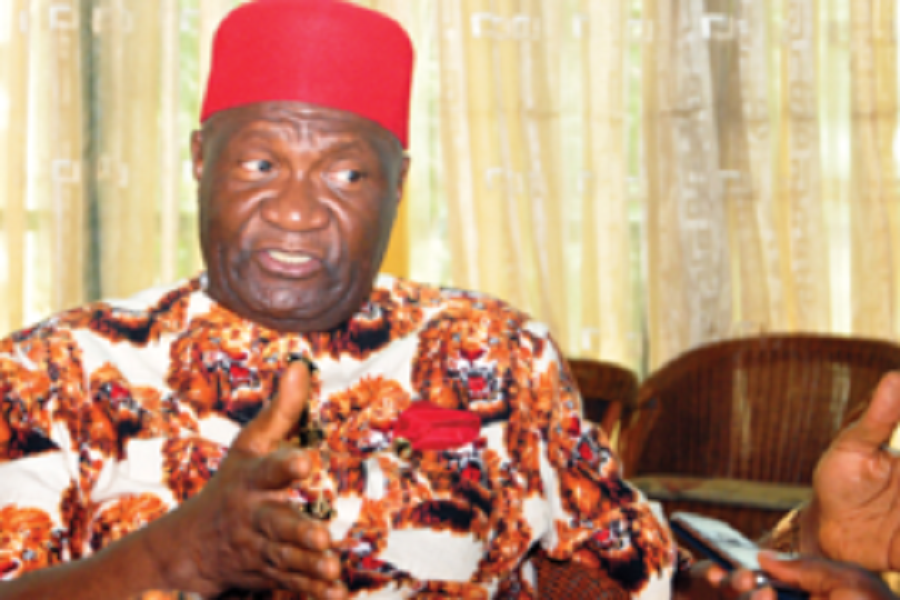 Maazi John N. Nwodo (Barrister)
Secretary-General, Ohaneze Ndi-Igbo,
Enugwu Headquarters,
Enugwu, Igboland.
Dear Maazi Nwodo,
IgboZaraIgbo is a United States Igbo non-profit organization unapologetically committed to the promotion of Igbo values in all their ramifications, including the re-establishment of Igbo state to ground those values. We are constrained to draw your attention to two important issues. The first is your recent trip to the United States. The second issue following quickly on the first is your participation in a frivolous conference in Abuja under the auspices of the Shehu Musa Yar' Adua Foundation. While your U.S. trip raised an eyebrow on the overall strategy of Ohaneze Ndi-Igbo, which you lead, your Abuja trip, and the contents of your speech at that conference were, to say the least, an embarrassment to any discerning Igbo. We will elaborate on these two issues beginning with the last.
Biafra, after 50 years? Was this conference a tribute to a "great patriot," in the person of the late General Shehu Musa Yar' Adua, or a focused discussion on Biafra? What a deliberate effort to spit continuously on Igbo, especially Igbo heroes that gave their lives so that you and I may live. What a mischievous selection of a deceptive theme to insult our collective intelligence. If, as you claimed, General Shehu Musa Yar' Adua "died building bridges of understanding across [your nation, not ours]," what was the late General Aguiyi Ironsi doing when he was mowed down with bullets, of which your great patriot, General Shehu Musa Yar' Adua was part of? Has any conference been organized in Abuja to honor General Aguiyi Ironsi?
You alluded that this mischievous conference was "the first major conference discussing Biafra outside Igboland. Really? With all due respect, the first major conference of Biafra outside Ala-Igbo took place in Canada in 2006. In that conference, Igbo sons and daughters affirmed genuine belief Igbo hold dearly in their hearts, namely that Ndi-Igbo walked out of Nigeria in 1967, and ever since have pursued their destiny in defiance of the Nigerian occupation of their homeland that has gone on now for 47 years since the end of the genocidal war, fraudulently called civil war. In 1996, ten years earlier, deepening the pull-away from genocidal Nigeria, a group of Igbo nationalists working with Igbo American African brethren, under the umbrella of Ekwe Nche organization started the new Biafra movement that is raging like a harmattan fire today. Over the same period, a parallel Igbo nationalist group and remnants of the defunct World Igbo Council, by the name of Biafra Foundation, started its own Biafra movement in Washington, DC, the world, and capital city of the United States.
Biafra was born out of a human crisis, and not a political crisis as you inferred. Since that genocidal war visited on Biafrans, there has been a much political crisis in Nigeria that did not end in a deliberate attempt to eliminate or cleans a particular ethnic group in Nigeria. The annihilation of Igbo Biafrans by the coalition of Fulani Arewa country, and their Yoruba surrogate was deliberate: among some of the factors, you mentioned as reasons.
Biafra, 50 years after, as demonstrated recently on Biafra anniversary and by Biafrans, is about the somber reflection of our heroes past and the quest for the restoration of the state of Biafra, and not a cry for Igbo marginalization, or the worry about how "our nation may emerge from this conflict a more united and prosperous country." Or like nonsense. Therefore, reflecting on 50 years after the genocidal war against Biafrans by Nigeria, only a naïve Igbo would believe that Nigeria "have made very elaborate efforts: constitutional, political, and administrative to ensure a united Nigeria." With due respect, sir, giving a false credit to a regressive Nigeria where the only honor they have is taking delight in stealing resources, persecuting, and containing the Igbo, is a misplaced priority. Biafra is not about a political movement and no Nigerian of 1914 is a Biafran.
Chief Nwodo, if anyone wished a one-Nigeria stay, let him or her revisit the Aburi Accord of 1967. The reneging on that agreement to avoid shading more of Igbo blood, and as a consequence, the Declaration of the Sovereign State of Biafra on May 30 of the same year, nailed the Nigerian coffin for good, precisely from the Igbo Biafran side. The drumbeat today about restructuring a dead Nigeria entity of 1967, and the same that formally expired at the end of 2014 for good from its British creator, is nothing short of a fruitless call: comprising individuals who foolishly believe God created Nigeria, the external and internal criminal colonists thieves, and the shameless opportunistic thugs in the southern part of the framed country. May we then reiterate that Ndi-Igbo walked away from Nigeria and are looking beyond the so-called "cake" for a peaceful homeland.
And lest we forget the Fulani Arewa country does not understand your ranting about "negotiation "when they already seceded from Nigeria and have been practicing their Sharia law that supersedes Nigerian law but merely expanding on their Nigeria war booty. To them, you and the rest of Nigerians are the ignorant ones that are hard at hearing. If you are wise, prepare for the inevitable!
Next to your U.S. trip, were you here to conduct Igbo business, or in a typical naïve Igbo leader way, to galvanize enough cheerleaders to yourself?
Every Fulani or Yoruba leadership including even leaderships of most other ethnic nationalities trip to the U.S. include trips to the capital of the world, Washington, DC, and a visit to the U.S. State Department to enlighten them on their position. Was this on your itinerary? Was there also a plan to share and break kola nut with members of Congress to present the Igbo case? In his formal visit, the young Oni of Ife even displayed the earthly power of a Yoruba deity to the delight of some members of U.S. Congress here in DC.
Second, when you were in the U.S., did you make plans to break cola nuts with one of the most important components of the Global Igbo movement, in fact an organization that is probably responsible for the enlightenment of Africans in the Americans for their Igbo heritage, and authors of the masterpiece, "THE GREATER IGBO NATION – IDENTIFYING IGBO VARIANTS DURING THE ERA OF THE SLAVE TRADE, by the Cultural Institute of New Jersey, written by Maazi Ishaq D. Al-Sulaimani, and Maazi Vernon (Alufiel) Grier (Ed. D)?
During your U.S. visit, did you make any effort to put in place a group of lawyers who would begin to present the Igbo case of genocide against Nigeria to the world and self-determination right of Igbo people? Need we remind you that Ohaneze completed most of the work for this most important project in the Ohaneze submission in 1999, to the Oputa penal?
Does Ohaneze understand that our struggle is not just against the Fulani Arewa country but also against a Western system that is determined to subjugate the black world and continue the looting and pillaging of Africa even as they continue to destabilize Africa for their selfish aims and that all hands must be on board to counter this evilest plot?
In conclusion, we hope the new train you are now piloting has not already derailed unless you are only testing the breaks.
Thank you.
Signed:
IgboZaraIgbo,
1629 K Street, N.W.,
Washington, DC 20006
Email: IgboZaraIgbo@gmail.com