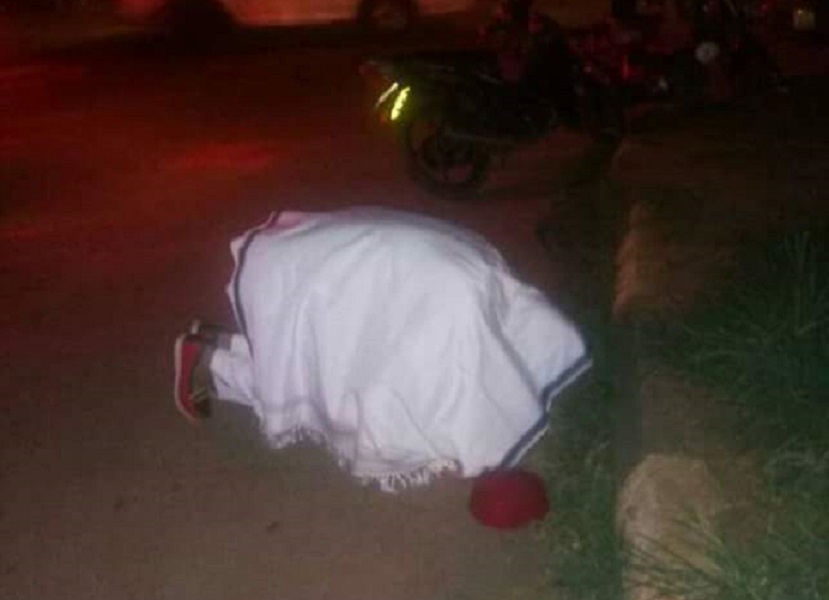 The leader and the new voice and face of Biafra, Nnamdi Kanu visited Nkpor in Anambra State today to see the site where over 200 members of IPOB were murdered by the Nigerian military.
This, as 247ureports.com learnt, was in line with the initial plan announced by the leadership of the indigenous people of Biafra [IPOB] to embark on a visit to the sites and the families of IPOB members who were killed by the Nigerian Army at Nkpor and other places during the peaceful protests and rallies over the past two years.
According to a statement released by the IPOB Secretary, Emma Power, Nnamdi Kanu arrived the site of the gruesome murder – St. Edmunds Catholic Church/Primary School in Nkpor, Anambra state at 5:30 pm. The grounds where hundreds of IPOB members were gun down by the Nigerian Military and security operatives on the early morning hours of 30th of May 2016. The group of IPOB members had gone to the church inside the gated compound to conduct prayers. As they prayed, the Nigerian soldier arrived and opened fire. They were unarmed.
As Nnamdi Kanu entered the compound, he became overpowered by his emotions, he broke down in tears. He wept uncontrollably and prayed. He asked God to take their souls and help the fight for the restoration of Biafra.
In the Secretary's statement released today, Nnamdi Kanu's "visit was made ahead of the May 30th Sit at home order for the honor and remembrance of our fallen heroes and heroines who paid the ultimate price for us to live today in this contraption called Nigeria".
It continued, "the observance and commemoration of the gallant heroes and heroines scheduled May 30th this year will be a memorable event in the history of Biafra and the world at large. Those who gave their lives in the course of this struggle must be immortalized".
From the Church compounds, he visited  Eke Nkpor where he also prayed for IPOB members killed by Nigeria security operatives on 30th May 2016.