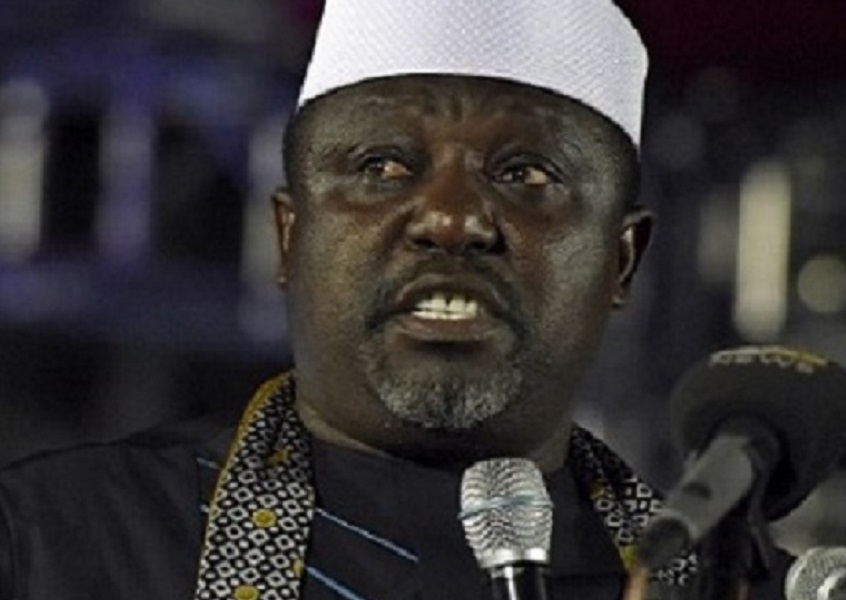 Government Of Imo State
Press Release
– As A Delegation From Olowo Of Owo Kingdom In Ondo State Visits Him In Owerri
Governor Rochas Okorocha has said that having been born an Igboman, raised up in the North and empowered by the West, he has no other option than to allow such lofty development guide his actions and utterances, adding that he cannot hate his origin, or hate where he grew up and neither would he bite the fingers that fed him.
Governor Okorocha had spoken when a powerful delegation from the Olowo of Owo Kingdom in Ondo State, HRM Oba (Dr.) Folagbade David Victor Olateru Olagbeji III visited him in Owerri on Monday, February 20, 2017, to express their appreciation over what they described as the governor's commendable role in the victory of their son, Barr. Rotimi Akeredolu in the November 26, 2016 governorship election in Ondo State, stressing that he would continue to sing the song of Unity and not that of division among Nigerians.
His words "the visit to me, is a bridge-building event that will further cement the relationship of the Igbos with the Yorubas. I was born an Igboman, raised in the North and empowered by the West. I cannot hate my origin or hate those who raised me up and neither would I bite the fingers that fed me. I became who I am today by the help and association of Yoruba people".
Governor Okorocha also called for the sustenance of the peaceful co-existence between the Ondo people and the Igbos living among them, stressing that the Igbos are always ready to contribute to the development of any area they see themselves or they live in.
On the Ondo governorship election, Governor Okorocha stated "We must thank God Almighty for the Ondo election which was peaceful and won by Barr. Rotimi Akeredolu. It was God who made his Victory in the election possible. He had the ordinary people behind him and God made it possible for him to win. All he needs to do is to work with his people to make the State better than he has met it.
He also advised Barr. Akeredolu to transform Akure into a model capital noting that whatever contribution anybody or group must have made towards his election would have been meaningless if God did not make him win".
In his speech earlier, the leader of the delegation, Barr. Kola Olawoye told Governor Okorocha that they had come at the instance of Olowo of Owo, to convey their gratitude for the monumental support he gave to one of their sons, Rotimi Akeredolu in his election.
He described Governor Okorocha as a man with the midas touch, because whatever he touches his hand succeeds, and described the Ondo election as a Case Study, revealing that even Barr. Akeredolu won the two critical Local Governments of Akure South and Akure North.
According to him "Owelle Okorocha is a patriot and uncommon Nigerian who has invested so much in humanity through its foundation. Governor Okorocha belongs to the rare Class in this country. I can liken him to the late sage Awolowo, renowned Azikiwe and the respected Tafawa Balewa, who all lived lives of sacrifice and true patriotism".
They also decorated the governor with the highest natural attire of Owo Kingdom and also gave him golden sword on behalf of the Oba.
Sam Onwuemeodo
Chief Press Secretary to the Governor