As part of Total Nigeria Plc's commitment to support product transportation safety and efficiency by our Transporters, the company has put in place a robust fleet acquisition scheme by renewing approximately 20% of its fleet of trucks in 2017. This was launched on January 19, 2017 by the Management of the company, its Transporters, representatives of the Federal Road Safety Corps (FRSC) and other stakeholders.
Total's investment in the purchase of the new fleet of trucks is to ensure that transportation of petroleum products around the country is safer and more efficient. Another main objective of this truck acquisition scheme is to further ensure continuous improvement of its Health, Safety, Security and Environment (HSSE) standards. Due to the sensitive nature of the industry it operates in and its products market, for Total safety has to always come first.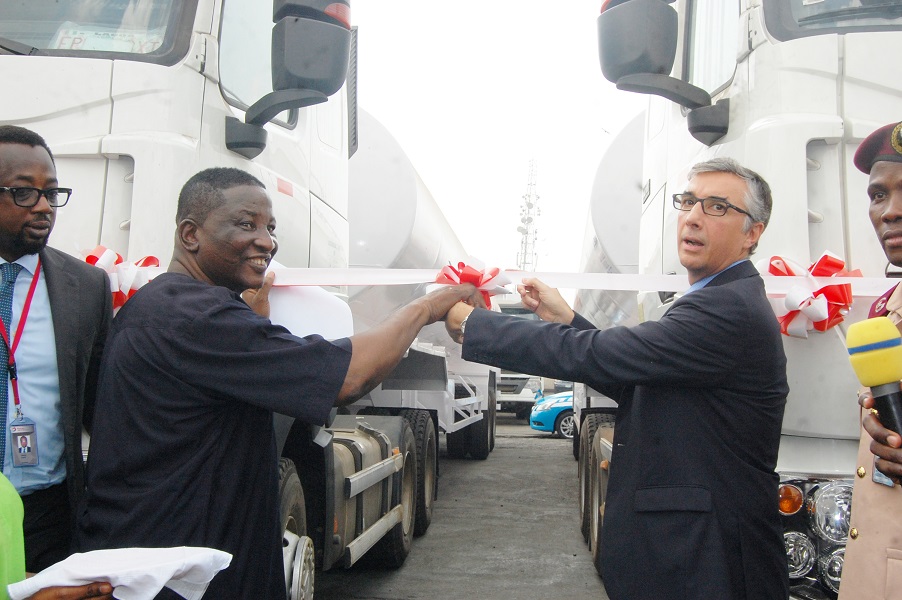 The initial 70 trucks acquired will be directly managed by Total's Transporters; the company is also offering them required technical assistance needed to run safe and efficient petroleum product transportation in the country. The scheme will be of immense benefit to the Transporters especially as the current economic environment makes it difficult for majority to invest in new trucks.
In his speech, the Managing Director, Jean Philippe-Torres, said the success of this scheme is dependent on Transporters' complying with the maintenance program for the trucks and ensuring that trucks are periodically audited and vetted by the company's authorised inspection company. He further said that truck drivers should be periodically trained and must comply 100% with all On-Board –Computer (OBC) rules.
The second phase of the scheme will be in April, 2017 where an additional 140 trucks will be injected into the fleet. These makes a total of 210 brand new trucks to impact on improved product distribution and supply as well as support Total's zero tolerance to road accidents.
Total Nigeria Plc is committed to implementing road transportation safety improvement initiatives in order to make Nigerian roads safer for everyone. On a flip side this scheme would also help create additional job opportunities for Nigerians.