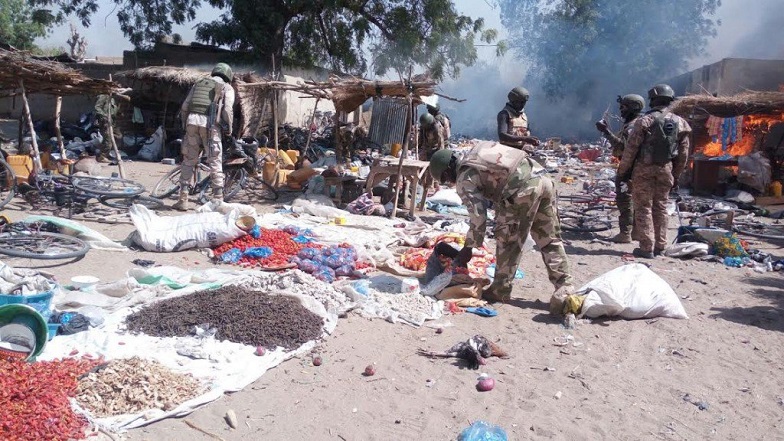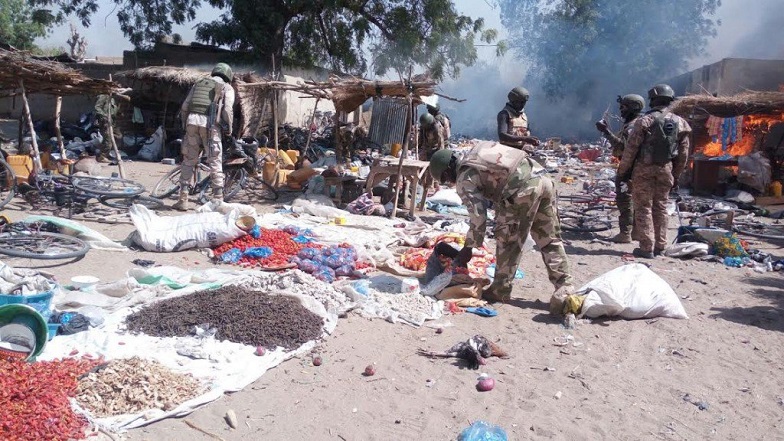 More details have surfaced regarding the taking of Boko Haram's 'Camp Zero'. A top military source that was part of the troops that stormed Sambisa Forest, has revealed to Daily Trust that Nigerian troops, in company of Cameroonian counterparts, took position for about a week in readiness. "We were told to pin down, meaning to remain where we were. We were seeing our target, which was Camp Zero, but had to wait for orders to attack," he said.
The source also said the only source of water for the insurgents living at Camp Zero was a nearby irrigation plant at Alapo. "Within the seven days we pinned down, whenever we go to Alapo to fetch water, we had on several occasions clashed with insurgents coming from Camp Zero, also to fetch water. Whenever that happens, we exchange fire and on several occasions we killed a good number of them," he said.
According to the source, after the seven days elapsed, the troops were ordered to retreat for another seven days, before the final attack, described widely as a success. He said: "Unfortunately, I believe, within the two weeks delay, that was when [Boko Haram leader] Shekau and his other commanders must have escaped. But military operations are complicated, and not waiting might have given rise to other problems. I am aware that there was intelligence that was corroborated with photos from a drone that indicated the presence of Shekau at Camp Zero at the time we were pinned down. The insurgents had all fled before we got there, and we only met some elderly people, children and a few AK47 rifles, with some small arms they left behind."
The source said they found some Armored Personnel Careers (APCs), as well as other operational vehicles that the insurgents could not flee with. "However, the insurgents set them on fire before we got there," he added.
There were many Boko Haram flags flying when troops stormed Camp Zero, all bearing the terrorists' insignia, according to another highly-placed military source. There were clothes, pots, massive cauldrons and some food items scattered around the area, suggesting hasty departure. Also, there were a number of 'satellite', smaller settlements – or outposts – of the insurgents where troops found motorcycles and more household items like fridges, generators and mattresses.
Also seen around the general area, were unmarked graves, most likely of individuals and not that of mass burials. Inside the main building were rooms and larger hall-like ones which had Arabic inscriptions scrawled crudely in red or black paint. Daily Trust's source also said there were indications that several trucks were parked at Camp Zero before troops got there.
Another top military source that was privy to the planning and execution of the attack on Sambisa Forest said the target was Camp Zero, where Shekau was said to be hiding. "We have not been able to cover the entire forest, as everyone now knows it is very wide," he said.
Led by Colonel AG Laka, and supported by Major Manga, troops took off from Awulari where they had earlier converged. Both officers, and the work they have been doing in the North-East, are well-known to both troops and the local populace.
More widely-known, Camp Zero was the stronghold of sorts of the Shekau faction of Boko Haram, while a lesser-known but strategic 'Camp Abuja' is the headquarters of the Al-Barnawi arm of the terrorist sect led by their own leader Mamman Nur, was not attacked.
"Camp Abuja is also in Sambisa Forest, not too far from Kumshe, and near Banki, around the Nigeria/Cameroun border. I don't know why it hasn't been sacked yet," the source said.
One of our sources said while the victory at Camp Zero is indeed impressive, it could have been better. "The way we stormed the place, and took it, was so smooth that it seems like a movie. I am hoping and praying for the best, but I hope this is truly the end of Boko Haram," he said.
Efforts by this reporter to visit Camp Zero through a cashew plantation from Giwa Barracks axis was frustrated when some fleeing villagers revealed that the former base of the insurgents remains totally deserted, four days after it was attacked. The locals warned that insurgents could be lurking around, holed-up in some villages around the area.
Another operational source also gave details of a fierce fight that lasted days. "By the time we were ready to charge into the camp, they had set it on fire and fled. We found a wounded sect member strapped to an IED, and we stayed away cautiously. He cursed at us, eventually detonating it and killing himself," the source said.
Being the stronghold of Boko Haram, especially Shekau, questions about Chibok girls were asked. The source said both the leader of the terrorists and the kidnapped schoolgirls were nowhere to be found. "I don't think Shekau is with the [Chibok] girls, as he's on the run. They most likely are with some of his top commanders," he said.
Most of the people who spoke to Daily Trust on the Camp Zero operation feel caution needs to be applied, as Shekau is still at large. A senior academician in Borno State who spoke on condition of anonymity, said he watched the 11-minute video released by Shekau on Sunday, December 25, where he vowed to fight back and noticed that the heavy artillery behind the leader of the insurgents.
Military authorities, however, immediately shot back, saying the video is propaganda that should be disregarded.
Also, military officials gave more details about the Camp Zero operation. Theatre Commander of Operation Lafiya Dole, Major-Gen. Lucky Irabor, said sect leader Shekau's Qur'an and flag were recovered. "We believe that the Holy Book and the flag were abandoned by him as he escaped," he said. "We've also made a lot of arrests," he added.
Maj-Gen. Irabor added that troops arrested about 1,240 suspected terrorists during a mop-up operation by troops inside the forest. "We are still on the trail of the terrorists and I want to assure you that all escape routes have been blocked. Within this period, also, about 30 fleeing suspected Boko Haram members have surrendered to the Niger Multinational Troops on the shores of the lake Chad and we learnt that they were taken to Diffa in Niger Republic."
Maj-Gen. Irabor noted that the Sambisa Forest-based camp was abandoned without any government presence, which made it easy for the insurgents to take advantage of the area.
Camp Zero was initially meant to be used as a training facility for the now-defunct National Guard, which was set up when General Ibrahim Babangida was in power.
Maj-Gen. Irabor added that the army would construct roads into the forest, and called on the government and other individuals to support its endeavour. "Let me state that we have won the war by destroying terrorists' fortress, but we are now in a transition phase. We need to win the peace now."
Boko Haram has killed over 15,000 people and displaced over two million during a seven-year insurgency aimed at creating an Islamic state in Nigeria.
–
Source: http://www.dailytrust.com.ng/news/general/inside-boko-haram-s-camp-zero/178444.html#zfBIAf9ZA3bIbDMx.99