Nigeria's First Lady, Aisha Buhari
on Saturday
in Abuja humbled herself by leading many Nigerians to a walk to draw attention to the increasing rate of malnutrition in Internally Displaced Persons camps in the North East.
The event which was also attended by some victims from selected IDPs camps in Abuja, with the theme: "Charity Walk Against Malnutrition: Serve a meal to save a soul", was jointly organised by Victims of Violence Charity Foundation, a Non-Governmental Organisation; World Medical Relief, Detroit, USA; Society of Petroleum Engineers and supported by SUNTrust Bank.
Apart from Aisha Buhari, other personalities who participated in the walk include the Managing Director of SUNTrust Bank, Muhammad Jibrin; 
wife of Governor 
of 
Zamfara
 State, 
Hajia
Asmau
Abdullaziz
Yari; chairman/CEO of 
Victims of Violence Charity Foundation, a Non-Governmental Organisation, Sulaiman Gumi; West Africa Coordinator, World Medical Relief, Detroit, USA, Dr. Isa Abubakar Saddiq and FCT section chairman, Society of Petroleum Engineers, Salau Tahir.
The First Lady who was represented by wife of Nasarawa State governor, Hajia Miriam Al-Makura, said the walk would have a great impact on the fight against malnutrition in the country, particularly in the North East.
She said, "This is an awareness walk; for people who don't know, when they see us walking, they will ask what is happening. And people will tell them this is an awareness walk for people with malnutrition in the IDP camps. I think it  will go a long way in uplifting the life of people living in the IDP camps.
"The First Lady has asked me to represent her in this very laudable project. Like you know she (Aisha Buhari) has a passion for women, children and the youths of this country and her program "Future Assured", has done a lot in collaboration with other organisations to uplift the living standard of people living in the IDP camps in Maiduguri, Yola and other places. 
"That is why she has asked me personally to be here to represent her and she has asked me to call on well-meaning Nigerians to come to the aid of the people living in the IDP camps. That is why we have an organization like this, the Federal Government cannot do it alone. We need people and philanthropists to come out and assist in whichever way they can."
The wife of Governor of Zamfara State, Hajia Asmau Abdullaziz Yari, said anything that has to do with malnutrition campaign for children and the less-privileged would be interesting to wives of Governors.
"Wives of Governors will play a passionate role in that and I think we are all aware of what the First Lady Hajia Aisha Buhari has done about malnutrition and we have all keyed into this programme. As wives of governors, this is something like creating awareness for Nigerians to see where the problem is, how to tackle it and how to go about it. So, really this is charity walk and it is really worth coming out, it is really worth doing. I am proud of the organisers of this walk", she stressed.
According to her, although Zamfara State "is a very conservative state", she would convene a women's forum and other stakeholders that would show them the extent of malnutrition, adding "but not necessary a walk."        
Gumi recalled that before he went to Bama it was between five to six children dying of malnutrition almost everyday, adding that after about two months with intervention from VoVCF and other INGOs, "we stopped seeing death rates and people started recovering."
He said, "The malnutrition is there but it only gets exposed when diseases like cholera and diarrhoea comes into play and start claiming children. At that time, dysentery and was claiming the children but after sometime, it got better. The beauty of what we are trying to advocate for is that we have the local ingredient that was used to solve the issue of malnutrition.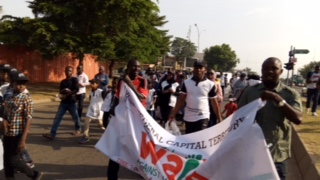 "We have sava meal which is produced locally, we have been giving the IDPs, we keep it as part of the drugs in all our mobile clinics, we give the child what to eat so the drugs can work and that work wonders. The next step is to teach the IDPs what to use to make the sava meal. It is very easy, you can source it from local ingredients: sorghum, soya beans and groundnut which is readily available instead of feeding the children with rice and spaghetti being donated to them to help the children grow better and survive any kind of disease."
Also speaking, Saddiq suggested the use of local nutrition to check malnutrition in the IDPs camps.
"We can replicate the effects like soya beans. It is not expensive; we have given the formula to victims of violence and they are handling it. When victims of violence went to Bama, the death rate was 40 children per day. But within two to three weeks when they started using local diet as food nutrition, the death rate reduced to zero per cent."
The Vice chairman of Majiji IDPs camp in Abuja, Bello Mohammaed, said VoVCF have been providing all the medical facilities, food items and schools for the camp.
He said, "We have people from Adamawa, Yobe and Borno stated in our camp, I am from Borno state. We are very much eager to go, we are not comfortable, its only NGOs that help us, government does not even recognise us as a camp.
"We are about 250 in Karon Majiji IDPs camp along Airport Road. Apart from malnutrition, we still have issues of food security, beddings, clothing and toiletries. We have about two critical cases of malnutrition but they were able to rescue them. We did not witness food diversion in our camp but there are others who have been complaining of this but things are In order now."