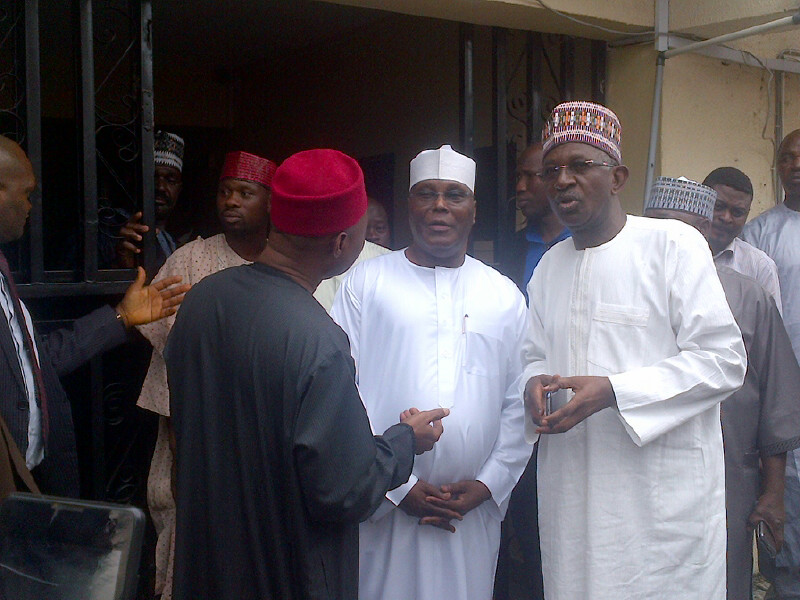 When the former Vice President Atiku Abukabar re-opened the restructuring discourse and successfully hoisted it in Nigerian political atmosphere, the ruling All Progressives Congress (APC) make its position known on the matter with speed of light . The Punch of 6th June 2016 under the caption "Presidency, APC Rejects Calls For Restructuring" summed up the position of the APC through its National Chairman, Mr. John Oyegun. Mr. Oyegun said nothing was wrong with the idea but its timing, meaning time isn't the best ally of those neck-deep in the restructuring campaign. The APC chairman closed his position in this fashion; "the President Muhammadu Buhari-led APC administration is currently focused on rebuilding the economy, creating jobs and ensuring the security of lives and property". In other words, their  of will-do list has more serious issues than restructuring.
Loading ...
On 19th August 2016, The Nation newspaper dropped another view from the South West party branch of APC. The Nation reported the  position of South West APC juggernauts in its headline "South West APC Insists On True Federalism". The quintessential part of the communiqué stated thus: "meaningful progress and socio-economic development of the Nigerian nation is unattainable without restructuring the extant, largely unitarian geo-political arrangement. It is by such re-arrangement, leading to genuine and true political and fiscal federalism that the innate energies of the people of Nigeria can be released and new vistas of human development opened up."
A glance at these two diametrically opposed positions demonstrated one thing; the national leadership of the APC surreptitiously took a decision without consulting major stakeholders and geopolitical blocks of the party. Mr. Oyegun piqued that tackling economic quagmires and others is their main preoccupation now. But kingpins of the South West APC foreclosed any iota of any form of success without first restructuring the political superstructures of Nigeria. It can simply put that, on restructuring, APC front is a titanic  Babel.
All aside, hypocrisy and crass opportunism is on display because Mr. Oyegun and Prof. Yemi Osinbajo have been long proponents of restructuring.Apart from individual support they gave the idea, they belong to regional groups that have made restructuring one of their cardinal objectives. Their present position has once more refreshed the notion that true colours of men are know when they are given power. The duo's new stance has also confirmed lack of ideological beliefs in most of Nigerian politicians. If indeed they are true representatives of their peoples, Prof Yemi and Mr. Oyegun knows that restructuring has been a longstanding desire of the South West and South South peoples.
If one is to choose which side to back from the reasons they advanced in Mr. Oyegun and APC South West the choice will be clear. I will join the rank of the South West APC kingpins because of existence of a clear  nexus between every problem in Nigeria today with the country's skewed federal structure. The palaver Mr. Oyegun claimed are their priority now were directly or indirectly created by the dysfunctional and one-of-its-Kind federal structure in the country. No much push is desired to make all sincere souls and sane minds accept this reality as impeccable and incontrovertible.
Mr.  Oyegun and  Prof. Osinbajo knows that the country is operating a pseudo federal system that the two lower tiers of authorities  are financially frail to perform concurrent and residual responsibilities bestowed on them by the constitution. They know as well as we do that some units  don't have any initiative to create wealth that will enable them function as a governor simply because they know that at the end of the month, they will automatically get their share of the national cake from the federation account. Where on earth do these types of arrangement exists? Where on earth do governments live like NGOs that waits for grant to perform their task?
Apart from problems associated with affiliated bodies, there are other serious national questions that either hundreds of ethnic nationalities or religious groups are desiring to have their answers. For example, an average northern Muslims wants to know why he can't have shariah law conspicuously inserted in Nigeria constitution. A middle Belt man wants a constitutional amendment that will permit him bear arms to enable him defend himself from constant assaults from "unknown gunmen".  The people of Southern Kaduna are interested in knowing why their lands have been earmarked for grazing reserves despite the fact that they don't breed cows. People of the South South want  complete control of resources coming from their area. With these mountain of questions to pose and desperate desire for answers by various groups, why pretending that there are more pressing issues that them?
The 1914  Lugardian political Wedlock is 102yrs now. There is every need to sit down and take stock of many issues. God didn't create Nigeria. British Colonial masters created Nigeria for very selfish reasons like minimizing of administrative cost and other conveniences. Sequel to that, it is natural that Nigerians find a peaceful way of resetting every structure constructed by them to reflect exigencies of the moment. Truth be told, the entire Nigeria project is a huge fraud, pure and simple. Therefore, something must be done to set us free from this historical fraud that we have been living with for over a century and two years now.