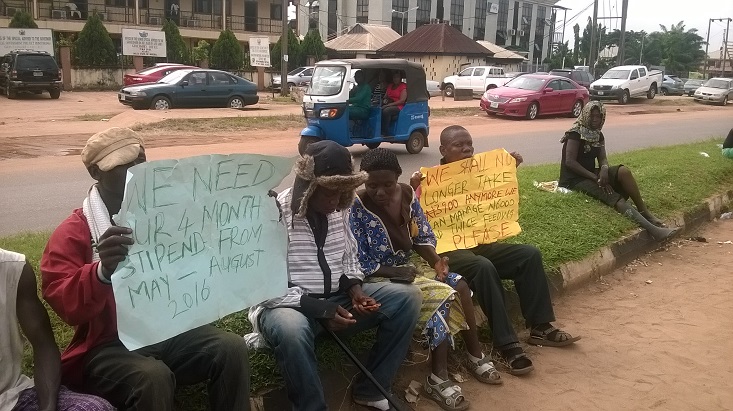 … As Lepers Resumes Alms Begging In Asaba
For hundreds of lepers in Delta State, all may not be rosy, certainly not under the administration of Senator (Dr) Ifeanyi Arthur Okowa.
During the administration of former Governor James Onanefe Ibori, the lepers were removed from the road and were accommodated at the settlement in Eku, disclosing that they had stopped begging for alms since then.
They also claimed that the former governor paid them a monthly stipend of N8, 000 and fed them three times a day.
Also, during the immediate past governor of the state, Dr Emmanuel Uduaghan, the lepers said Dr. Uduaghan sustained the monthly stipend and the three meals a day until few months to the end of his tenure when the stipend was reduced to six thousand Naira N6, 000.
The lepers numbering over 100 have laid siege on Ministry of Women Affairs in Asaba, Delta state capital for two days cooking, bathing and sleeping at the car park reserved for principal office holders in the ministry.
The lepers who stormed the capital town from Lepers Settlement, Eku, have resolved to remain in Asaba until their demands are met by the Okowa-led government.
The plight of the lepers, investigation revealed, was responsible for their actions.
It was further revealed that the leper's frustration was the outcome of Governor Okowa's insensitiveness towards the plight of those affected by leprosy.
However, it was disclosed that the Governor has reduced the monthly stipend to three thousand, nine hundred Naira while they are fed only twice a day.
Chairman of the lepers, Luckly Egbo, who spoke on the issue remarked that the monthly stipend, though greatly reduced has not been regular.
"As I speak to you now, the state government is owing us six months. The former governor left three months unpaid while this administration is owing three months", he said
Following the lepers agony, they may stay longer at the Ministry of Women Affairs because of their resolve to ensure they get positive response from the state government.
"We are fully prepared as you can see. We won't go from here unless we get positive response from the state government. We are here with our mats and other things we need. We have to do this because the suffering is becoming unbearable. The government said we shouldn't beg on the roads again. They took us to a settlement and now they are doing this to us.'
Efforts to hear from the Commissioner for Women Affairs proved abortive but a senior official of the ministry, who spoke on account of anonymity, said the government was looking into the matter and would soon pay the lepers as soon as possible. He blamed the present economic situation for the delay.
As at the time of filing this report, the lepers have blocked the road leading to Government House, Asaba where they are begging for alms.