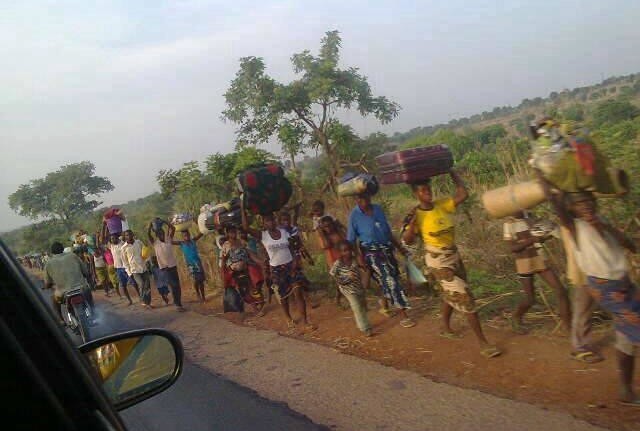 *raises alarm over arrival of shipment of suspicious group, arms and motor bikes at Ekwulobia and Ugwuoba
The Movement for the Actualization of the Sovereign State of Biafra (MASSOB) yesterday alerted "Ndigbo and Biafrans over the plan by the Hausa/Fulani to perfect their Jihadi which they have been working towards for many years now."
The latest move which allegedly "started on few days ago on Thursday,
May 19,2016, when two lorries fully loaded with about 150 men and arms landed at the Amansea by Ugwuoba border communities between Enugu and Anambra states along the Enugu-Onitsha highway.
"Also another two trailer lorries fully loaded with motorcycle and some Hausa/Fulani men landed Ekwulobia community, also in Anambra state."
The game plan, according to the MASSOB National Director for Information, Comrade Edeson Samuel, "is for these well trained terrorists in disguise, to surround the entire Igbo land."
"They will be operating as Keke/Okada riders and be monitoring every part of Igbo land waiting for the day they will execute their evil plan."
Comrade Samuel also noted that a large number of these characters have literally taken over the New Artisan market area in Enugu. He put their numerical strength at about 10,000 potential "terrorists camped there and pretending  to  be okada and Keke riders as well as shoe makers."
The MASSOB therefore cautioned that "It is time for Ndigbo to wake up and protect our God given land."
The organization also alleged that stockpiling of arms remains on-going currently most Mosques in Igbo land today and urged the relevant state governors and other leaders to take heed now to stop the ugly trend, or "if they fail, you should have it in mind that one day, your children or relatives might be involved in this massacre organized by the evil Fulani men."
MASSOB however commended Governor of Ekiti State, His Excellency Ayodele Fayose, for the bold step he took by banning the rampaging army masquerading as herdsmen in his State.
They therefore charged all the Senators, House of Representatives, and State House of Assembly members from the South-East and South-South geopolitical zones to speak out against these invasions by the so-called Hausa/Fulanis herdsmen.
MASSOB, Samuel stated, hereby urge all community vigilantes "in Biafran land should be vigilant because there is danger. MASSOB is calling on other pro-Biafran groups to join us and protect our land, lives and property.
It warned all the markets in Igbo land To re-organize and restructure their security network in and around the various markets because markets are one of their main targets.
They also discourage the use of these men as guards and gatemen in homes and offices, because that would make them and their families vulnerable.