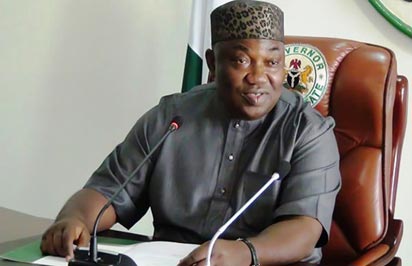 By Raphael Onyekachukwu
A survey conducted in ten states of the federation by Citizens Perceptions Survey (CPS), 2015 sponsored DFID has revealed that over 40% students of both primary and secondary schools in Enugu state attend private schools because of inadequate infrastructure in public school.
Presenting the result of the survey at the Golden Royal Hotel, Enugu, Wednesday, the CPS Project Director, Dr. Elizabeth Omoluabi, said the survey sought citizens' views of governance, service delivery, health and education.
According to her 1,257 households were interviewed in Enugu which enables the organization to have a picture of how a wide cross section of Enugu society perceives the government and the services it provides.
The result of the survey shows that under governance and voice; the average level of satisfaction related to government service delivery in Enugu by June 2015 was slightly lower than the average satisfaction across the ten states combined. "The service with which the citizens were least satisfied was road maintenance (36%), and the highest satisfaction recorded was related to keeping the community safe (49%). In general, it appears citizens in Enugu are less satisfied with government service delivery than in the ten states taken together.
Compared to service delivery, citizens across Enugu were more critical than the ten states combined when regarding government's transparency, offering citizens a chance to participate in defining policy priorities or even informing them of such priorities.
On education, Dr. Omoluabi said the net attendance ratio is higher in Enugu than it is in the total ten states taken together at 92% and 81% respectively. Amongst primary and secondary school children, there is near perfect gender parity in Enugu. Between 71% and 80% respondents in Enugu perceive schools to be affordable, safe and providing good quality education. However, in comparison with the total ten states taken together, respondents are generally less satisfied in Enugu with these issues.
For health, the survey shows that more respondents from the 40% of poorest households than the wealthiest 60% of households visited a government health facility in the last year. This suggests that government health facilities are moderately accessible in Enugu.
"Only 52% of all Enugu citizens who use government health facilities are satisfied with the quality of care at the closest health facility. Satisfaction is higher among the wealthiest 60% with 57% of these respondents reportedly satisfied compared to 44% of those residing in the poorest 40% of households. 38% of respondents think that delivery in health facility is beneficial in order to avoid complications while 48% think that it is beneficial for good medical treatment.
Speaking in an interview, Dr Omoluabi said the survey was limited to ten states where DFID the UK aid agency are doing its work, which Enugu state is one. The survey which she said was conducted between May and June 2015, its result refers to events that happened between 2014 and 2015.
CPS Survey Director, said the four main sectors; education, health, infrastructure and governance, are the focus areas of DFID work in Nigeria, while stressing that the survey was initially a tool to measure how its programmes are doing in these areas.
"We decided to expand CPS tools to wider audience and that is why we are all here today with all of you from your various ministries and paratatals to discuss the result of the survey in your state so that the survey is no longer an internal. We are now moving it out and saying it could be very useful to decision markers in the society to know what people are filling about service delivery", said.
While addressing the participant earlier, representative of DFID Mrs. Ijeoma Chukwuemeka urged the state government to ensure that the works of  State Level Programmes (SLPs) in the where sustained when its programmes closes so that in another two years  if any survey of this kind is conducted Enugu state will be among the states that is doing well.